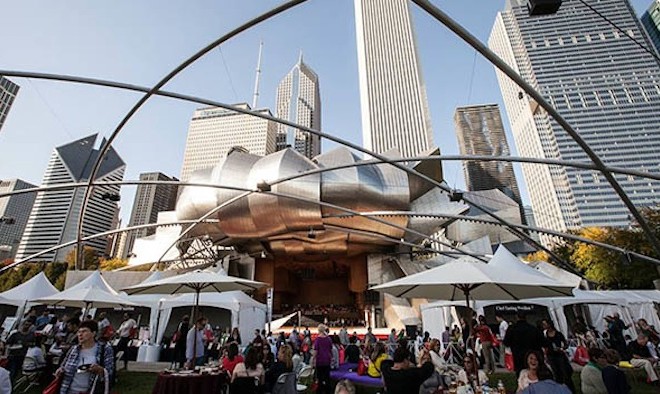 Photo courtesy of Chicago Gourmet
We Went to Chicago Gourmet
|
As one of the premier destinations for food and wine in Chicago, we figured the 7th annual Chicago Gourmet would be a great formula for finding that special someone: beautiful Chicago skyline, flowing samples of wine, liquor and beer and sexy food presented by even sexier chefs. So we went to Chicago Gourmet in hopes of walking away with more than just a full belly and a hangover. Here's our writer's recap:
My dream man swims in red wine and duck fat. He says the words  "sous vide" and "puree" and you'd think Matthew McConaughey had entered the room naked. I see chef whites 100 feet away and my adrenal glands gear up faster than Mindy Segal can whip egg whites. The way a chef sharpens his knife should have made it into the food version of 50 Shades of Medium Rare: Unbrined. When I say, "Yes chef," I mean, "My body is your pantry and the pan is ready for sautéing."
So you can imagine that placing myself in the epicenter of all food and wine and chef-ery meant I needed a good outfit.
I wasn't trying to pull a Marilyn, being so close to the lake, so a skirt was a no-no; I settled on classic tailored shorts. Plating is always key when it comes to presentation so I needed the right amount of plunge up top, yet lift on the bottom, which I pulled off with a nicely fitted v-neck button-up and a pair of cross strapped wedges, offering me the necessary and proper height to my plate. Since a dish needs balance, I softened my "we currently look like we are going to the beach to sing a Katie Perry song" look with a classic Ann Taylor blazer and pearl necklace with matching earrings. In a throwback to classic French technique, I threw my hair in a loose bun and paired it with Jackie-O sunglasses; a spray of perfume on each side of my neck and wrists, my finishing salt. A quick approval from the expeditor aka my vertical mirror, and my dish was ready to go out.
Chicago Gourmet has three types of people: couples, girls in groups of three and wondering media. The ratio of single guys to single girls is small, but you can find them. I walked my way around the great lawn to scope out my plan of action, meeting lines that were way too long to begin tasting. I'd need food in my belly before allowing anything with an alcohol content to hit it, so I made a move for my first meat of the day, a manly steak slider. (He, like most sliders in my life was disappointing — noncommittal, hard to manage, and over-salted.)
While I waited for lines to slow, I moved to the wine tents. Many wine reps were either middle-aged women or fifty-something men, neither that fit my demographic. A quick conversation with a couple, "We finally were able to come back this year because she wasn't pregnant," made me down my whole sample of wine versus pouring it out like I knew I needed to. I debated flirting with the guy pouring cheap moscato, but moscato? Are we going to bake cupcakes on the weekend, too? I moved on, catching up with a friend for a couple of hours, which deterred my single man search. I soon found my fix at the Grand Cru: Chris Marchino, Jimmy Banno's Jr. and Andrew Zimmerman.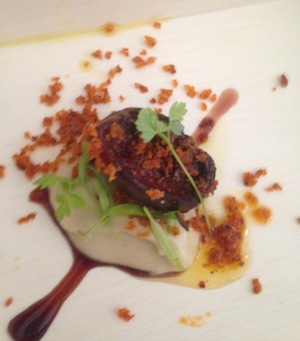 Marchino's jawline caught me before his dish did, so chiseled it could cut through a piece of butter. "The andouille is actually the remnants of the sausage we rendered down," he said upon my questioning. Ah, now we're talking dirty, I thought. I caught a glimpse of young, dark-haired Banno's at the nearby station, whose deep brown eyes and baby face could stop any grandbaby-less mother in her tracks. I tried to corner him to let him know that I worked his wedding (which he's not a bad dancer) and that I really liked what he did to the back of a cow's rear with the salt crust, but I was deterred by some skinny housewife throwing shade.
The real magic was with Andrew Zimmerman, who looked me directly in the eye when I said "Thank you chef, it was delicious," that I could've been pumped  up with Bordeaux and thrown in a plastic bag at a temperature of 122 degrees and called it a day.  (Might have been the wine, actually. Yes it was the wine.)
My friend and I parted ways and I made my final rounds through. It was here that my only chance encounter with any potential occurred and it sadly looked something like this:
Me walking past two forty-somethings talking about "looking good."
"Yeah?" the jackass in me chimed in, the grape nectar starting to kick-in.
"You sure do," one said back to me, throwing out a neck and employing the obvious down, up to down, back to up, look as I strolled by. I would've stopped and chatted but they had the, "let's go to Gibson's after this" written all over them, and that just ain't my style.
In summary, the only love I found at Chicago Gourmet was in a bottle of this, but apparently, classic French technique with a nod to American coastal flavors whets the average single male Chicago Gourmet palate. Next year, I'm tracking down Steve Dolinsky to see how hungry his hound is. (#toofar #uptop #illtakethecheck)
Editor's note: The above is all satire. The author is a serious Chicago food writer … sometimes.