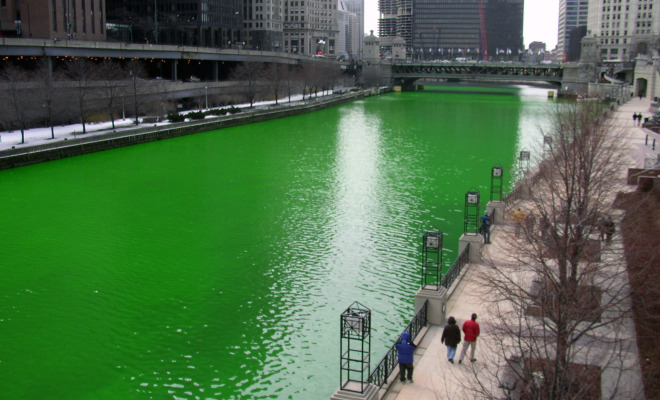 4 Fun Things About St. Patrick's Day In Chicago
|
Whether you spell it St. Paddy's, St. Patty's, or St. Patrick's Day, we all know that it's time to bust out the festive green attire to celebrate this iconic holiday. With the Irish being the largest ethnic group in Chicago, it is no surprise that St. Patrick's Day in Chicago is epic. Here are 4 fun things you can do to celebrate:
1) Crap me if you can
The Chicago river was dyed green back in the early 60s as a way to catch businesses illegally dumping waste. Present day, it's just for show and is actually orange initially until some science-y, leprechaun-y magic happens and turns it into neon green that lasts about a day. 

2) Don't rain on my parade
Come rain or shine for the past 60 years, the downtown Chicago parade (Columbus Drive between Balbo Drive & Monroe Drive) takes place after the infamous dying of the river. Not to be outdone, each year since 1979 (except for the few sad, sad years it was cancelled) the 'South Side Irish' parade is held on the Saturday before the holiday following a path from 103rd and continuing down Western Avenue to 115th Street.
3) Shuffle your Shamrocks
Get up and get running (or at least support the runners) during the official St. Paddy's Day 5k and 8k run/walk starting at 9:30 a.m.  It's sponsored by the Greater Chicago Food Depository so not only are you exercising, you are supporting the non-profit in providing food for hungry people.
4) Erin Go Beer
After the river is dyed, the shuffle has ended and the parade is over, head to any one of the many Irish bars/pubs in the city for a proper pint of Guinness, a shot of Jameson, and Shepherd's pie.
Slainte to a fun filled St. Patrick's Day in Chicago!