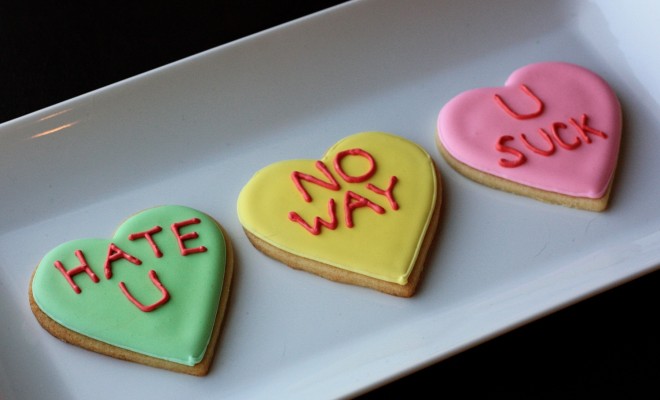 Where To Rock Out Valentine's Day in Chicago as a Single
|
Valentine's Day is coming up, and for a single, that's like getting a call from your freshman college roommate (the one with the affinity for chicken) saying she's coming in for the weekend with her two cats. We like it just as much as we enjoy pap smears and twenty-one-year-olds who listen to Justin Bieber, but we refuse to waddle indoors wasting our time swiping left on Tinder and watching this while gorging ourselves with take-out and a cheap bottle of wine. It's 2014 bitches, and we just bought a new pair of shoes.
Here are a couple of recommendations starting north and going south with a couple of redirects in between (oh yes we did) on how to be a successful single in Chicago this year while everyone else plays googly eyes over sushi and cheap champagne.
Uptown
Pho 777 or Tank Noodle for Pho — It's cold outside right, maybe you're a little down because it's Valentine's day, and you're calling all of your single friends to make plans. What's a better pick me up than a big, steamy bowl of SOUP? Fill your belly with some broth and noodles, order up some Vietnamese Spring Rolls and maybe even some Bubble Tea. If you're at Pho 777 you can even play "guess the song".
Lakeview/Boystown
Kit Kat Lounge – Because oversized martinis, gay men, and Madonna. Enough said.
Diag  – Ever wanted to have that Valentine's bonfire like Monica, Rachel, and Phoebe? Well at the Diag, they're offering a Shred Your Ex party so you can publicly rip a photo of your ex to shreds (the bonfire created came with fire hazards).
Bottle and Bottega — Fact: your gal pals are some of the best relationships you'll ever have…next to wine, of course. Pair the two over with your long-lost love of painting and you are winning.
Roscoe Village
Four Moon – The type of place you and your girlfriends can actually disappear to where everyone else is likely to be single as well. Get dibs on the only pool table, and play all the Sam Cook and Cindy Lauper that you want.
Logan Square
Parson's — Everyone else will be at Longman and Eagle or Lula's, so get down and dirty on some greasy fried chicken the way God intended — with two hands. Lock eyes with the table of single twenty-something's and mouth, "I like it deep-fried."
Bucktown
Danny's — Unpretentious fun dancing? PBR's? Sign us up.
Lincoln Park
Headquarters Beercade – Flashback to a time before you ever reached "third base" at this game spot. Round up your single pals, play some pinball, and smile at the cute boys across the room and hope that one of them will ask for your phone number before your mom comes to pick you up. Squee! (Bonus points if you can spot the "Secret Lives of Chicago Singles" graffiti in the girl's bathroom…#sorrynotsorry)
Old Town
Old Town Social – Perfect for the "I'm alone on V-day so I'm gonna go here where I can not only choose from a plethora of drinks (and hey, no worries 'bout being judged on a date) but also shamelessly flirt with the bartenders.  In hopes of getting said drinks for free.
River West
Richard's Bar – Drink away your single sorrows (without having to deal with douchebags) at a quintessential old-school Chicago dive bar where the decor looks as if hasn't been updated since before Jimmy Carter was president, Frank Sinatra croons from the jukebox, smoking is still allowed indoors. When there's a "Packaged Goods" sign hanging outside, you know it's gonna be good.
River North/Downtown
Moe's Cantina and John Barleycorn — Because nothing screams "forget that you are over thirty and single" like going back to your college days by doing shots of Fireball and high-fiving every 23-year-old frat boy you see. You can pretend you "just got out of a bad relationship" and practice your cougar skills on eager youth.
Melting Pot  – Mmmm… chocolate and cheese and more chocolate. Did we mention that you can dip all kinds of sweets into the chocolate? Let's face it, getting a sugar high with your friends is so much better than eating Ben & Jerry's alone. Oh, and in case we forgot to mention: melty cheese.
Rockit Bar and Grill – The perfect place to go…and stare at all the lovey-dovey couples.  Here's a fun game to play: "guess how long the couple has known each other" (first date, married for 10 years, etc. BONUS if you can get the server to confirm for ya!) Also, perfect place to be by your lonesome, talking naughty to your order of Truffle Tots: "Oh, you lookin' good you sexy beast…get. in. my. belly."
West Loop/Greek Town
Greek Islands/Greek Town — We're going to go out on a limb and guess that Greek food isn't the most immediate thing that would come to mind for a Valentine's Day wine-and-dine night, so the ratio of couples will likely be not as bad as say, Geja's. Order all the flaming saganaki cheese because you like it hot, and practice the art of inappropriate flirtation with exotic men who like inappropriate flirtation by making innuendos out of the word "Opa!"
Little Italy/University Village
Three Aces Chicago — If you love all things tatted, delicious, and rough around the edges, by that we mean a bacon, egg, and three-cheese pizza and shots of Malort and want to avoid awkward college romance, saddle up to this Taylor Street bar where you can be both nice and naughty and it's encouraged.