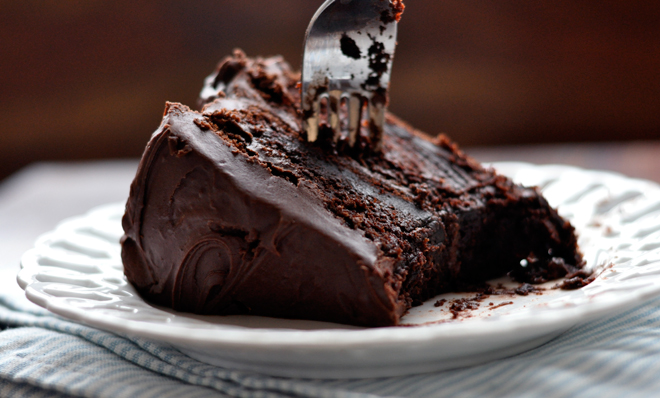 These Easy Cake Recipes Will Make You Want To Ditch The Cake Mix
|
It's no secret that I love to bake, or that everything I know is because I taught myself, thanks to the internet. So when someone made a request for cake I thought, rather than make another cheesecake, I should give myself a bit of a challenge and make a vegan cake in addition to a traditional cake made from scratch. It was definitely a challenge because no matter what website I went to I couldn't find any easy cake recipes. It took me a while before I found an easy recipe for vegan chocolate cake that didn't require me to soak or puree anything.
Easy Vegan Chocolate Cake: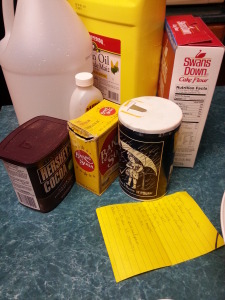 1 1/2 cups all-purpose flour **
1 cup white sugar
1/4 cup cocoa powder
1 teaspoon baking soda
1/2 teaspoon salt
1/3 cup vegetable oil
1 teaspoon vanilla extract
1 teaspoon distilled white vinegar
1 cup water
**It turned out that I didn't have all-purpose flour, so I substituted Cake Flour instead. I think this may have changed things a bit but I won't really know until I try to make it again with regular all-purpose flour.
All in all though it wasn't half bad, and it was actually a really easy vegan cake recipe to follow. The only complaint that I have with this recipe is that it only makes enough batter for one 9″ round cake pan. I had originally planned to make a two layer cake, which is possible with most recipes that I've found. Rather than show up with a thin cake I decided to keep it for myself and just covered it in chocolate ganache.
Vegan Cake Balls
Next, I realized that the vegan cake recipe I'd used the night before would be perfect for vegan cake balls. I'd never made those, more because I thought it was harder than it actually is. It's not hard, by the way, and I encourage people to try it. Luckily the cake I had was pretty moist so I didn't have to add in a ton of icing, if anything I think I added about a tablespoon of icing. The other reason that I have never made cake balls is because any time I've eaten them they've been entirely way too sweet. Apparently the common mistake people make is adding too much icing.
It's important to note: while the cake recipe itself was vegan, the ganache I made had a bit of cream in it, making my final product not truly vegan. However, there are plenty of vegan icing recipes you can use, like the one I've included at the end of this post!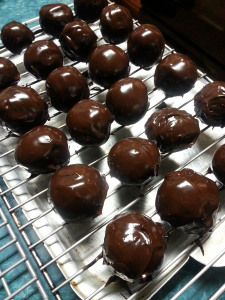 I decided the next day that I had to do it all over again and picked up more cake flour on my way home from work. In doing so I was reminded how amazing great this easy cake recipe is, and that I should use it more often.
The Swan's Down 1-2-3-4 Cake:
3 cups Swans Down Cake Flour, sifted
2 teaspoons baking powder
1/2 teaspoon salt
1 cup butter, softened
2 cups sugar
4 eggs
3/4 cup milk
1 teaspoon vanilla extract
1/2 teaspoon almond extract
I kind of goofed on this and put the flour in with the eggs. The batter turned out to be a bit grainy since I mixed in the eggs at the wrong time, but I didn't notice a huge of a difference in the final outcome. I also omitted the Almond extract simply because I didn't have any.
Vegan Cake Icing Recipe
Since I'd been experimenting with vegan cakes the day before, I was inspired to try making vegan icing for the cake. I think I've come to terms with the fact that I can't make icing. I'll be honest – this was a complete disaster.
2 cups powdered sugar
1 cup margarine
1/4 cup coconut milk
So you're supposed to start out by creaming the margarine, that was all fine and dandy. Then I added in the sugar, margarine is pretty soft so I didn't have an issue mixing in the sugar like I usually do with regular butter. When using regular butter I end up over-working it and it looks a bit grainy, but that wasn't the case with the margarine. My problem was when I added in the coconut milk. I'm not sure if it was the particular coconut milk that I was using or just something I did wrong, but as I was mixing it started to get really grainy and oily. As I was waiting for the cake to bake I set this mess aside. When I came back to it later it looked absolutely awful. I gave up on that and went with some store-bought icing (did you know that most of these are vegan as well?).
The final product
When all was said and done I ended up with a nice two layered cake. And maybe one day I will decorate a cake with something other than the star tip, but I just love the way the roses look. I clearly need some work on the whole decorating part, but I will admit that I am getting better at it.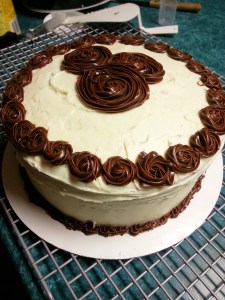 Do you have any tips on how to make better icing or an easy cake recipe I should try?
P.S. Looking for more great  cupcake recipes? Check out my recipes and tutorials for Irish Car Bomb Cupcakes and Stuffed German Chocolate Cupcakes!