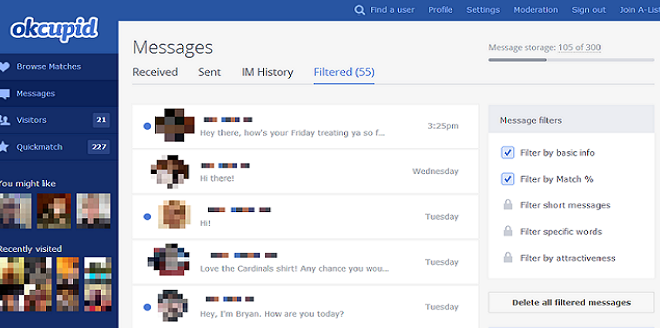 What's in Your OKCupid Inbox: Gina 2.0
|
I've had a lot going on the last week or so, and yet I'm not entirely sure what I've doing. I realized that I had a post coming up and thought since I couldn't whip something up, I'd just do another What's in your OKCupid inbox.
I check the inbox once in a while, but I generally leave messages unread for a bit. I logged in today and just wanted to share a couple of things…
things you probably shouldn't say
Especially when trying to make a first impression.
This guy clearly didn't read my profile, at all. If he had he would have known that a) I hate being called "baby". I save pet names for people I actually know, I don't use them just for the sake of using them. b) There is NO punctuation, capitalization and what is with the spelling!? Are adults still doing that, I thought that was something that stopped after high school.
WHY ARE YOU YELLING AT ME!???? No, I would not like to chat with you Sir. It's hard enough to get a real feel for what someone is saying in a message because you can't hear HOW s/he's saying something, but it's even harder when THEY LEAVE THE CAPS LOCK ON.
Do not. I repeat Do NOT ask a girl why she's single. If I knew why I was single I wouldn't be on this damn website, would I? Points for calling me a "woman" though, I don't think any one has ever done that, generally it's "girl". And at this point is it even worth mentioning the use of "your"?
This one, I liked… the guy, however, I did not. Sorry dude.

July 13th and then again on August 1st:

Copy and paste monster, we all know how much the ladies love that!

What is that? I don't even know how to respond to that, am I supposed to say "no, that's not true"

I'm so interesting that he didn't respond, I call that some serious winning right there!
Just reading this stuff is exhausting. Do I really have it in me to go through with this dating thing or can I just accept the fact that I may indeed remain single for the rest of my days.