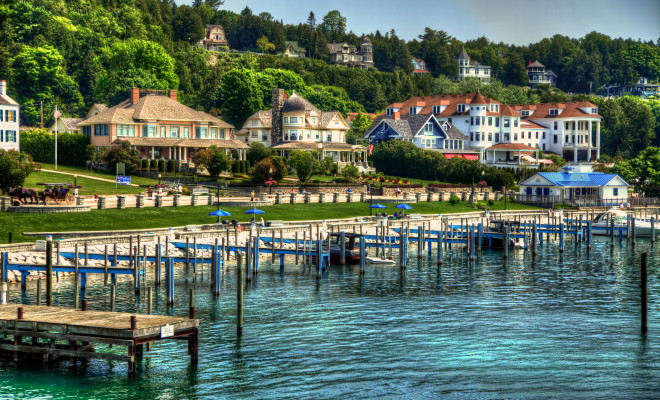 flickr/joeybls
A Weekend On Mackinac Island
|
My mom and I had a lovely time exploring the 3.8 square mile Mackinac Island, Michigan over a long weekend recently. While characteristically touristy for a long stretch, more than 80% of the island is a state park. Over 15,000 visitors a day come to Mackinac Island in the summer, so you know that there must be something appealing. Is it the endless supply of fudge? Or the beauty of the rolling hills? Maybe it's the kitschy shops every 10 feet or the fact that you can bike eight miles without any cars getting in the way.
Whatever it is that brings tourists here, there's something pretty magical about this island.
It takes anywhere between six to eight hours to drive from Chicago, depending on which route you take and how many stops you take along the way, so we left bright and early on a Friday morning. Since no cars are allowed on the island, the ferry is your only option for getting island-side. There are plenty of options – do you want a speed boat or slow boat? Do you want to pay $20 or $40? We attempted to do this weekend on the cheap, so we went with Arnold Line. Normal ticket prices are $18 round trip and the trip takes around 40 minutes.
We stayed at Chippewa Hotel right off the ferry dock, so no need for a porter to take your bags (save yourselves more money). The rooms were overly-decorated with flowers, making us feel like we were transported to the Victorian era. They have lake view rooms, harbor front rooms, and Main Street-facing rooms. Because Mackinac is fairly expensive overall, we were content with a $160 per night Main Street room.
With one full day to explore, we made the most of it by taking a horse-drawn carriage ride around the island. Any hotel or visitors center can set up this narrated tour. We liked it because it was a simple way to see the different vistas that Mackinac offers, to hear some corny jokes, and to learn about the location's history. Fun fact: did you know that the entire island is listed as a national historic landmark?! The tour offers multiple stops along the way, including the Grand Hotel, a butterfly house, Arch Rock, and Fort Mackinac.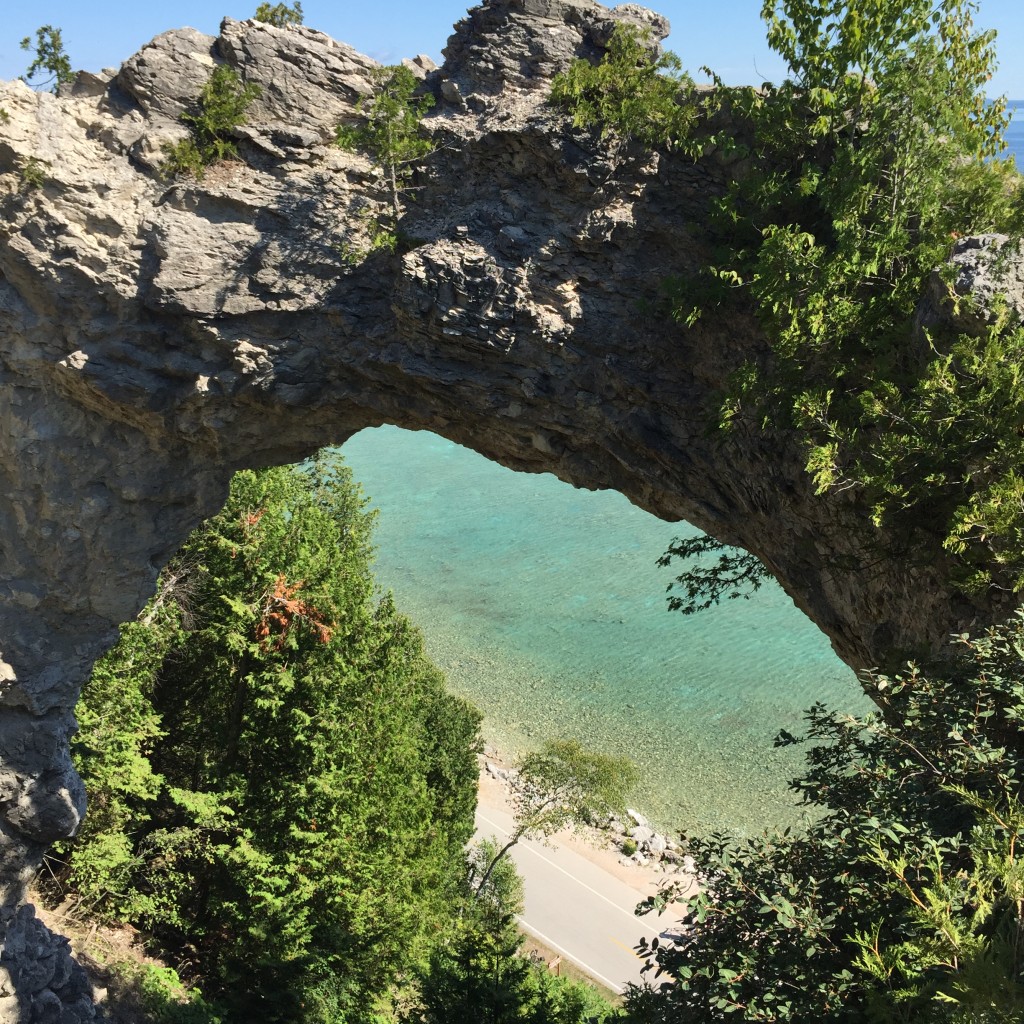 My mom and I were fans of the Wings of Mackinac butterfly house, which features hundreds of butterflies brought in regularly. Arch Rock was also pretty spectacular. If military history is your thing, then Fort Mackinac is worth the stop.
After a morning filled with being carted around the island by four-legged friends, we decided to use our own two feet and take a nice long hike. Fort Holmes is the highest point and offers stunning 360-degree views.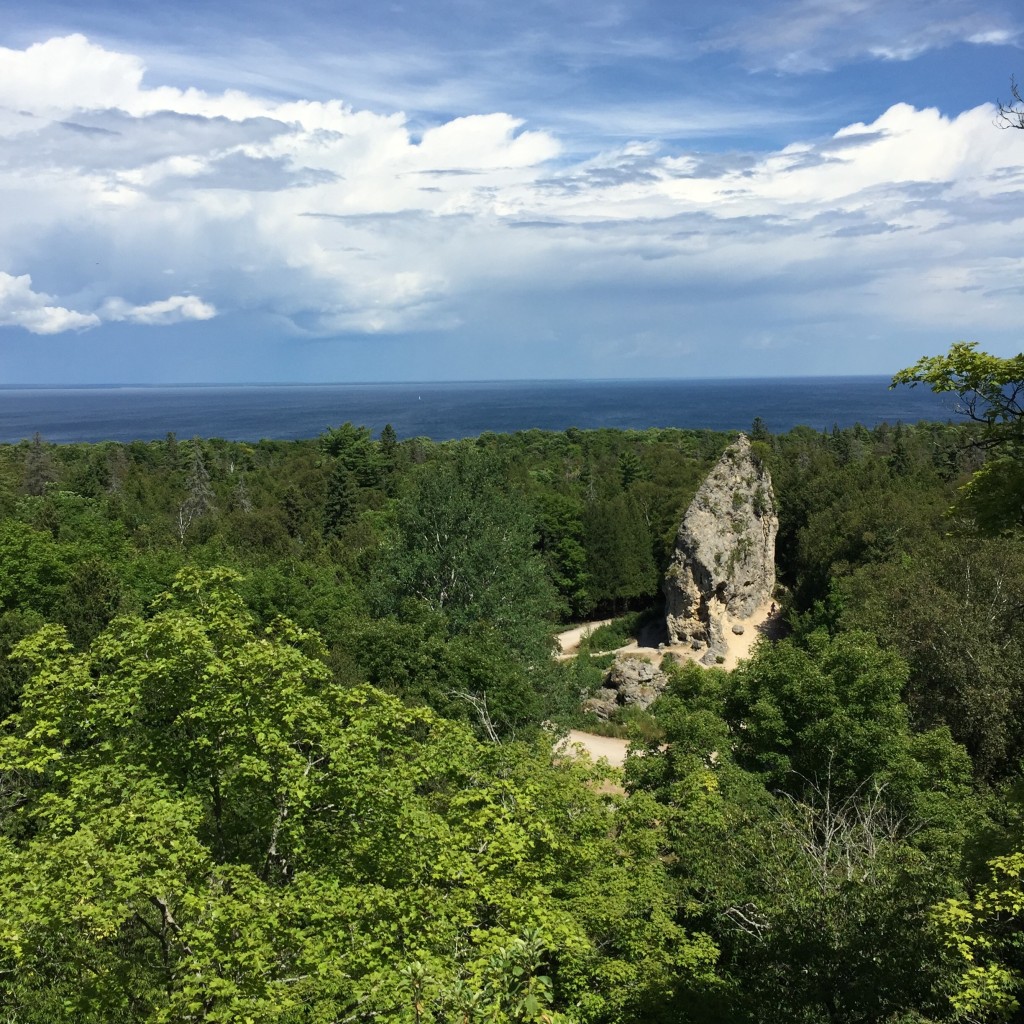 In order to counteract all of the good work we'd done for our bodies, we decided to walk into every fudge shop on the main strip and eat samples galore. We gobbled up so much sugary goodness that I never need to see another piece of fudge again. Well, until I go back to Mackinac Island next year!
We decided to indulge ourselves (and break our pocketbooks) and eat dinner right on the waterfront at Mary's Bistro, followed by a spooky walk with the Haunts of Mackinac. We went on the Downtown Tour which featured some of the haunted spots on the main strip down to Mission Point. While a bit on the dorky side, I think ghost tours are really fun – I've been on three in the past two years, including ones in New Orleans and Salem, Massachusetts.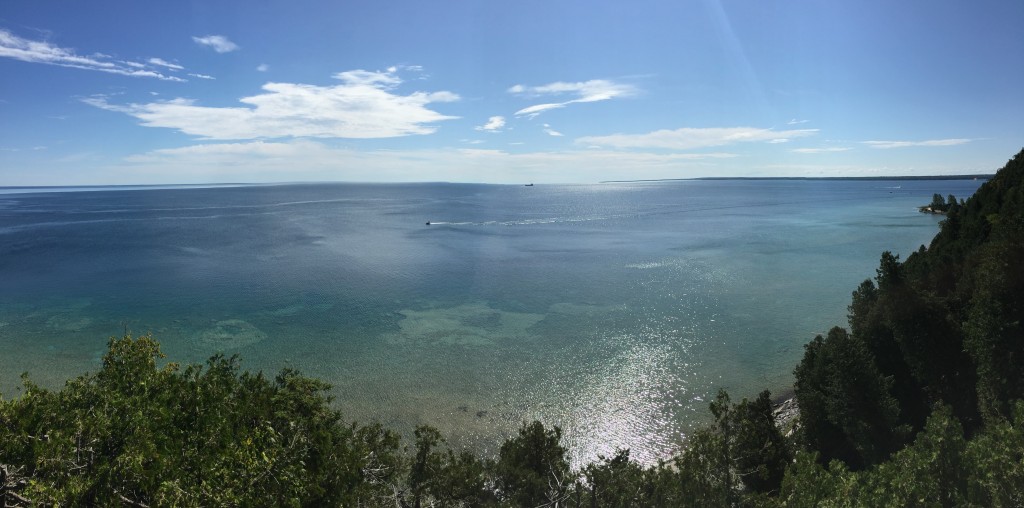 There is plenty more to do on the island, including renting bikes, horseback riding, and, of course, relaxing on the beach. I also recommend bringing your camera for great sunset shots. Head along the boardwalk and you'll see Mackinac Bridge – that's how you'll know that you're in the best spot for a sunset view.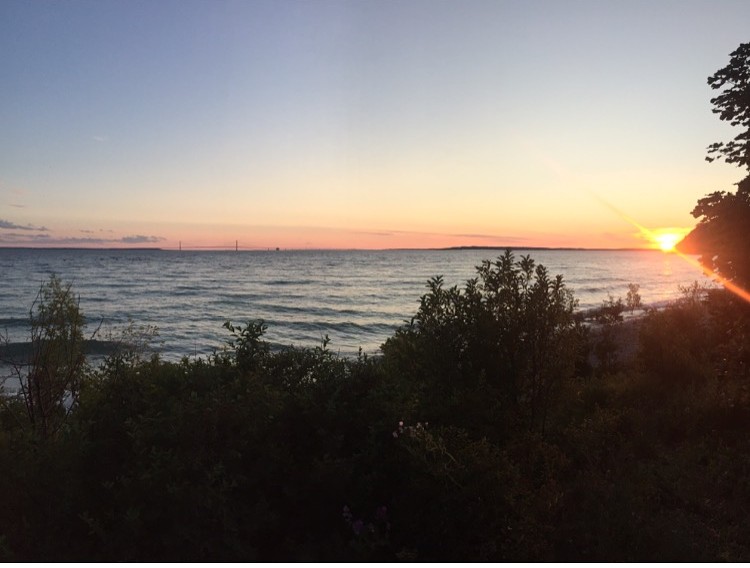 My last piece of advice is to not come back on a Sunday. We've already decided that next year, we'll visit Saturday through Monday in order to avoid the hellacious traffic you typically encounter heading back to Chicago through Indiana on a Sunday evening in the summer.
All photos are property of the author, unless otherwise noted.