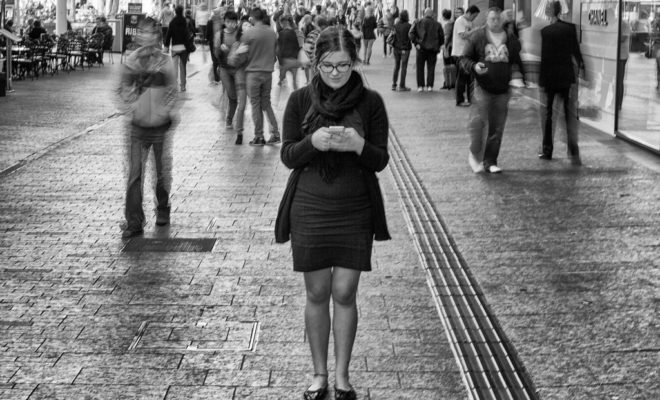 flickr/fishyone1
Alternate Uses For Dating Apps: The Friend Finder
|
At a time when everyone is probably focusing on all things dating, did you know that dating apps aren't just for dating?
Neither did I, well not really anyway. I have used them in the past and ended up making a friend here or there. But I have never gone in with the expectation that guys want to be friends. Until now that is, when I moved out to California I came here knowing no one but my brother and his family. I was familiar with my direct coworkers but that was pretty much it. I was alone, so I thought it was time to figure out the alternate uses for dating apps and see how I could use them to my advantage.
Will you be my friend?
It's very different moving to a new place, and it's something you're supposedly supposed to do at least once in your life. People talk about how it's OH SO fabulous and you learn and grow as a person, yeah that's all fine and dandy but what if you're like me? Quiet, keeps to herself, buries herself in work and someone who just generally avoids meeting new people? You're screwed, that's what!
So when I moved, I decided to get back on the dating apps and see what I could find. I updated all of my profiles. Because you know, dating is a numbers game, so the more apps you have the better chances you have of meeting someone, right? Maybe.
Then I heard of this new app called Bumble. The thing that made this dating app so different was the fact that it has a "BFF" option. All of the other options are still the same, you choose the age range and distance that you'd like to choose from and then you go swipe away. It's not an entirely new concept because, you can choose "looking for friends" on both Plenty of Fish and OK Cupid. However, it's been my experience that when someone on there says they're looking for friends, they're really just looking for friends with benefits. The main difference with Bumble is that the Woman has to make the first move, and if you don't contact a match within 24 hours then you "lose" that match, forever.
Enter BFF Matching
I'm not entirely convinced that using dating apps to find friends is very effective, because really how are you supposed to handle it? Do you treat these female profiles as if they were dating profiles? What criteria are you using to 'swipe right'? Or do you just swipe right on every profile? And then what am *I* supposed to say in my own profile? "31, new to area looking for friends."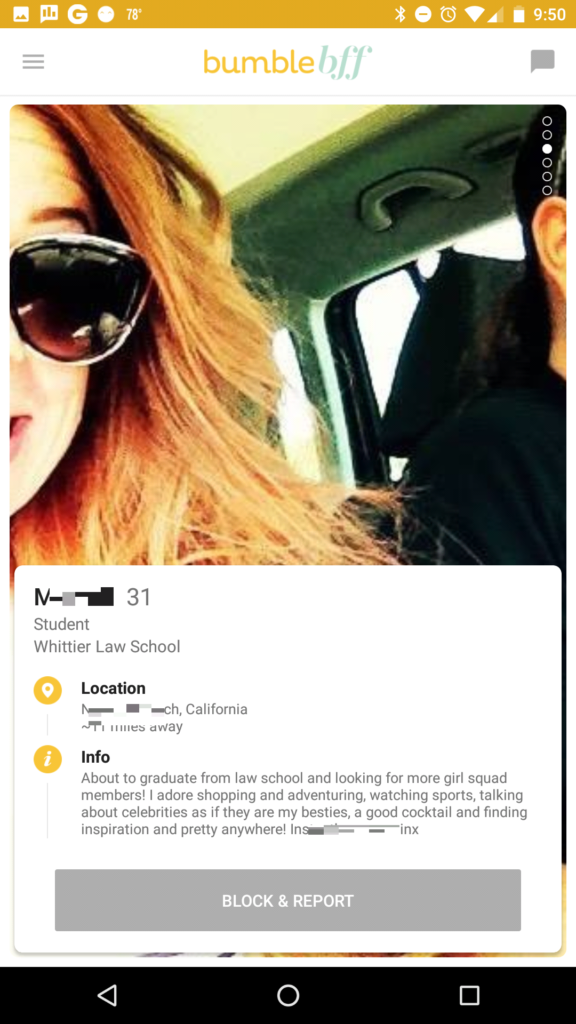 I would bounce back and forth between BFF matching and "on the prowl" matching, but ultimately I realized the following a few things about myself that applied to both my dating life and my inability to make "connections".
I'm way too vain and found myself judging potential friends based on their looks. Because you couldn't do it based on their likes, since everyone likes to "be active, go to brunch and drink wine." Did everyone just copy and paste their profiles from some OC Guidebook?
98% of women that I saw were in a relationship, married or had kids and were just looking for a new "Girl squad". I hate to say it, but as a single person with no kids, I don't want to have to plan around Junior's schedule just to get a drink in the evening. I have made two 'friends' while out here already and both are married with kids. Despite having a lot in common with both, I rarely see them because I'm not about that MOM life. (sorry, not sorry)
Those that DO respond to messages I send aren't really looking for friends but either doesn't know how to use the BFF matching or just don't care and want to troll for kicks. If I were looking for ladies in a romantic sense then there's a whole other bunch of settings for that, but I'm not.
I am way too lazy and dull to be hanging out with the posh Girl squad and their yoga – hiking – biking – brunch and mountain climbing crew. Although I guess it wouldn't totally kill me to be more active, so maybe.
Overall I don't know that I like using an app to find friends, but then again maybe it's just me and my unwillingness to actually go out and meet people. I have started doing other things, you know…. like in real life! I've taken up painting, and have done a few solo Paint & Wine nights, and I've started talking to a girl in the office that I've been working at for two years. Of course, it's all happening the week that I am leaving the company, but that's a story for another day.
Have you used dating apps to find friends? If so which worked best for you and how did you go about it? Clearly, I need help.