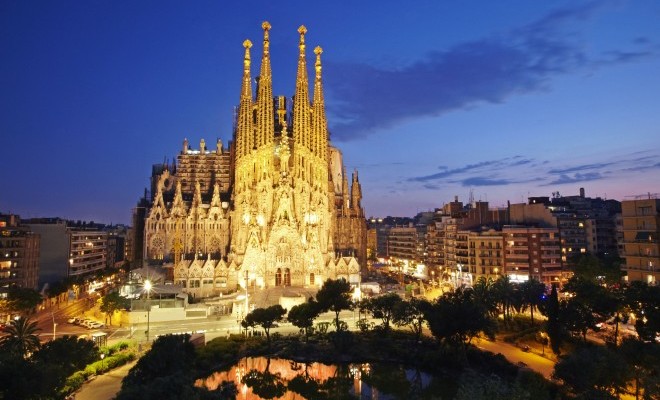 Visiting Barcelona, La Bella
|
If Spain is on your bucket list, then place Barcelona straight at the top. While touristy in some places, there are nooks and crannies where you can hide away from the bustling crowds with a cheap beer, tasty treat, or among the trees at a beautiful park.
On a recent trip, Barcelona was the first stop on a whirlwind tour of gorgeous Spanish cities holding famous sightseeing locations. There is so much to do and see in Spain, that four days in Barcelona proved to be the perfect amount of time. Whether you're taking on more of Spain or are traversing around Europe, a long weekend is just right for fitting in amazing churches, delicious dishes, and quaint gardens.
---
Things to in Barcelona
1. La Sagrada Familia
The #1 can't-miss, must-do in Barcelona is  La Sagrada Familia. The architect Antoni Gaudí's masterpiece cathedral. I know what you're thinking – another church in Europe? No big deal! But you would be very wrong. La Sagrada Familia is unlike any church I have ever seen. With columns formed like trees reaching over 150 feet, stunningly translucent stained glass windows, and a grander façade than I've ever seen before, you will be in awe.
Best tip I can give you here: Get your tickets online first! Lines circle around the building and can last hours.
Another tip? Do the audio tour. It's a few bucks extra, but the fun facts are totally worth it.
2. See more Gaudí
You're in Barcelona, so you need to see even more Gaudí. Traverse up to the top of the hill of El Carmel to take in views of the city, as well as the quirky and fun Park Güell. From the summit, La Sagrada Familia stands out like a beacon and the city seemingly goes on for miles until it runs into the sea. Gaudí's former home resides at the top, as well as his mosaic figures in the garden.
Tip: Come in from the back entrance using the Vallcarca metro stop. There's a nifty hidden escalator that takes you part of the way and it means you don't have to pay admission. If you're partial to seeing all of the mosaics, then pay you must, but there's enough beauty without the Euros.
3. Visit the beach
Barcelona is near the Balearic Sea, so you can you say beach?! If you've traveled at the right time of year, take a day off from the walking, grab your sunscreen and towel, then head for the beach. Along the way, there are various restaurants for a quick bite, but my favorite trick is hitting up the stalls selling cheese, candy, and plantain chips. They all give free samples and, if you really like something (like raclette cheese sammies, mmm), they're super cheap. I won't lie, these beaches aren't the best beaches in the world, but the blue sea is almost surreal compared to the bustling city.
4. Museu de l'Erotica
Museu de l'Erotica isn't all that pornographic, but instead insightful as to how sex has basically ruled the world. Definitely worth visiting!
5. Churches
Though it's like many other churches in Europe, Barcelona Cathedral and the various other structures in the Gothic Quarter are solid itinerary items.
---
Places to eat in Barcelona
If anything I've said so far hasn't made you want to hop on a plane to BCN, then this section is about to. The tapas in Barcelona are Out. Of. This. World. There's tapas… and then there's Tapas in Barcelona. The jamón ibérico is to-die-for. Patatas bravas? Mmm…hmm… I'm drooling just thinking about it!
Two restaurants that were recommended to us and that I am sure to recommend to you: Cachitos and Ciudad Condal.
Cachitos (Rambla de Catalunya, 33): Quite possibly the best food I've ever had. You must get the sangria with various flavor add-ins; we went for the vanilla strawberry and it was perfection. Everything we ate was delish. Go, go, go!
Ciudad Condal (Rambla de Catalunya, 18): A lovely place for lunch, though it's jam-packed with locals and tourists. The service was sub par, but the food was delicious.
At some point on your trip to Barcelona, it's imperative that you try churros and chocolate. You can get them in most Mexican restaurants in the States, but they're a real treat in España. Grab a seat at a café or random restaurant, then indulge in the deliciousness that is churros and chocolate.
---
Where to stay in Barcelona
We stayed in the neighborhood called El Raval, which was ideally located to public transport and a short walk away from both The Gothic Quarter and La Rambla, the most famous shopping street in the city.
Speaking of which, I didn't add La Rambla to my "Must Do" list because I can go shopping anywhere and the food/drinks were more expensive here than other places. If you're looking for authentic Spanish food, you'll find it everywhere, so no need to pay more for it!
Major cities around the world are adapting Airbnb, a house-sharing website. If people have extra rooms, are leaving town for a while, or have a second home, they'll rent their abodes for usually fairly cheap rates. We paid just under 30 Euro a night for a double room in an apartment where six others travelers were also staying. Of course, you can find hostels and hotels, but I prefer to save my cash for sangria and tapas. You're only in the room for sleeping, right? Why spend more than necessary.
---
Other Barcelona travel tips
1. Take a walking tour
In many European cities, the best way to get the lay of the land is by taking a walking tour. Search on Yelp or Google for companies that run free tours of the city; they usually meet at well-known locations and give you great insight into the history, the sites, and the tour guides offer fun advice on where to nosh, grab a drink, or what not to miss in their town. You can't beat a few Euro tip for two hours of info. We used Orange Donut tours in Barcelona, but just about any company will do.
2. Take advantage of public transportation
One word: Aerobus. For a mere 6 Euros, a bus will take you straight into the city center. The buses leave every 5-20 minutes depending on the time of day and make multiple stops throughout the city, including near train lines should you need to finalize the route. Why pay a taxi, when you can keep your coins for churros, baby?
3. Ditch the itinerary and just walk
Go exploring. Around every bend, there are treasures to be found: old churches, squares with markets, shops selling pastries, and alters to saints. This is why I say that La Rambla is not the place to go. Some tourist stuff is awesome, but while you're there, get off the beaten path and, instead, go make your own.
---
Do you have any tips (or suggestions) that we should know for the next time we plan to visit Barcelona? Let us know down below.