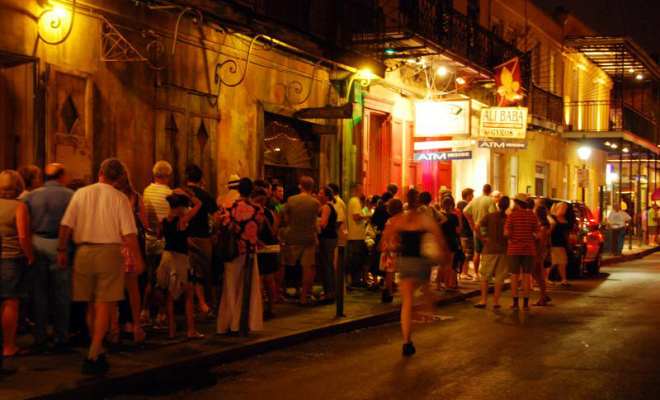 flickr.com
10 Tips For Visiting New Orleans On A Budget
|
With four comp days to kill and vacation always on the brain, I decided to take a budget trip, so I went to Kayak.com/Explore and the cheapest flight was to New Orleans. NOLA was on my bucket list, so I was sold!
My nonprofit paycheck and my desire to go to South America in December made the budget for this trip even tighter than normal. I was also going by myself, so there was no one to share a hotel bill or taxi fare with. However, in the process of planning my trip to NOLA, I discovered a few great ways to save money.
Planning on visiting NOLA solo? Here's a few great tips for visiting New Orleans on a budget!
1. Spirit Airlines is both awesome and annoying
The flights are super cheap because their bare bones flights get you exactly that – a flight. Pay to print your ticket, pay for baggage, pay for water on the flight. So for $97, I flew to NOLA for 4 days with a personal item (has to be less than 16x14x12). I stuffed all I could into my duffel and that was it!
2. Hostels are your friend
The ultimate accommodations in budget travel are hostels. At $26 a night, my hostel served my purposes perfectly. Check out my first experience in a hostel here.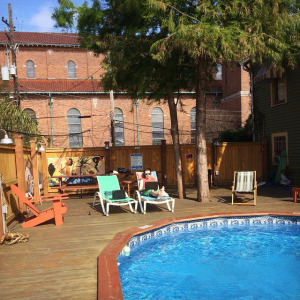 flickr.com/sister_ray
3. Tours, Tours and more Tours!
As I've done in Barcelona and many other European cities, I love to take free tours when I get to new cities. I took three free tours when I was in NOLA – at the French Market and with Free Tours by Foot in the Garden District and a ghost tour. I also took a tour of St. Louis Cemetery – which isn't open to the general public – through a tour I found on Groupon (I also saw a pub crawl Groupon on there, which would've been super fun if I'd been there on the weekend).
4. Take advantage of transportation systems
Because I went to New Orleans by myself, there was no sharing a taxi fare to town, so I decided to take the airport shuttle. It was $38 roundtrip, which is more than I'd like to spend, but, while cheap, public transportation would've taken me quite a while. Public transport is super cheap in NOLA – $1.25 a ride. I definitely recommend the day passes if you want to travel multiple times in a day; you can get them at Walgreens. It is $3 a day and $9 for three-day passes, this includes buses and the streetcars.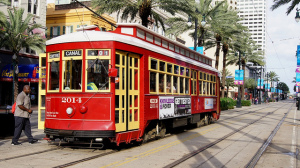 flickr.com/tukatuka
5. Local Artists galore!
From the free concerts at the Old U.S. Mint to the Market Café and the many bands on the street, free music abounds in New Orleans.
6. The Happiest of Hours!
I love happy hour and good deals, so I sought out places to indulge. Two recommendations I was given: Muriel's and Domenica, and I'm sure there are many more! I only went to the latter and it was delish – half-price pizzas and drinks.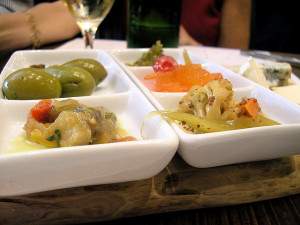 flickr.com/rdpeyton
7. Forget the cruise, but still ride the river
NOLA is right next to the Mississippi River and there are plenty of river cruises. I saw one for $50 (!!!) which is much more than I want to spend on my vacation. So, instead I took the $2 ferry to Algiers Point. It's a super quick ride, but it gets you on the river for your photo experience and to another part of New Orleans. There's not much to do in Algiers, but it's a nice jaunt around a less crazy side of the city.
8.Tipping goes a long way
Always have singles. Everyone expects a tip – the tour guides, bands on the street and in restaurants, included.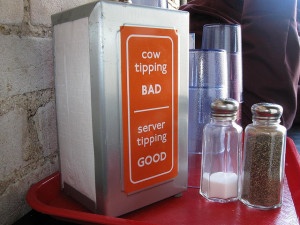 flickr.com/5tein
9. Always keep an open eye
There's an obligatory note on safety here, especially if you're traveling alone. There are a lot of homeless people (called gutter punks) and many more drunk people. As with every adventure, watch your belongings, don't walk alone, and drink minimally if you're by yourself.
10. Sometimes it's about who you know
Do you know anyone in Louisiana? Do your friends or family know anyone there? Luckily, I was hooked up with three people who live in New Orleans who gave me the insider's view on where to go outside of the tourist area. I'll pass the great places onto my readers: Bacchanal and Sazerec are both awesome.
Other tidbits: You must eats some roast beef po' boy, gumbo, red beans and rice, street daiquiris, and pralines while you're there. You'll see them everywhere and I can't really recommend specific places to eat them, so try them out anywhere you go!
Do you have any tips for visiting New Orleans on a budget? Or have a spot that's an absolute must see when in town? Let us know in the comments below!