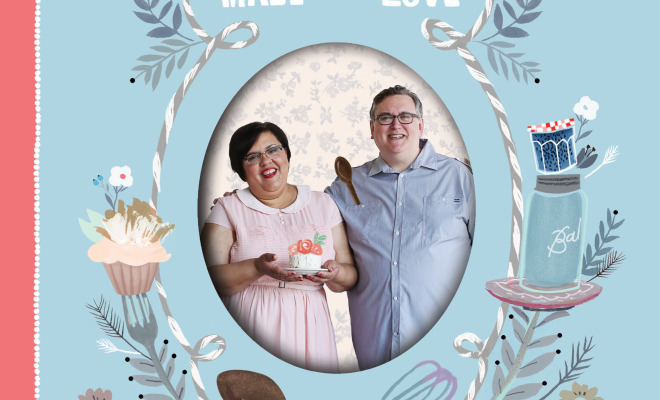 Read This: "Back in the Day Bakery Made with Love"
|
Store-bought desserts don't seem nearly as sweet after flipping through Back in the Day Bakery Made with Love. Out just yesterday, it's the follow-up to Cheryl and Griffith Day's New York Times bestseller, Back in the Day Bakery Cookbook. The husband-and-wife team own and operate the Back in the Day Bakery in Savannah, Georgia, where they make Southern American comfort food from scratch using local, seasonal ingredients.
When Cheryl writes in the book's introduction, "My husband, Griff, and I bake with love," she means it. Their love of baking and community is obvious, even if you're just reading the cookbook and not actually lucky enough to be one of their regulars. I would probably also believe, like Cheryl, that "the morning hours can be a magical time of day," if my mornings included their pancakes with buttered maple pecan syrup or raspberry corn muffins.
[youtube http://www.youtube.com/watch?v=6w3TZlVvdz4]
Breakfast is just the beginning of these 100-plus recipes, which also include breads, sweet and savory pies, cookies, and—my favorite idea—everyday cakes. When I read Cheryl's take on cakes, I was almost ready to move to Savannah:
"In my world, cakes aren't just for celebrating birthdays or big life events…On any given day, you will find our pastry cases filled with all kinds of simple cakes, from Bundt cakes to pound cakes to coffee cakes, because who needs a holiday to enjoy a piece of cake?"
To be clear, "simple cakes" don't sound boring in the slightest. (They don't look it, either—the cookbook's photos are gorgeous.) Banana chiffon cake with banana cream-cheese frosting. Strawberry buttermilk cake. Mexican spice cake with chocolate glaze. Yes, these are all considered simple, or everyday, cakes. I wish Cheryl worked in my office.
Along with recipes, Back in the Day Bakery Made with Love also features make-it-yourself projects throughout the book, like a best-in-show banner and a vintage lunch canister. And for novice bakers, they detail at the start of the book the twelve kitchen tools crucial to scratch baking, plus what spices and dried herbs you'll need for a well-stocked spice rack.
Make tomorrow morning a little more magical with this recipe for Back in the Day Bakery's jam muffins, which will pair with your morning latte much better than that tired granola bar.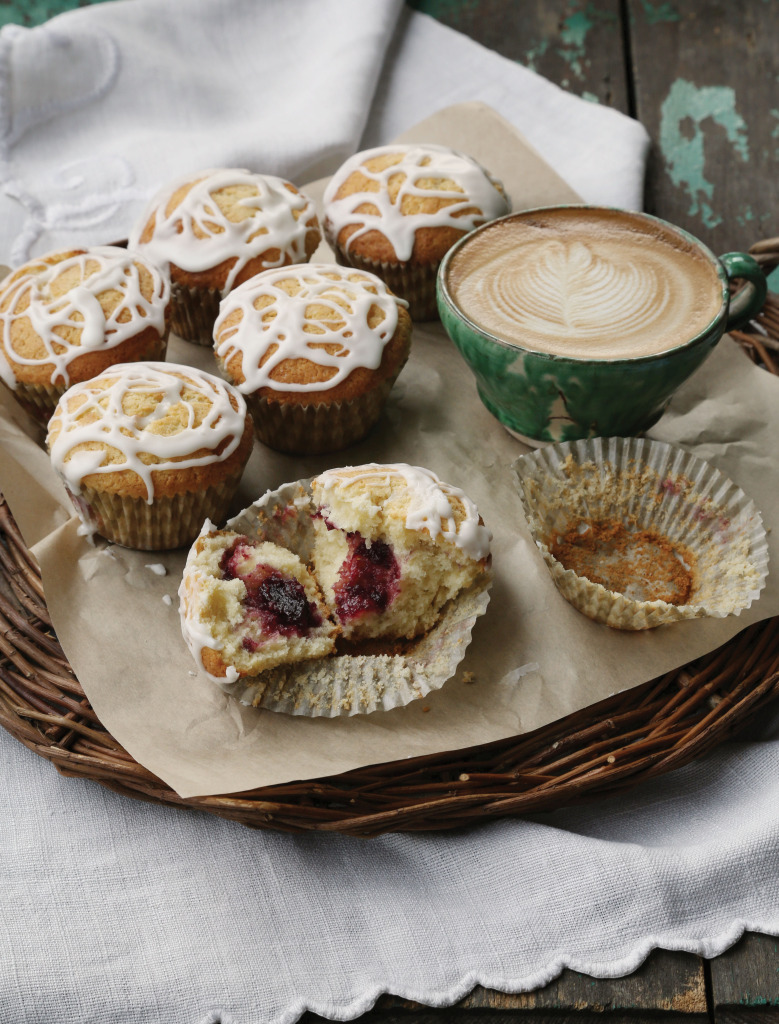 Jam Muffins
Makes 12 muffins
Jelly-filled muffins, our take on the doughnut-shop favorite, make our customers almost giddy when they come in for their morning coffee. The muffins are baked, not fried, but just like doughnuts, they are finished with a vanilla-flavored glaze.
3 cups unbleached all-purpose flour
1 1/2 teaspoons baking powder, preferably aluminum-free
1 1/2 teaspoons baking soda
1/4 teaspoon fine sea salt
1/4 teaspoon ground cardamom
12 tablespoons (1 1/2 sticks) unsalted butter, at room temperature
1 1/2 cups granulated sugar
3 large eggs
2 teaspoons pure vanilla extract
1 1/2 cups sour cream, at room temperature
About 1/3 cup jam (any kind)
For the Glaze
2 cups confectioners' sugar
3 to 4 tablespoons whole milk
1/2 teaspoon pure vanilla extract
Position a rack in the middle of the oven and preheat the oven to 350°F. Spray 12 standard muffin cups with nonstick spray or line with paper liners.
In a large mixing bowl, whisk together the flour, baking powder, baking soda, salt and cardamom. Set aside.
In the bowl of a stand mixer fitted with the paddle attachment (or in a large mixing bowl, using a handheld mixer), cream the butter and sugar together on medium-high speed until light and fluffy, 3 to 5 minutes. Turn the mixer speed down to low and add the eggs one at a time, beating well after each addition and scraping down the sides of the bowl with a rubber spatula as necessary. Add the vanilla and mix until blended.
With the mixer on low, add the flour mixture in thirds, mixing until just combined and scraping down the sides of the bowl as necessary. Add the sour cream and mix until combined, about 1 minute.
Scoop 2 tablespoons of batter into each muffin cup and spread it over the bottom of the cup. Spoon 1 heaping teaspoon of jam into the center of each. Top each one off with another 2 tablespoons of batter, making sure to cover the jam.
Bake for 20 to 25 minutes, until the muffins are golden brown. The tops should be firm to the touch and a toothpick inserted in the center of a muffin should come out clean. Remove from the oven and let cool for about 15 minutes.
Excerpted from Back in the Day Bakery Made with Love by Cheryl Day and Griffith Day (Artisan Books). Copyright © 2015. Photographs by Angie Mosier. Order your copy of Back in the Day Bakery Made with Love on Amazon.