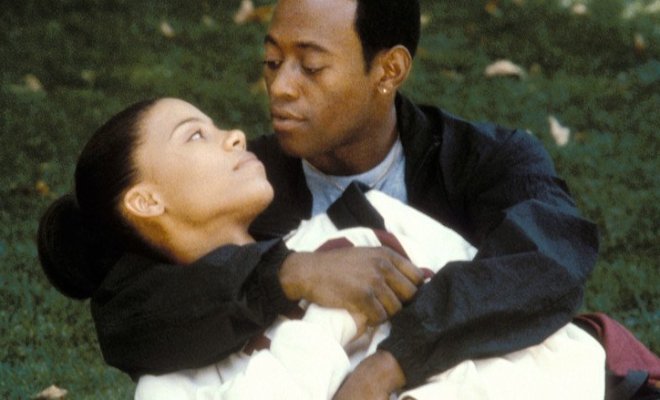 If You Loved "Love & Basketball," You Need to Rent "Beyond the Lights"
|
Love & Basketball came out 15 years ago this week. Now, I'm just going to assume you've seen this classic, but here's a refresher, just in case. It's the first film from writer-director Gina Prince-Bythewood, starring Omar Epps and Sanaa Lathan as Quincy and Monica, two childhood friends and basketball stars who—surprise!—fall in love.
I remember seeing it in the theater when I was 16, where I fell equally in love with the film and the excellent soundtrack, which included Maxwell singing his cover of "This Woman's Work," along with Lucy Pearl, Chaka Khan, and Zapp & Roger ("I Want to Be Your Man"). I still have a VHS copy of it somewhere, which of course is completely useless to me now. (Dear Netflix, make this available for instant streaming.)
But Love & Basketball was more than just a great romance. It was also a great basketball film, and I'd be shocked to find any female who played sports as a kid (or in high school, or college) who wouldn't love watching Sanaa Lathan as Monica, who is uncompromisingly dedicated to her sport. She brags to Q when they first meet as kids: "I'm gonna be the first girl in the NBA." Unsurprisingly, her character goes on to play for the WNBA. (If you've never seen the movie, it's your fault for that spoiler. You deserved it.)
To celebrate Love & Basketball's 15th anniversary, you can—and should—watch it again, but now is also an excellent time to check out Gina Prince-Bythewood's 2014 film, Beyond the Lights.
[youtube http://www.youtube.com/watch?v=sfcfZn8nq3w]
Starring Gugu-Mbatha Raw as Noni, a depressed, hyper-sexualized pop star, and Minnie Driver as her overbearing stage mother, Beyond the Lights is another example of Prince-Bythewood's engaging storytelling and eye for romance. Considering the subject matter, it should be a no-brainer that this movie also has a pretty great soundtrack. Nina Simone fans will be happy, I'll say that much.
The romance comes in with Nate Parker as Kaz, the police officer who pulls suicidal Noni off a hotel balcony ledge and later becomes one of the first people to really see her, beyond the stage makeup and persona. (My one complaint about this movie is how much that aspect is overdone, with him telling her "I see you," ad nauseam. Watch the trailer. You'll see.) But Beyond the Lights more than makes up for that flaw. Without spoiling anything, I can say that one element I loved about the movie is that although Kaz does quite literally save Noni in the beginning of the film, it doesn't fall into the trope of the male savior. Noni does the work herself. But we also get some good, albeit a bit cheesy, romance along the way, and it's beyond refreshing to see a movie with a male lead who is as good of a person as he is attractive. Minnie Driver does an excellent job of the overbearing mother-manager, and it would feel wrong to not mention that Danny Glover stars as Kaz's father.
If you're a fan of Love & Basketball, you should definitely rent Beyond the Lights. It's available to rent on Amazon and from Redbox.