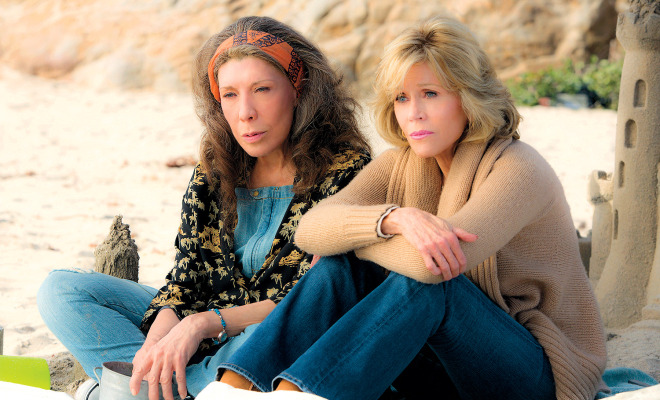 Watch This: "Grace & Frankie"
|
Have you watched "Grace & Frankie" yet?
The new Netflix comedy premiered last weekend, with all 13 episodes of Season 1 available to stream, reuniting Jane Fonda and Lily Tomlin for the first time since  "9 to 5". And they're better than ever. (Sadly, Dolly Parton does not make an appearance to make it a complete reunion.)
Grace (Fonda) and Frankie (Tomlin) are polar opposites thrown together when their husbands, longtime law partners, announce—surprise!—they're in love, and have been for the last 20 years. The husbands, Robert (Martin Sheen) and Sol (Sam Waterson), make this announcement over dinner in the opening scene, so I'm not spoiling anything, I promise. But I was already hooked before the men showed up. We first see hippie Frankie going to town on the bread bowl, and when Grace arrives, all buttoned-up and fabulous (hello, it's Jane Fonda), hilarity ensues. Grace promptly picks up the bread and hands it to the waiter, saying, "We won't need this." Bewildered Frankie grabs more bread and asks Grace how she plans to soak up the sauce without any bread. "I don't eat sauce," Grace scoffs, and orders a martini. That brief encounter gives the viewer great insight about our two leading ladies.
[youtube http://www.youtube.com/watch?v=CDv6PRi1SgQ]
The first episode continues on this hilarious note. Robert and Sol announce their plans to marry, now that they can, to which Frankie protests, "I know, I planned that fundraiser!" along with saying to Sol, "You're gay, and this is who you're gay with?" Grace, meanwhile, is busy throwing food and screaming at Robert. Yet amidst all the hilarity—including Frankie pouring Jameson over a bowl of Ben & Jerry's, and later taking peyote—there are plenty of quiet, touching moments. Sam Waterson is delightful as Sol, who still loves Frankie dearly; Martin Sheen is not nearly as endearing, but he still is a good fit as the more uptight Robert.
"Grace & Frankie" has a fun supporting cast, too, with the couples' grownup children, most notably through Grace and Robert's daughter Brianna, played by June Diane Raphael, and Frankie and Sol's fresh out of rehab son Coyote, played by Ethan Embry.
If anything, though, you'll want to watch "Grace & Frankie"  just to hear Jane Fonda yell, "If anyone's gonna sit on Ryan Gosling's face, it's gonna be me!"
Yep. That happens.
"Grace & Frankie"  is available to stream on Netflix.