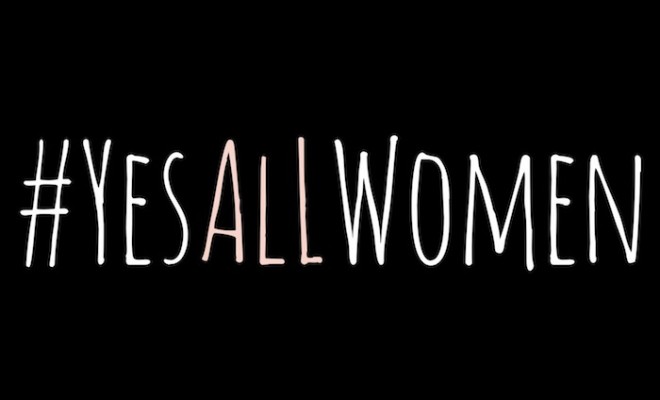 #YesAllWomen From a Guy's Perspective
|
This post was written by one reader in response to the recent #YesAllWomen campaign. 
I had to step back from myself this week. It was an unintentional response to the violent rampage in southern California, and the language of a manifesto that, at many points, bore similar sentiments to ones I had myself expressed in both the near and distant past.  In doing so, I was confronted with my own self-denial.  For years I had told myself I was one of the "good guys", but with all my flaws laid out before me, I was able to see just how deluded I'd become. As a response to this new awareness I felt a great need to issue an apology.
The words printed below were posted to Facebook – the only large forum available to me presently to make sure they reach their intended audience.  These words are personal and many men may not relate to them, but I encourage any individual who sees in this something familiar to realize the false messages we've sold and continue to sell ourselves.
There is never a bad time to say 'I'm sorry' to the ones who need to hear it most.
#YesAllWomen from a guy's perspective:
To the Women in My Life:

To long term friends, and short term acquaintances; to those who have floated in and out of my life, and those who have stuck through: I want to apologize. For all the times I've believed I deserved something from you, I'm sorry. For all the times I've "white-knighted". For all the times I've played the Nice Guy card. For all the times I've considered myself a victim of fate instead of recognizing the consequences of my selfishness, I'm sorry.

For all the times I've masked my intentions and used you to satisfy my own desires, I'm so very sorry.

To those of you who've sat through endless rants about Friend Zones, and to those of you who I've openly accused of putting me there, I'm a fucking idiot and I'm sorry.

For any time I've echoed NotAllMen sentiments or something similar, I'm sorry.

For the times when I couldn't be satisfied with the limits of our relationship, I'm sorry. For all the times that I used you as a competitive measuring stick, and for all the times that I didn't listen to you when called me out on it, I am truly sorry.

For my years of petulant pouting and entitlement, and for my self-denial, I'm sorry. For the times that I created a fantasy around you and expected you to live up to that, I'm sorry.

For any time that I've denied you equal standing in my mind and for any time that I ever made you feel unsafe, I'm more sorry than I could express.

And for the fact that it's taken me 32 years to see it, and for all the years of potential happiness lost, I am most sorry.

Thank you for your patience, your sympathy, and your forgiveness. I only hope I am able to earn it going forward. #YesAllWomen.
Editor's note: Cue jaw dropper. Thank you for speaking up. We need more of you.