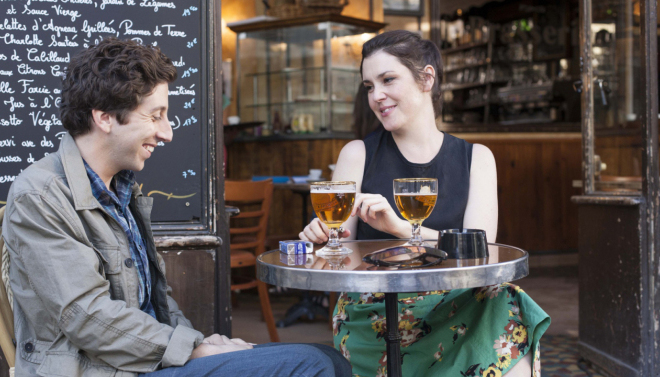 "We'll Never Have Paris" Movie Giveaway!
|
We have to admit: we're suckers for romantic comedies, and we're kind of bummed that there's been a major shortage of good rom-coms released lately. I mean, there's only so many times we can replay How To Lose A Guy In 10 Days, The Wedding Planner, Failure To Launch et al without wanting to punch Matthew McConaughey in his smug-yet-adorable face, amiright?
Thankfully, we've just stumbled upon a new rom-com to add to our rotation – and we're celebrating with an official movie giveaway! (More on that in just a sec!)
---

About We'll Never Have Paris:
In a story (unfortunately!) based on true events, Quinn (Simon Helberg) has been in a devoted relationship with Devon (Melanie Lynskey) for several years, and is ready to propose marriage until a gorgeous blonde co-worker (Maggie Grace) reveals her love for him. Quinn immediately has second thoughts about matrimony and ends up terminating his relationship with his long-time better half. After a brief fling, Quinn quickly realizes he's made the mistake of a lifetime, so he sets off to Paris, where his one and only true love has moved, to win her back.
Can't wait to check it out? You're in luck! We'll Never Have Paris is available both in theaters and on iTunes and on Amazon Instant Video.
---
The Giveaway
To celebrate the release of "We'll Never Have Paris", we're hosting a giveaway! One lucky winner will receive an official We'll Never Have Paris movie poster, autographed by Simon Helberg, Jocelyne Towne and Maggie Grace.
How to enter:
1. Follow us on Twitter: @DailyUrbanista
2. Tweet: Can't wait to check out @neverparismovie! Tweet to win an autographed poster from @DailyUrbanista: http://ow.ly/HY14k #contest (Click here to tweet this!)
It's that easy! Winner will be announced on Monday, February 2nd. Good luck!

---
Written by and starring Simon Helberg (The Big Bang Theory) and co-directed by his wife, Jocelyn Towne, We'll Never Have Paris is a hilarious look at the real-life antics that led up to the star's engagement. The film co-stars Melanie Lynskey (Happy Christmas), Zachary Quinto (Star Trek Into Darkness), Alfred Molina (Love Is Strange), Jason Ritter (Parenthood) and Maggie Grace (Taken franchise). Click here to watch it on iTunes or Amazon Instant Video