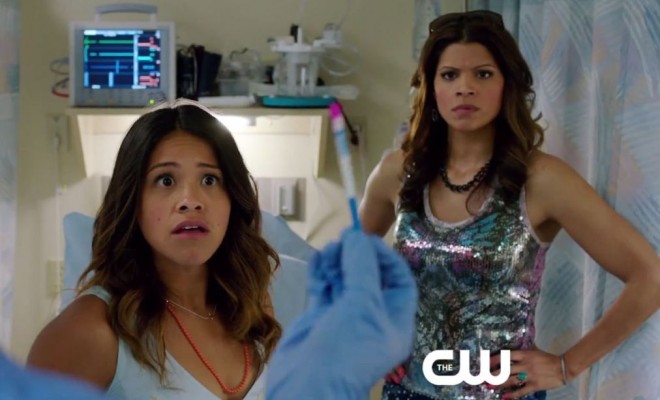 Jane the Virgin is Your New Favorite (Meta) Telenovela
|
Have you watched Jane the Virgin yet? If your answer is no, then I don't blame you: a mere 48 hours ago, I hadn't given the show a second thought. I took one glimpse at the promotional billboard for it—pink background, pretty girl with bewildered expression holding a home-pregnancy test—then thought, nah.
Thankfully, Margaret Lyons saved me from sleeping on this delightful show. Over at Vulture, she urged readers with a straightforward, "You need to watch Jane the Virgin." And because I do everything the Internet tells me to (especially when the writer promises plenty of "dramz"), I came home from work that evening and promptly started watching it on Hulu Plus.
Look, I get it. The premise of this show is absolutely bonkers. A sweet, beautiful, smart virgin goes for a routine Pap, and the gynecologist, heartbroken from catching her wife in bed with another woman, accidentally inseminates her with the sperm of a rich hotelier named Rafael. Oh, Rafael is the gynecologist's brother. And oh, by the WAY, Jane works at Rafael's hotel. And five years ago, Jane and Rafael kissed. But Jane has an adorable fiancé named Michael. (See? "dramz" was accurate.)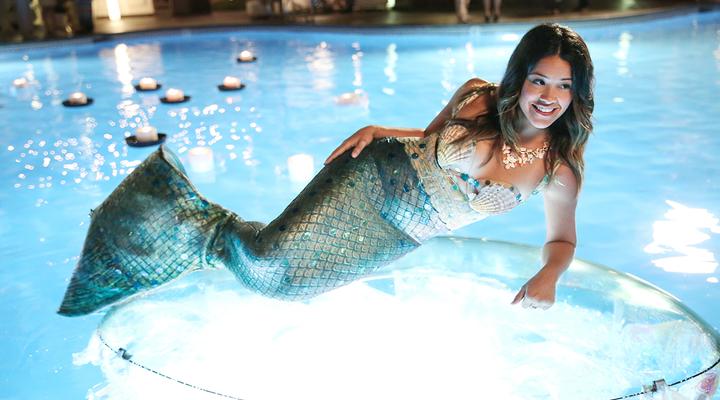 The beauty of all this silliness is that it actually works. Jane the Virgin is exactly what it's meant to be, from the melodramatic narrator and the funny typed-on graphics to Jane's endearingly well-meaning, religious abuela who loves her telenovelas almost as much as she loves her Jane. It brings us Jane, whose dedication to honesty is as equally on point as her sundress game. She loves grilled cheese sandwiches and is studying to be a teacher. She's a virgin, but she's not a prude. Then there's Rafael, who pulls off white linen pants and tight pastel button-downs like whoa.
Basically, if you like a good dramedy, a potential love-triangle, and above all, watching some characters you actually want to root for, Jane the Virgin is going to be your new favorite meta-telenovela.
The first season is currently five episodes in. This weekend in Chicago we're looking at highs of 34 degrees. You know you're going to be binge-watching something—make it Jane the Virgin. No worries if you don't have Hulu Plus; you can watch the first five episodes on the CW's site. You're welcome.
Jane the Virgin airs Mondays at 9 | 8c on the CW.