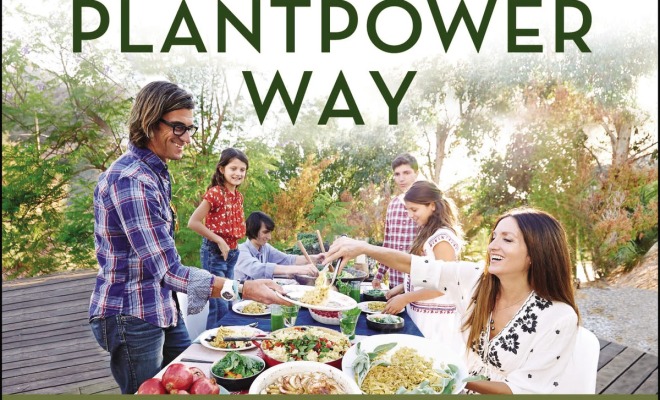 "The Plantpower Way" Will Inspire A Trip to The Farmer's Market (BOOK REVIEW)
|
Eight years ago, Rich Roll was 50 pounds overweight and depressed, subsisting on a diet of largely fast food and alcohol. That's hard to believe today: he's not only no longer overweight, he's been named one of the 25 Fittest Men in the World by Men's Fitness, thanks to a top finish at the Ultraman World Championships (a 320-mile double-ironman distance triathlon).
Roll chronicled his seemingly insane transformation from out-of-shape couch potato to elite athlete in his book Finding Ultra. And now, he and his wife Julie Piatt have released a new book, The Plantpower Way: Whole Food Plant-Based Recipes and Guidance for the Whole Family, to inspire individuals and families to adopt a plant-based diet and lifestyle. Piatt, a lifelong yogi and vegan chef, originally helped Roll change his lifestyle, so she's clearly proved her cred in this department. The Plantpower Way is a hefty, huge book, with 320 pages of recipes, helpful tips to help kids (and grown folks, too, let's be real) learn to love vegetables and healthy eating, and background about their spiritual journey through this lifestyle.
Not gonna lie: When I first started looking at this book, I found the sheer size of it overwhelming. But it's also inspiring. While I'm not planning to become a vegan anytime soon, I can still appreciate and be excited about guilt-free lemon guacamole, raspberry (!) risotto, and Mexican cacao brownies, to name just a few of the many recipes that have already caught my eye. There's also an entire section dedicated to juicing and blending that looks pretty terrific—one recipe is for a Deep Blue Sea Blend they describe as "Hawaii in a glass." (It's a blend of pineapple, banana, raw coconut, coconut water, and spirulina, so I believe it.)
Now that we've just had the first gorgeous spring weekend in Chicago, and with the Farmers Markets officially open for the season, it's a great time to pick up this book and get a little inspired. Like the power couple writes in their "Let's Get Plantpowered" introduction:
"We all know that surrounding ourselves with positive-minded people can favorably impact how we perceive the world around us. Food is no different. It, too, is energy, carrying a certain vibration—a charge that can be positive or negative."
So let's get those positive vibrations going. Dessert seems like a perfect place to start. They've kindly shared their recipe for strawberry mint cacao cheesecake with us, and it sounds divine.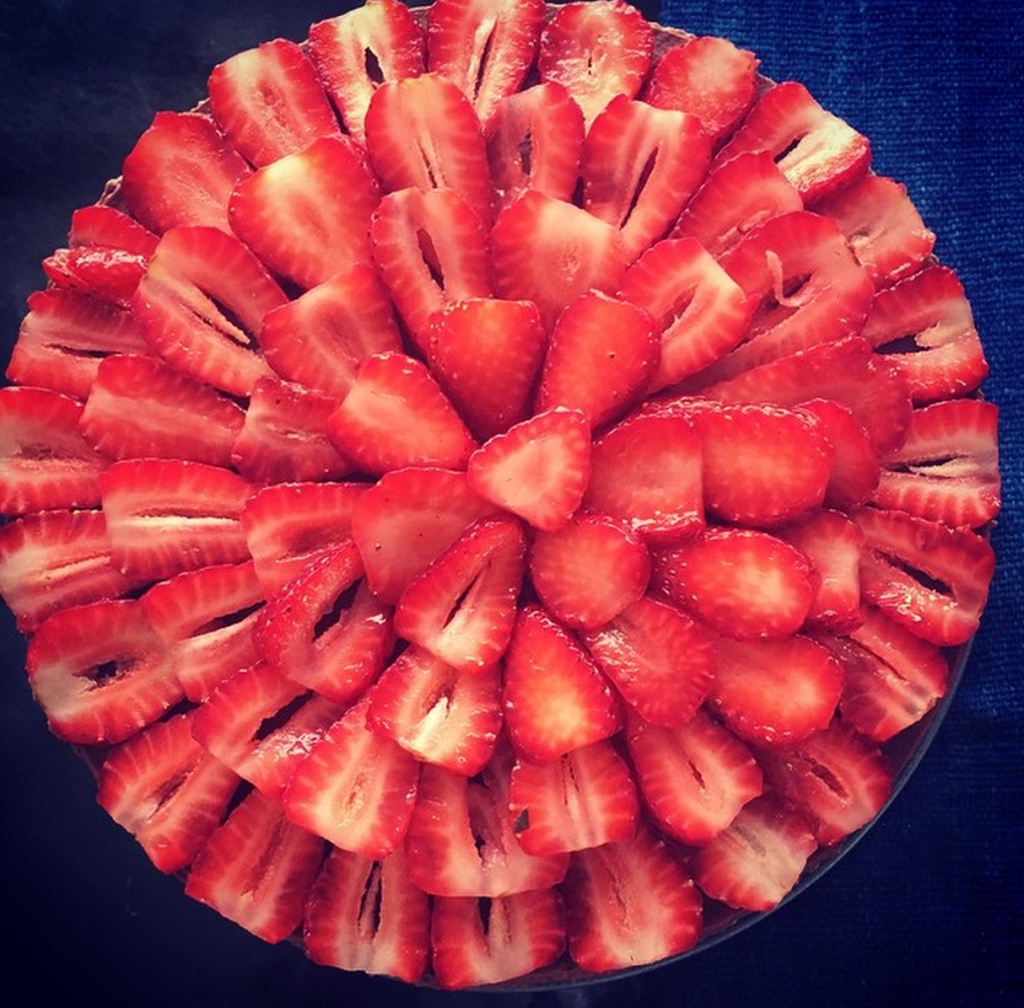 Photo courtesy of Instagram/Julie Piatt
STRAWBERRY MINT CACAO CHEESECAKE
The people have spoken! Rich's photo of this pie received our most "likes" to date on Instagram. The combination of real fruit, powerful herbs and raw cacao takes this plantpowered cheesecake to a whole new level. The cacao, coconut, fruit and mint provide a nice variety of antioxidants, vitamins and fiber that will heal your body. Raw pies are so easy to make that once you get the hang of it, you'll fancy yourself the family baker. Shhh! Don't tell anyone. You won't really be baking anything at all because the magic happens in the freezer. But we'll keep that as our little secret. The one tool you are going to need is a great spring-form pan. There you have it!
Ingredients
Crust:
1 1⁄2 cup raw walnuts
1 cup cacao nibs
8 dates, soaked and pitted
1⁄2 teaspoon Celtic sea salt
Filling:
1 pint fresh strawberries
1 cup raw coconut meat
4 tablespoon cacao powder
1 cup packed fresh mint leaves
1 cup whole coconut milk
8 dates, soaked and pitted
1 teaspoon coconut oil
Garnish:
Preparation
Place one can of coconut milk into the fridge overnight or for at least 2 hours. It's a great idea to have a few cans stocked in your fridge. If you're like me, you may get the urge to make a pie in the middle of the night and this way, you'll be prepared.
In a medium bowl, cover the dates in filtered water and soak for at least 30 minutes.
Pour the coconut oil into the bottom of a 9″ springform pan. Using a paper towel or clean cloth, wipe the oil over bottom and sides of the pan. Set aside.
In a food processor, pulse the walnuts until they are mealy in texture. Add the cacao nibs and pulse again until they are mixed in. Remove the pits from the soaked dates. With the motor running, drop in one date at a time until the mixture forms a ball on one side. You may have to remove the lid and redistribute the mixture a couple times to get all the dates blended in.
Press the crust mixture into the bottom of the springform pan using flat hands to create an even crust layer in the base of the pan. Sprinkle Celtic sea salt over the crust. Place in the freezer.
Remove the coconut milk from the fridge and open it. Spoon out the hardened coconut cream leaving the liquid in the bottom of the can.
Place all the filling ingredients (strawberries, coconut, cacao, mint, hardened coconut milk and dates) into a Vitamix or high-powered blender. Blend on high using the plunger to distribute the mixture to blend smoothly. Taste to adjust for sweetness. You can add a 1⁄4 cup of agave, raw honey, maple syrup or a few more dates if needed to sweeten it up.
Pour the blended filling mixture into the crust and freeze again for at least two hours or until it is very firm.
Remove the pan from the freezer. Carefully run a fine knife around the edges of the springform and release the buckle. Slowly remove the rim, allowing it to separate from the pie. Now you are ready to begin creating your strawberry mandala.
To make that super impressive swirl on top, slice the strawberries lengthwise so you have a cross section of these fruits. Begin on the outer edge and lay the strawberry slices with the tips pointing out from the center. When you finish an entire layer around the outside edge, begin the next layer so it lays partly onto the top of your base layer. Continue just like that, around and around until you arrive at the center.
Garnish with a fresh flower or a mint leaf in the center. Thaw this pie at room temp for 30 minutes to an hour before serving. Voila!
Chef's Note: If you want a taller cheesecake, double the filling ingredients. Can you use a processor or blender other than a Vitamix for this recipe? Yes, you can. However, the mixture will not be as smooth. You may find little bits of date and coconut that will give it a more grainy texture.
Reprinted from The Plantpower Way by arrangement with Avery Books, a member of Penguin Group (USA) LLC, a Penguin Random House Company. Copyright© 2015, Rich Roll & Julie Platt. Order your copy of The Plantpower Way on Amazon. 
Photo courtesy of Instagram/Julie Piatt.