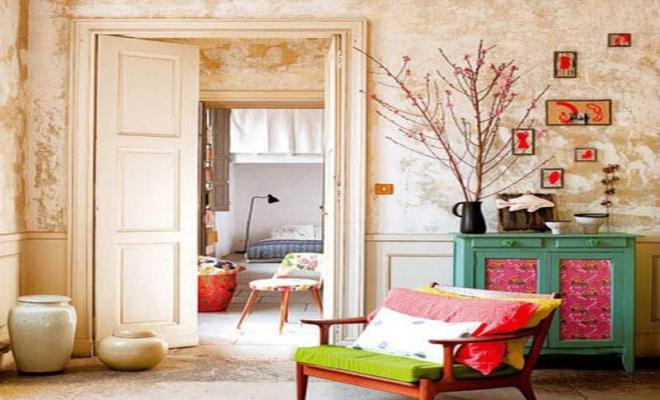 Design On A Dime: Four Design Tips To Go From Drag to Swag
|
Having an eye for design can come easy to some people, but if you're like me, going from vision to reality can sometimes be challenging — like finding yourself spending way too much time debating the color of a shower rug. If you're stuck in a design rut and want to spruce things up without investing a lot of money, try these easy interior design on a dime ideas to transform your space into something new.
Look in the Mirror
Mirrors make a room look bigger and offer a cheaper route to artwork with many decorative mirrors available for under $100. Hang one in every room and be sure to position them on a wall that's perpendicular to your windows to prevent bouncing back light.
Light it Up
If you rent, you may not have much control of what you walk into when it comes to your lighting options, but you can change the ambiance of your room for minimal investment with what interior designers call layered lighting: overhead lighting, specific lighting, like a floor lamp, and decorative lighting like sconces or candles. Shoot for three sources of lighting, especially in your main room, to create a sense of ambiance.
Accents are Sexy
Throw pillows are the easiest way to bring character to any room, but choosing the right ones can sometimes feel challenging. While your first instinct might be to try to match your largest pieces, go for contrast and patterns to draw the eye away. And design is where odd numbers work best as they tend to be more artful against the symmetry of even numbers: group items into threes or fives and mix and match patterns.
What's a Rug Got to Do With It
When it comes to making a room work, a rug can be your anchor. While maybe not the cheapest investment, a carefully chosen rug will pay off in the long run. When selecting one, look for rugs that complement patterns of existing furniture. If you prefer a monochromatic, more conservative look, keep the rug neutral and use colors throughout your other pieces like in pillows and accents. Or if you need to bring in a pop of color, go for something with stark contrast. Also, think bigger not smaller, even if you have a small room, trying to put at least two of the legs of your furniture on it.
Got any design tips that you've learned? Share it below!