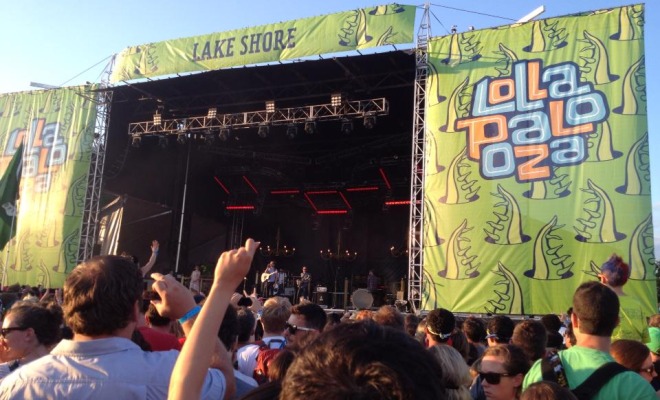 4 Lollapalooza Artists You Should Have On Your Playlist
|
Thanks to streaming apps like Spotify, the world of music is larger than your former Barnes and Nobles weekend trips. With Lollapalooza kicking off today, go beyond Taylor Swift and Nicki Minaj to discover these four artists that you should have on your playlist.
Glass Animals
Indie rock, psychedelic pop, trip hop, snake charmer?…newcomer Glass Animals is the boy band from Oxford you wish you grew up with. Lead singer, Dave Bayley looks like he just graduated high school but owns the stage like Jason Derulo, and that voice. What is it? Where does it come from? Can United Airlines hire him for my hold music? And they may be the only band to get away with lyrics like "peanut butter vibe." Start with Black Mambo, move onto Cocoa Hooves then finish with Gooey.
Banks
This 27-year-old Orange County native has the classic story — teenage girl that needs to express herself, gets a keyboard and starts writing music in her room. Thanks to Soundcloud, she scored a record deal via Katy Perry's DJ Yung Skeeter when she began working with the label Good Years Recordings. Which is great because now we get to all hear a voice that can be both soft yet hypnotizing at the same time thanks to some good producing by Justin Parker who helped create Lana Del Ray. Sunday chill with Warm Water, warm up your feet with Stick and then get ready to kick ass with This is What it Feels Like.
Chet Faker
Born as Nicholas Murphey (why you gotta fake, Faker?), this crooner hails from Australia bringing with him a sexy, drips like honey, likely inspired by Citizen Cope, set of vocals. Start with Release Your Problems, move onto the Blackstreet remix of No Diggity, then cap it off with I'm Into You.
DJ Snake
DJ's get screwed in the mix, working behind the scene to make everyone else look good. Last summer's Turn Down for What left us all gyrating in odd ways, but not many people know that this was in part due to DJ Snake. So was Lady Gaga's Government Hooker, Get Low from Dillon Francis and Lean On with Major Laser. It's Friday, the weather is good and it's time you kick the weekend off with these jams. Just don't go crashing through any ceilings.
What Lollapalooza artists are you looking forward to?