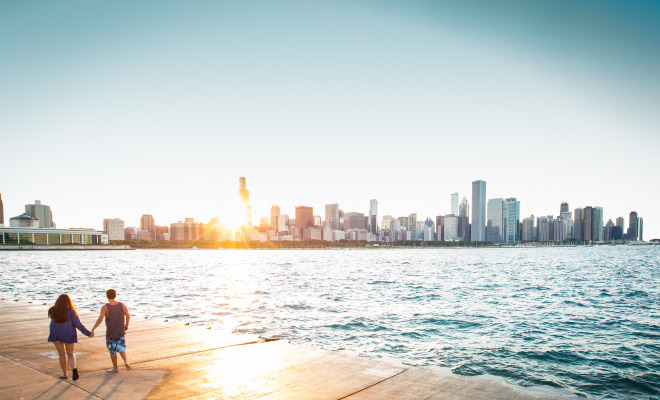 flickr/diversey
26 Reasons Why Summer In Chicago Is Perfection
|
It's been said time and time again: there's no better place on earth to celebrate summer than in Chicago. While the calendar may be telling us that summer is winding down, it ain't officially over until Tom Skilling says it's over.
Here's 26 amazing reasons why summer in Chicago is basically the greatest thing on earth:
1. The streets are full of art and music
Street art, street musicians and the bucket boys. Hell, even those creepy silver painted dudes on Michigan Ave. are some sort of art, right?
---
  2. Everyone is in full-blown outdoor party mode Fact: The craziness of the summer is directly proportionate to the shittiness of the winter.    
---
3. Porch parties. Rooftop parties. Backyard parties. PARTIES. 
And day drinking. And BBQs. And playing Bags.
---
  4. You can experience the world without leaving Chicago There's a festival for every ethnic group that's ever settled in Chicago: German, Puerto Rican, Swedish, Irish, Mexican, Polish, Greek, Italian, Croatian, Cuban, and on and on and on…    
---
5. Beaches. So. Many. Beaches.
Much to the surprise of out-of-towners, Chicago boasts 33 beaches and 26 miles of shoreline. In fact, GQ named us as one of The Six Best Beaches in America.
---
  6. Visiting the Paletas Man Speaking of beaches, there's no better way to celebrate summer than by getting an Arroz con Leche from the paletas man at the beach… although visiting the elotes lady is a close second.    
---
7. Strolling the (new and improved) Chicago Riverwalk
If you haven't explored the revamped Chicago Riverwalk yet, you must do so before the summer is over. It now features a variety of riverfront seating areas, restaurants and cafes, kayak and bike rental stands, and more.
---
  8. Exploring new neighborhoods by way of street festivals …And making repeat visits to those neighborhoods seem to hold some sort of festival every other weekend (we're looking at you, Lakeview).    
---
9. Spending a day at The Playpen, in all its douchey glory
We're still not entirely sure why that little patch of lakefront is called The Playpen when a more appropriate term would be "The Viagra Rectangle", but whatevs. Boats (and The Playpen) are an integral part of summer in Chicago.
---
  10. Day drinking (and night drinking) at rooftop bars There are very few places in the world where you can enjoy a drink outdoors a few dozen stories above a city, and Chicago is of them.     
---
11. Dodging Divvy bikes on the lakefront path
While we may have been kidding about that whole Divvy thing, we're pretty serious about the rest. Is there anyplace more beautiful than Chicago's lakefront path in the summer? Answer: NOPE. The views are equally amazing all along the path, no matter if you're on the south side, north side, or downtown.
---
  12. Checking out one of 240+ different Movies in the Parks Why watch a movie at home when you can watch one outdoors with dozens of your neighbors?     
---
13. Baseball season
'Nuff said.
---
  14. Getting your workout in outdoors You can run, walk or bike the lakefront path. You can do laps at any one of the city's swimming beaches. Is there anything better?!    
---
15. Softball games and beach volleyball… if that's your thing
I mean, it's not my thing because I don't do any activities where balls fly at my nose (gratuitous Clueless reference), but if I did, I'd choose beach volleyball.
---
  16. You can dance like no one is hundreds of people are watching You must check out SummerDance at least once… if only to be one of the watchers.    
---
17. It's tourist season
Yeah, yeah… they give us headaches, they block the sidewalks and we grumble about them, but honestly – it's kind of fun watching tens of millions of people from around the world descend upon – and fall in love with – our fair city.
---
  18. Saturdays… in the park…(and not just on the 4th of July)  There's a good reason why Chicago's motto is Urbs in Horto ("City in a Garden"). With 552 parks, you could visit several a day and still not see them all before summer ends!    
---
19. Taking your dog to (or just squealing over) the doggy beaches
Is there anything cuter than watching a bunch of pups play fetch along the shore? NOPE.
---
  20. There are endless music festivals From large-scale music festivals like Blues Fest, Lollapalooza, Riot Fest and Electric Daisy Carnival to neighborhood ones like Reggae Fest and Belmont-Sheffield Music Fest, there's a festival for every music genre.    
---
21. You can hitch a ride on a boat for a few bucks
The Chicago Water Taxi is something tourists tend to utilize more than residents, which is insanity. It's the absolute best way to get from downtown to Chinatown in the summer!
---
  22. You can paddleboard and kayak and even jetski! You can basically just call us #CHIami.     
---
23. There are exercise classes in awesome locations
Lakefront sunrise yoga and spin classes at the beach? FREE city-sponsored yoga, tai chi and pilates classes in Millennium Park? Sign us up for all the things!
A photo posted by Danielle (@dlbopp) on
---
  24. There are hundreds of free things to do Not only are there tons of truly great free things to do in Chicago in general like Lincoln Park Zoo and free museum days, but the City of Chicago is pretty darn great at hosting free events and cultural activities for residents.    
---
25. Come hell or high water, you're outdoors
You have the next six months to hibernate.
---
  26. There's never a dull moment – seriously Samuel Johnson may have asserted that when a man is tired of London, he's tired of life, but clearly he's never been to Chicago. I mean, clearly… since, you know… Chicago wasn't a city yet when he was alive. Anyway, that's besides the point. The point is, if you find yourself bored in the midst of a Chicago summer, well… you're probably the boring one.       
---
Ahhh, Chicago – there's no place we'd rather be in the summer. What's your favorite thing to do during #SummertimeChi? Tell us in the comments!