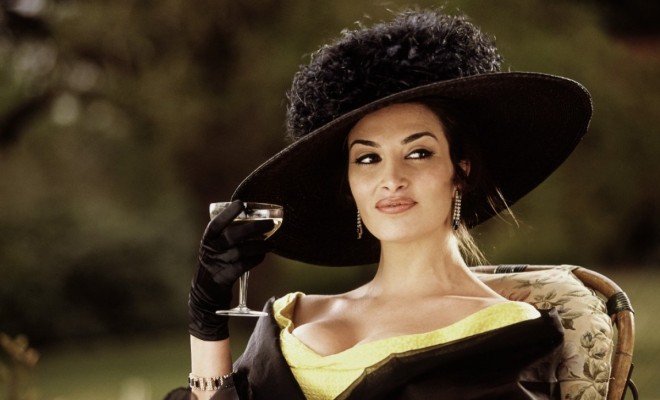 Cin-Cin! 6 Italian Cocktail Recipes To Try At Home
|
A few weeks ago, we swung by Quartino – one of our favorite Italian restaurants in Chicago – for an event celebrating the food and drink of Italy. The event featured Italian cocktails crafted from some of Italy's most historic and popular distilleries: Amaro Lucano, Cocchi, Luxardo, Distillerie Moccia, Distilleria Nardini, Pallini, and Toschi and Distilleria Varnelli.
Despite the fact that we were deep in an Italian food coma, we managed to get our paws on these Italian cocktail recipes for some of the amazing drinks we sampled just for you before we left the event, dear Urbanistas. You're welcome. 
These six Italian cocktail recipes are perfect for impressing your girlfriends, or for enjoying solo after a rough day at work. Mix up an Amalfi Mule and pretend you're relaxing on George Clooney's Lake Como villa. ("Amal? Who's Amal??") Cin-cin!
AMALFI MULE 
Ingredients:
2 oz Pallini Limoncello
½ oz Lemon Juice
One strawberry
4 Basil leaves
2 oz Gosling's Ginger Beer
Preparation: Muddle the strawberry and basil and add the remaining ingredients (except the ginger beer). Shake well and strain into an ice filled copper mug. Top with ginger beer and garnish with a basil leaf. Tip: You can buy a copper "Moscow Mule" mug here. 
BARNARD 
Ingredients:
1 oz Amaro Nardini
2 1/2 oz Ginger Ale
Mint leaves
Preparation: Pour the Amaro Nardini directly into a highball glass (this one is perfect!) filled with ice. Add ginger ale, stir and garnish with some mint leaves.
THE ALCHEMIST
Ingredients:
1 ½ oz Amaro Dell'Erborista
¾ oz Oloroso-Style Sherry
¼ oz Brown Sugar Syrup
3 oz  Orange Rooibos
2 Mists of Mezcal
1 Lemon and 1 Orange Swath
Preparation: Place both citrus swaths (peels) in a mixing glass and muddle briskly – making sure to release the essential oils. Next add a scoop of ice and fill up with all other ingredients. Stir and serve with a mist of Mezcal. Garnish with candied orange peel or ginger and torched rosemary sprig.
UN LUCANO A MANHATTAN 
Ingredients:
0.85 oz Amaro Lucano
1.70 oz white tequila
Lime slices
Preparation: Place ice cubes in a mixing glass and pour in 0.85 oz of Amaro Lucano and 1.70 oz of white tequila, mix well and serve in a chilled glass. Garnish with lime slices.
FRAGOLI' SPRITZ
Ingredients:
0.7 oz Soda Water
4 oz Prosecco wine (sparkling white wine)
1.4 oz Fragolì Toschi
Ice cubes
Preparation: To prepare directly in a wine glass, fill the glass with ice cubes, add soda water, Prosecco wine and Fragolì to serve.
MORLACCO JULEP 
Ingredients:
1 ¼ oz Brandy
¾ oz Luxardo Cherry "Sangue Morlacco" Liqueur
3 sprigs of fresh mint
Float of Luxardo Amaretto di Saschira
Preparation: Place the mint in a tumbler glass and muddle briskly to release the essential oils, then add the brandy and Luxardo Cherry liqueur. Fill up the glass with crushed ice, stir well and serve with a float of Amaretto.
Garnish: three Luxardo Original Maraschino Cherries and sprig of mint.
---
Looking to try some of these classic Italian cocktails during your next night out? Check out the following Chicago bars and restaurants!
Logan Square
Price: $8
Price: $11
River North
What to order: Varnelli Sibilla, served as an Amaro
Price: $18
Price: $16
What to order: South Beach Mojito
Price: $14
Price: $10
What's your favorite Italian cocktail recipe to try at home?  Share it in the comments!
---
Disclosure: We were invited to enjoy a complimentary dinner at Quartino and cocktails courtesy of Spirit of Italy.