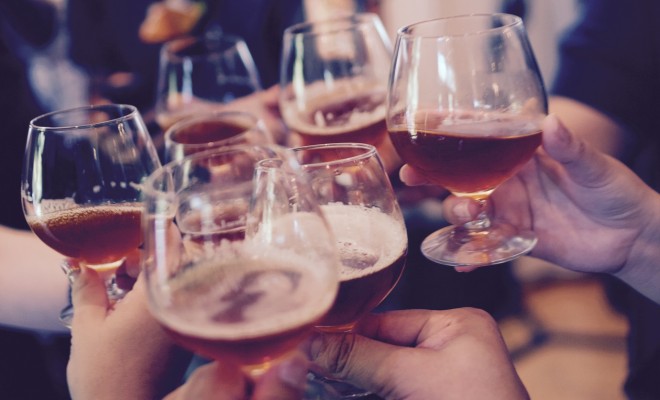 5 Holiday Cocktail Recipes
|
It's that time of year that in one blink you have devoured so much turkey and pie and cookies and calorie-ridden drinks. You're invited to more parties than you can attend but in good party etiquette you never show up empty handed. Instead of showing up with the typical bottle of wine, get creative with one of these holiday cocktail recipes.
This holiday season, drink your apple pie with this easy hot toddy punch recipe that's sure to please a crowd from The Cookie Rookie.
Ingredients:
1½ c. Smirnoff Kissed Caramel Vodka
½ gallon Apple Cider
¼-1/2 c. Bourbon (optional, but cuts the sweetness)
2-3 Cinnamon Sticks
1 container Cool Whip – thawed (or Whipping Cream)
Instructions:
Combine the Vodka, Apple Cider, Bourbon and Cinnamon Sticks in a stove-top pan.
Heat and simmer until ready to drink.
When ready to drink, pour the Hot Toddy into heat-proof mugs and…
Place a large dollop of Cool Whip or Whipping Cream on top.
---
Slip into fall with this kicked-up version of sangria from Katie at the Kitchen Door.
Ingredients:
2 ripe pears, plus extra slices for serving
1/3 c. sugar
1 c. water
1 whole cinnamon stick
5 whole cloves
4 oz. maple liqueur
1 bottle white wine
Instructions:
Peel and core the pears and roughly chop into cubes.
Place the pear cubes, sugar, water, cinnamon stick, and cloves in a medium saucepan and bring to a simmer over medium heat.
Simmer until the pears are soft, about 8-10 minutes. Use a slotted spoon to remove the cinnamon stick and cloves and discard.
Puree the pear and syrup mixture until smooth, in a regular blender or using a hand blender.
Put the pear syrup back in a saucepan.
Add the liqueur and wine and heat over low heat until just steaming.
Remove from the heat and ladle into pre-warmed glasses to prevent cracking.
Garnish each glass with a few slices of pear, then serve.
---
You'll be singing holiday tunes all season long with this simple and delicious sparkling cranberry spritzer from Creative Culinary.
Ingredients:
1 well-chilled 750ML bottles champagne, prosecco or sparkling cider
1 cup well-chilled cranberry juice, or to taste
3 Tbsp Grand Marnier
To Garnish:
Cranberry juice
Sugar for rimming
Orange curls
Instructions:
Dip the edge of each glass into cranberry juice and then dip the glass into sugar. I like to use the larger sugar for cake decorating when doing something for the holidays…it's so sparkly and pretty.
In a large pitcher, combine all ingredients and pour in champagne flutes.
Garnish each glass with an orange curl.
---
Because rumchata makes anything better, amp up your regular jell-o shots to these pumpkin pie pudding shots from 97.3Now
Ingredients:
1 small package pumpkin spice instant pudding
3/4 cup milk
3/4 cup Rumchata
8oz tub Cool Whip
Directions:
Whisk together the milk, liquor, and instant pudding mix in a bowl until combined.
Add cool whip a little at a time with whisk.
Spoon the pudding mixture into shot glasses, disposable shot cups or 1 or 2 ounce cups with lids. Place in freezer for at least 2 hours.
---
What's better than a velvety smooth creamy minty martini? One that is rimmed in sprinkles like The Cookie Rookie
Ingredients:
2 cups half & half
1 cup creme de menthe
½ cup Godiva Chocolate Liqueur
To Garnish:
Sprinkles
Milk or green gel/icing
Instructions:
Shake/stir all ingredients together.
Dip glass in milk or green gel/icing then dip into sprinkles to rim the glass
Enjoy!
And there you have 5 holiday cocktail recipes to get you into the *spirit*!  Don't forget to check out this related post on spring cocktails.
Do you have a favorite go-to holiday cocktail recipe? Share it with us in the comments.