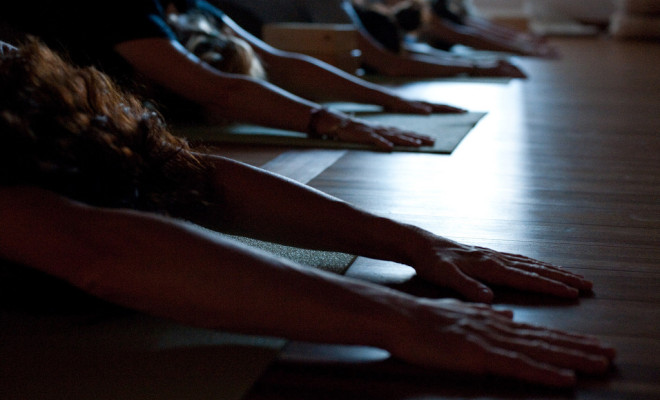 flickr/domestictimes
Finding Balance At Chicago's BeHealthful Retreat
|
In 2012, I decided I was going to quit my job as an elementary school teacher and become a yoga instructor. I signed up for a month-long intensive yoga teacher training in California. Not only was the experience amazing, but it changed my eating habits for the better. I've given up soda, I eat fruits and veggies on the regular, and I no longer consider casseroles a major food group. While I didn't pursue a career in yoga after the training, I have still kept up the healthy habits and love of yoga. So when the chance to attend the BeHealthful Retreat came knockin', I opened the door with arms outstretched.
The BeHealthful Retreat focused on everything relating to holistic health. Spa services were available all day. Yoga, pilates, and High Intensity Movement classes were taking place at various intervals. There were also several panel discussions and workshop with various experts in the health field. Healthy restaurants, organic grocery companies, and fitness clubs held booths with various giveaways and coupons.
In the 5 hours I was there, I got two chair massages, attended two yoga classes and one yoga nidra/meditation session, picked up more coupons that I needed, received an oxygen facial, had my fingernails painted, ate enough food samples to count as lunch, and attended a panel discussion on detoxifying foods. I left so incredibly happy.
I can't narrow down what my favorite part of the day was because there were so many, but one of the brightest spots was meeting Anna Shadid, a Chicago-based nutrition and health coach. She was super friendly, had awesome advice, and was full of great suggestions. Three great things I learned from Anna were:
Another cool fact about this retreat is the location. The Zhou B. Arts Center is located at 1029 W. 35th Street, Chicago. So while you're doing yoga, beautiful art pieces surround you. They also offer classes for two days previous as a part of the $50 cost (this varies depending on if you order lunch and how many people you come with).
If you're interested in holistic wellness, yoga and healthy eating, I highly recommend checking out BeHealthful's upcoming events:
Caribbean Retreat, February 6-10
Balanced Spring Series at the Four Seasons Chicago, March 18-20
Details will be posted soon at behealthfulretreat.com!