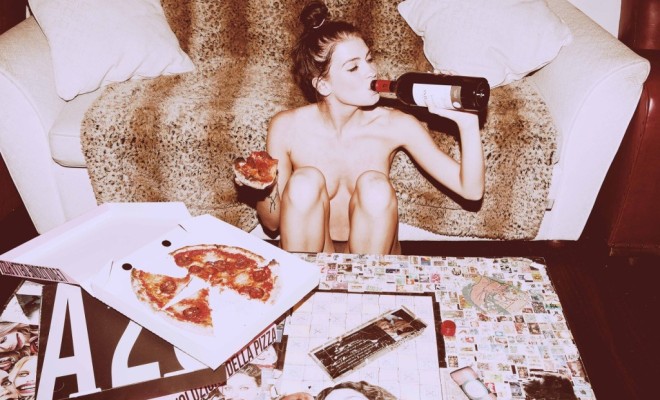 Sarah Bahbah | raisedbythewolves.tumblr.com
Which Restaurant Delivery Site Is Best? (Review)
|
If you've binge-watched Sex and the City recently (or just have a really good memory), then you likely remember the episode where Miranda gets a complex after ordering Chinese food because the lady taking her order not only knew her order by heart, but snickered at her. Clearly, SATC writers are well in-tune with every single girl's worst nightmares. Thankfully, today's single ladies (and bros) can pursue gluttony from behind a computer screen, without fear of judgement.
Oh, what a glorious time to be alive! Or sad… we can't decide which.
Anyway, like many of you single city-dwellers, we've blown half our money on eaten our way through every major restaurant delivery site and have some bad delivery experiences along the way. So put on your stretchy pants, kids, because we're reviewing America's most popular food delivery services, and we've even thrown in a few promo codes for you!
If you live in a major US city, chances are pretty darn good that you've ordered one or two (…or maybe 200) meals from GrubHub. They currently seem to have the biggest variety of restaurant options with 535 restaurants in our delivery range alone.
Delivery Fee: Varies; average is $3 – $4
Pros: GrubHub has absolutely amazing customer service. A-ma-zing. If there's a problem with an order, they'll call the restaurant and handle it for you and will likely give you GrubHub credits in the process. They have a pretty solid build-in review system so you can screen restaurants before you order. Also, you can't help but love a company that has such amazing copywriters.
Cons: For the most part, each restaurant listed on GrubHub uses their own delivery team. In other words, GrubHub has little control over the speed and quality of your actual delivery. That being said, if your delivery is late or items are missing, they will go to bat for you (because they're awesome).
I would venture to guess that DiningIn isn't one of the more popular restaurant delivery sites in the other cities they service. They work with a smaller number of restaurants, and most are located downtown. A large portion are higher-end (steakhouses, etc.) and chain restaurants like TGI Fridays, California Pizza Kitchen, etc.
Delivery Fee: $6.99
Pros: DiningIn features restaurants that you might not normally think to order delivery from, which is nice.
Cons: If you're ordering food just for yourself, you probably don't want to pay a whopping $6.99 for delivery. Also, DiningIn's delivery is very slow – typically 1.5+ hours – and their customer service is pretty bad. Anytime I've had an issue with an order, it's been a huge headache to get it resolved.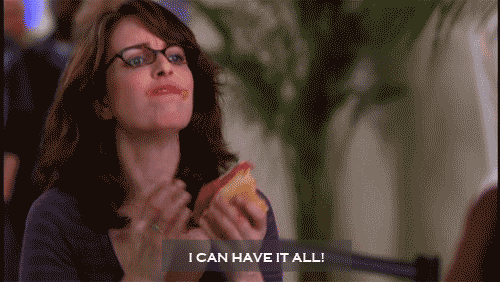 DoorDash is a newer service that seems like it's hoping to dethrone GrubHub. I first tried it because I had received a coupon in the mail. I'll be completely honest – my first two deliveries were really bad and the only reason I continued to use them was because I had a credit to use. However, they've improved by leaps and bounds since.
Delivery Fee: $4.99
Pros: Because they use their own drivers, delivery tends to be well under an hour, and they have a handy delivery tracker on their website. While they don't have a huge selection of restaurants, the ones that they do have are good. They also do deliveries from CVS, which I could see being useful if you're sick (or lazy).
Cons: Limited restaurant selection and limited hours – delivery stops at 11:30pm. Also, as mentioned, it seems as if they're still working through growing pains. Their customer service is iffy – if your driver forgets an item, you don't receive a refund. Instead, you receive DoorDash credits. Personally, I think that's a pretty awful policy.
Postmates is slightly different than the other delivery services on this list – it's akin to asking someone to run out and pick up food for you. Using the app, you type in the restaurant you wish to order from. It appears to pull restaurants from Foursquare, so you can basically order from anywhere in the city. Most places have menus listed, but some don't. If there isn't a pre-set menu, you can simply list the items you wish to order. Then, your request is sent out to drivers and if someone is available, they'll accept your request. Then, you can track their journey on a Lyft-esque map.
Delivery Fee: Starts at around $4.99 but varies greatly (and we mean greatly)
Pros: The options are limitless – you can order from virtually any restaurant in the city. Delivery is pretty fast – typically one hour or less.
Cons: First and foremost, delivery fees can range from reasonable ($5 or so) to absolutely astronomical depending on the time of day and current demand (similar to Uber surge pricing). $17 delivery fee for XOCO? NOco. In addition to the delivery fee, they charge a service fee of 9%, and you still need to tip on top of that all. Again, pricing depends entirely on current demand, so there are times it's not too bad. Another downside: their customer service is on the low end of the spectrum.
Postmates promo code: 6d73 ($10 off)
In case you missed it, Seamless is now owned by GrubHub. The internet tells me this happened in 2013, but I was unaware – mainly because I haven't used Seamless since then. The site's interface is almost identical to GrubHub's, and if I had to guess, I'd assume that they probably list the same restaurants, too.
Delivery Fee: Varies; average is $3 – $4
Pros: It's GrubHub 2.0
Cons: Let's be real – unless you're hopelessly devoted to Seamless, you may as well just order through GrubHub, right?
If you've ever looked closely at some restaurant reviews on Yelp, you've likely noticed that there's an option to order delivery from said establishment. If you actually took the plunge and decided to order, you'd see that while you're able to place the order directly through Yelp.com, your order is actually being processed by Eat24.
Delivery Fee: Varies; average is $3 – $4
Pros: Eat24 features restaurants you may not find on other sites – 222 delivery options in the 60657 delivery zone alone. Also, the integration with Yelp's review system is super-duper.
Cons: Because I've personally only used Eat24 once, I don't personally have any cons. That's not to say there aren't any – I simply haven't utilized the service enough. I will point out, however, that their Facebook login isn't working for me, so there's that.
OK, so this isn't really a takeout delivery service, but they do deliver food. As the name implies, Instacart delivers groceries. Unlike Peapod or most traditional grocery delivery services, you can (for the most part) get your order within a few hours. Unless, you know, there's a Snowpocalypse or whatever. (Don't forget to tip extra during a Snowpacolypse, kids!)
Delivery Fee: Varies; $4.99 or free over $10
Pros: Instacart is a freaking godsend at times, like when it's -30F wind chill and you don't want to die on your way to buy milk, or you don't feel like lugging cat litter six blocks home, or you're too sick to go grocery shopping. They feature a good variety of grocery stores. In the 60657 delivery zone, you can choose from Whole Foods, Mariano's, Plum Market, Costco, Jewel, Stanley's, Tony's and Petco.
Cons: Some stores (but not all) have a markup on merchandise. Delivery tends to take slightly longer than estimated. Expect that from time-to-time, your shopper may select the wrong item.
Instacart promo code ($10 off)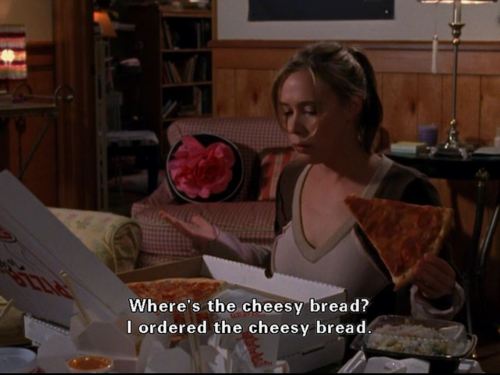 What's your go-to restaurant delivery site or app? Have you ever had a really bad delivery experience? Tell us about it in the comments!
---
Featured Image: Sarah Bahbah | Sex and Takeout
Note: all reviews are based on service and availability in the Chicago market. To keep examples consistent, we set the delivery address to Chicago's Wrigleyville neighborhood (60657).