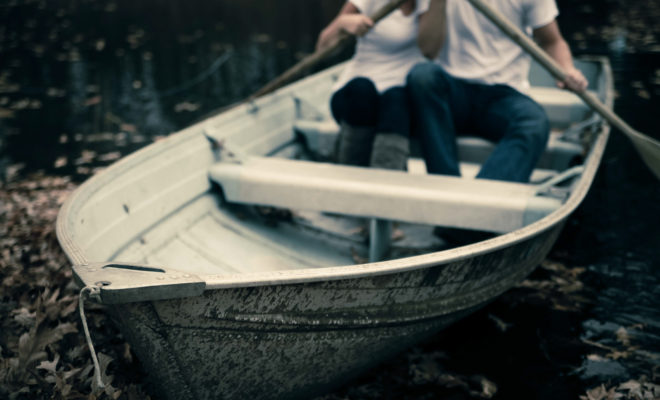 10 Simple And Fun First Date Ideas You Should Try
|
You're meeting someone new and it's extremely exciting! It's time to try something fun and maybe a bit different! At the same time, you want to get to know your date better. Whether you end up being in a relationship or making a great new friend, the aim is to meet someone new. What matters most is that your date should be special, fun and maybe, a little romantic! Katie Jones from orlajames.com has taken some of the stress out of planning for you by putting together a list of fun first date ideas!
1. Go boating together:
Going for a boat ride together is romantic, exciting and different! It's slightly isolated yet within boundaries of being a great first date. Going boating together allows time to get to know your date, talk your hearts out, and try something new! Of course, you will want to talk to your date beforehand to ensure there are no aquaphobia concerns.
2. Walk dogs together:
Make your date a dog walking date! Ask your date to walk with you as you both chat and get to know each other. This is also a fabulous ice breaker! If you're a dog –lover, you will know instantly if your date is an animal-friendly person. If you don't own a dog but would like to do this, contact your local Humane Centre and ask to volunteer as a dog walker. Make things a bit more fun and just volunteer at a pet shelter~
3. Go for Stand-up Comedy:
Love to laugh? Suggest a comedy date night! This is a fantastic date for couples who want to start their date with laughter and fun. Laughter is considered the best medicine. It can also lower inhibitions and boost sharing. Bonding over humor is a fantastic way to start a new relationship.
4. Go Stargazing:
Stargazing has its own romance attached to it. If it's a beautiful, clear night, then head to the nearest park with a picnic hamper, blanket, and spend your time together stargazing! Don't forget to carry good quality mosquito repellent and bug spray! If you own a portable telescope, impress your date with your knowledge of the stars.
5. Make your dinner together:
If you and your date would like to connect over food, then what better way than to make dinner together! It's romantic and ensures privacy. Before you start preparing dinner, speak to your date about what you both would like to eat. Go shopping together, buy the ingredients, and head back. It will be fun, easy to connect, and you can share your food passions. Remember not to make it too elaborate – a soup, salad, pasta, and wine dinner should suffice!
6. Pottery making:
If you both don't mind getting a little dirty together, then this is the ideal date for you! If you can't picture it, then think of the movie 'Ghost' starring Demi Moore and Patrick Swayze – now you get it! Get romantic with some clay and create beauty together. Hopefully, there will be an instant connection between the two of you. If you don't want to make pottery, you could go to a 'paint a sculpture' class together.
7. Arcade games:
Head to a local gaming arcade for a fun night! Challenge your date to Pac-Man, Air Hockey, and a Dance contest! Add in a little prize – winner gets a kiss. This is a ridiculously fun date and you can unwind whilst getting to know your date better. If you get bored playing one kind of game, there are at least twenty others you both can choose from.
8. Head to a food festival:
Love street food – head to a food event! Choose from cuisines available at food trucks and get to know each other's taste. You can eat there or parcel it – the choice is yours. Getting to know someone over their tastes and choices in food is an experience by itself!
9. Pub hopping:
Alright, we know this one is old, but make it interactive! Ask your date to suggest two pubs, and you suggest two pubs. Go pub-hopping at your joined favorite pubs and share your stories about why these pubs are special to you. It's a unique, different way to bond with someone new.
10. Have dinner or lunch at different places:
Have soup, appetizer, mains, and dessert at different places! Each of you selects your favorite places and like pub-hopping shares your experiences together. How exciting is this? You can start with Chinese soups, and end on Italian desserts! You can also catch coffee later.
Whatever your plan is, always remember to enjoy your time with your date. Meeting someone new is an exciting adventure by itself! Get to know your date, maybe add a light kiss at the end of it and just enjoy yourselves!
---
ABOUT THE AUTHOR
Katie Jones loves writing about dating, weddings, jewelry and all things romantic. She is based on the South Coast of the UK. Loves to practice yoga!