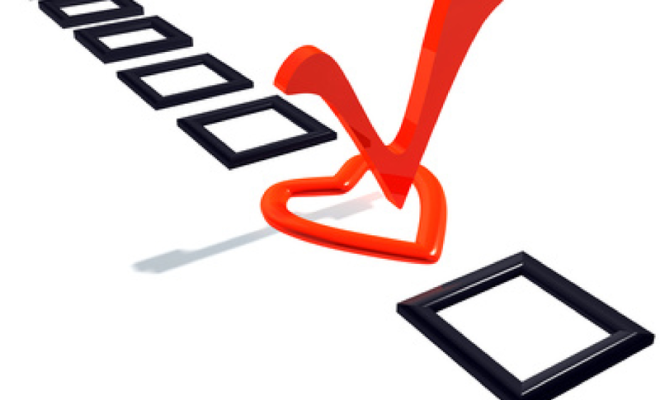 My Dating Criteria List: Then and Now
|
August: back to school time. Now, while I don't need to be off buying pens and folders and notebooks (oh my!) this time of year does have me reminiscing about my good ole college days. The fun times in the sorority, cramming for a mid-term exam, planning my study abroad adventure in Italy, and dreams of meeting my perfect man.
Circa (cough) 2001 (cough) enjoying my Freshmen year at Drake University, I found myself (not surprisingly) making dating criteria list of qualities that I would look for in my perfect man. After some late night gab sessions with dorm friends, this lovely 'Perfect Man Checklist' was created. What started out half as a joke actually turned out to reveal some true thoughts on what I wanted, or at least what I thought I wanted.
Granted 10+ years later, if I were to create a list, it would be a bit different. But looking back, that initial list helped me avoid any guy not suited for me and perhaps hindered me from experiencing the things that most girls experience at college.
So, if anyone knows a guy that fits this list, send him this way!
(Note: this is the ORIGINAL list – formatting, language, and points)
Laura's Perfect Man
Maximum of 65 points, need 50 to be considered.
Points shown in ( ). . .No negative points, you either get the point or you don't.
1. Nice smile, with good teeth (1)
2. Great eyes. (1)
3. Good hair cut (bonus if it is short and spiky). (2)
4. Natural body hair/minimal body hair (hair on legs is okay, not much more, and facial hair is questionable). (1)
5. Personality: nice, sweet, funny, guy-next door, super confident (on the verge of arrogant), sarcastic, creative and brainy. (1)
6. Not too buff, but not scrawny (If you are tall – over 6' and somewhat lean – you receive a bonus point). (2)
7. Intelligent, but not nerdy. (1)
8. Able to give a massage (1); a great massage (2)
9. Not spontaneous. (1)
10. Playful and fun loving……or just fun to play with. (1)
11. Only small PDA's (holding hands, sweet and innocent kiss). (1)
12. Dress: somewhat preppy (A & F, American Eagle, Express, etc…) (8)
· Must wear matching belt (black with black, brown with brown)
· MUST wear boxers – if they match the outfit – receive 2 points
· Tucks in shirts (receive a point) (if untucked and looks hot, ok!)
· No socks with sandals
· Black socks with black shoes
· Pants long enough to cover shoes (no highwaters!)
13. Drinking – minimal or never (minus a point if raging alcoholic). (1)
14. Vehicle – prefer an SUV, however will make exceptions. (1)
15. Age preference: from 1 year younger to 5 years older. (1)
16. Glasses – if you have them you get a point. (1)
17. Piercings – none, or just ears; Tattoos – depends on size, location, and design. (2)
18. Must be able to parallel park and know how to change a tire. (2)
19. Cannot hang up t-shirts. (1)
20. The more pure, the better. (1)
21. Old-fashioned gentlemen (open doors, pays for dates, give flowers). (3)
22. Jewelry – watch is a must, bracelets and necklaces (depends on size and quality). (1)
23. Legible handwriting. (1)
24. Use of bad words to a minimum. (1)
25. Able to smell cologne – 1 point; good smelling cologne – 2 points.
26. Able to cook a meal. (1)
27. Good kisser (will be determined on demand and only if 30 points are achieved).
28. Look good in sunglasses and Look good in a hat. (2)
29. Tell me my butt looks good in jeans. (1)
30. Somewhat romantic-write poetry, sing to me, like oldies music. (3)
31. Look good in a towel and only a towel. (1)
32. Work out or are athletic (to an extent). (1)
33. If you watch chick flicks – one bonus point; if you watch it and actually
enjoy it – 2 bonus points.
34. Must have good relations with family. (1)
35. Must like eating ice cream. (1)
36. Must use a wallet. (1)
37. Must have goals – be determined. (1)
38. Must have nice manly hands. (1)
39. Must be able to hold a decent conversation – the more challenging, the better. (1)
40. MUST NOT smoke…….ANYTHING! (1)
41. Must be able to follow directions. (1)
42. Religion – no preference on religion, must be faithful. (1)
43. Have a good sense of humor. (1)
44. MUST be open and honest with me (unless I look fat and he says "you're beautiful"). (1)
45. Must like and respect me for who I am (physically and emotionally). (1)
46. If you like this list, you get 1 point. (1)
Do you have a 'Perfect Man List'? If so…share it with us!