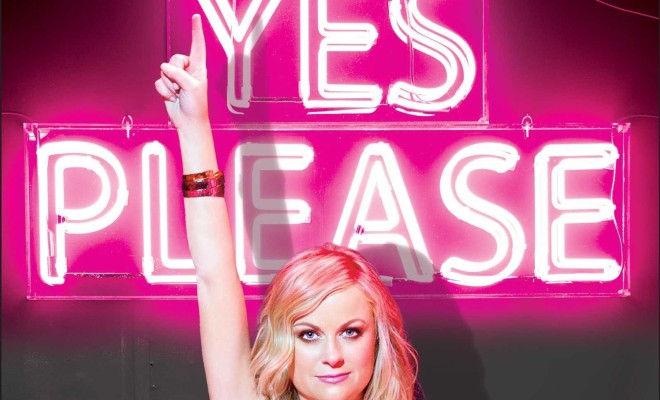 4 Reasons to Say "Yes Please" to Amy Poehler's Latest Book
|
"I was seventeen and sticky," begins Amy Poehler in "Take Your Licks," an essay from her first book, Yes Please, out October 28th. She's talking about her part-time job as a teenager, working at an ice cream parlor in 1989. In the essay, the always-hilarious Poehler recalls dealing with teenage boys: "Some of them would order their sundaes while asking me to 'hold their nuts.' Was this the life of an actor?"
Predictably funny and refreshingly relatable, this essay hints at what's to come with the rest of Yes Please, which the comedienne described to Elle as a "funny memoir-slash-self-help-slash-diary-slash-compendium of ideas and thoughts and feelings."
Sold.
But if that's not enough to have you pre-ordering it already, here are a few other reasons to say "yes please" to Amy Poehler's Yes Please:
1. She's Leslie Knope.

You don't really need more details than that, do you? Leslie Knope for President.
2. She's a feminist, and has no problem saying so.
Amy Poehler doesn't shy away from the feminist label. And she doesn't make a big deal out of it, either. As she told Elle: "I think some big actors and musicians feel like they have to speak to their audience and that word is confusing to their audience. But I don't get it. That's like someone being like, 'I don't really believe in cars, but I drive one every day and I love that it gets me places and makes life so much easier and faster and I don't know what I would do without it.' But that's everyone else's trip, not mine. I had a mother who discovered herself in the '70s and used to go to meetings and wear a sassy scarf."
3. She's that candid about everything.
Yes Please includes a chapter, "Obligatory Drug Stories," in which Poehler is unapologetic and frank about doing drugs when she was in her 20s: "I tried cocaine, which I instantly loved but eventually hated. Cocaine is terrific if you want to hang out with people you don't know very well and play ping-pong all night. It's bad for almost everything else."
4. She's a boss. Plain and simple.
When she was new to "Saturday Night Live," according to an anecdote in Tina Fey's Bossypants, Poehler was supposedly being loud and vulgar in the writers' room. When Jimmy Fallon told her she wasn't being "cute," and she should cut it out, as Fey tells it, she "went black in the eyes for a second" and told him, "I don't fucking care if you like it."
Oh, I love it. I actually wish that was the title of her book, which promises to have plenty of her own anecdotes from her SNL days. We can also expect some time in the book dedicated to Fey, her "comedy wife" as she calls her.
Yes Please comes out October 28th. It's likely you might catch me reading it on the Blue Line shortly after, laughing hysterically to myself.