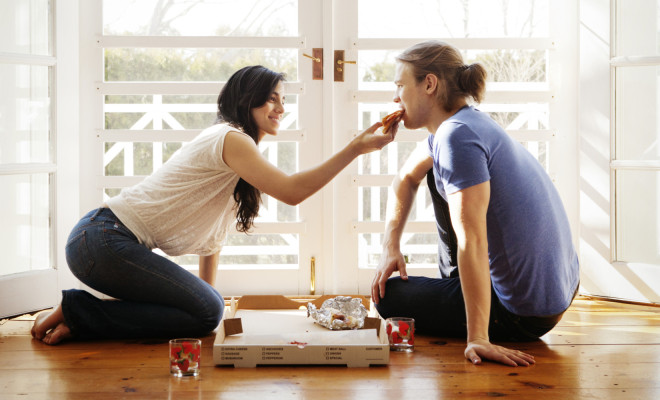 The Way Into A Man's Heart
|
I stopped by the Work BF's cubicle one day and we started talking about baking. He actually asked about my cheesecake recipe, which I willingly gave him. Well, I gave him the basic idea; I don't want him to actually know because then what excuse will I have to talk to him? He joked that I should bring cheesecake in every day. Homeboy doesn't even like cheesecake but he eats it up when I bring it. I know the way into a man's heart, and it starts with a cup of sugar.
Anyway, the conversation moved from cheesecake to cookies and how I really don't know how to make them. I know how to make them, they just don't really come out the way that they're supposed to. I started talking about this cheat recipe that a coworker of ours gave me last Christmas. This will probably be the only kind of cookie that I'll ever make and the great thing about it is that it's pretty versatile.
So here goes;
1 box of cake mix
1 stick of butter (or 1/4 cup of vegetable oil)
2 eggs (or 1 banana = same thing)
I also added mini chocolate chips, white chocolate chunks and some cocoa powder to mix it up.
I wanted to make these vegan because the girl who originally gave me the recipe said she'd never actually tried them. I always feel bad when some of the ladies can't eat what I bring in because it has animal products, so I'm trying to make more vegan things, and as a plus I found out that most cake mixes are actually vegan/vegetarian friendly. Actually a lot of icing are also vegan/veg friendly – fun fact of the day.
I ended up using two boxes of cake mix which came out to almost four dozen cookies. Pretty much enough to feed the team, IT and some of finance (and then some). They came out really good, not as 'cake' like as the first time I made them but maybe that has to do with the alternate ingredients. I'll have to try again using the eggs and butter.
Sadly though, faux-boyfriend didn't get any, although he did stop by to chat and say he'd stop by later for actual cookies (sorry veg friends).
Along with the cookies there was a birthday celebration, I'll usually ask the birthday person if there's anything specific they want and this time it was strawberry cheesecake. So I did what I always do the day before; hit up the grocery store and prayed to the baking Gods for my oven to work.
I bought two pints of strawberries; one for a topping and one for the preserves. Yes, I made preserves and they were fucking amazing – considering I didn't use a recipe. I just cut up the strawberries and put them in a pan with a 3/4 cup of sugar, a bit of water and some corn starch. (I looked this up later and learned that there's no need for the water, but whatever, it worked.) I let the preserves cool while I made the cheesecake. Once I was ready to bake it I poured half of the batter in the pan. Spooned in some preserves and then poured in the rest of the cheesecake batter. More preserves on top and then swirly swirl with a knife.
I let that cool overnight in the fridge. Cut up the remaining pint of strawberries and packed them away. The last time I did this the topping all fell apart on the way to work so I decided to just do that part at work right before we cut it up.  The only problem with this is that the strawberry slices were a little "limp" the next day. Not a huge issue but it looked better when they were freshly sliced. I brushed some preserves on top and added three blueberries in the center to complete the flower. Ta-da!
All in all, it came out pretty good, but I may be a bit biased about that… all I know is everyone loved it.
Not to mention this is when faux-bf confessed his serious like of my cheesecake – despite not normally being a fan of cheesecake. Score!