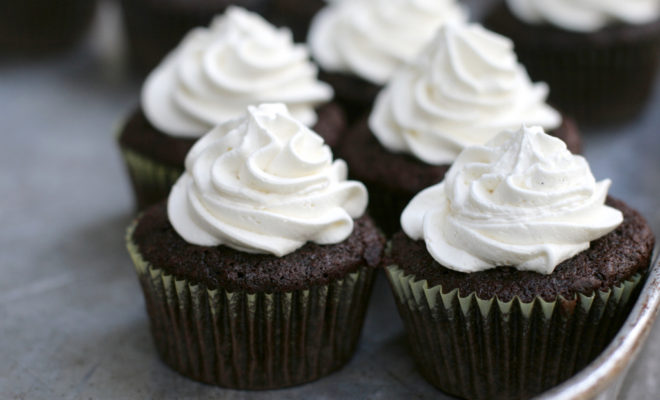 Alexis Lamster
Irish Chocolate Cake: A Deliciously Sinful St. Patrick's Day Cake Recipe
|
Oh My Goodness, Guinness! While this sinful Irish chocolate cake is a perfect St. Patrick's Day cake recipe, we guarantee you'll start making it year-round.
Let's be real – now that I'm over the age of 30, the only "Irish Car Bomb" I will ever ingest will be in cupcake form. When I came across this Irish Car Bomb recipe from Smittenkitchen, I knew it was time to make some Irish chocolate cake.
The ingredients? They come together to make one of the best cake recipes I've ever eaten. This seriously was the softest, most moist cake I've ever put in my mouth. Oh, and did I mention it's filled with Jameson ganache? SINFUL.
OK, so it's not St. Patrick's Day yet, but this Irish chocolate cake would make the perfect St. Patrick's Day cake recipe.
This time, I had two birthday parties this weekend and had to use this Guinness cake recipe. Using the recipe below, I was able to produce about 80 mini Irish Carbomb chocolate cupcakes.
Be prepared: this recipe will take you a bit of extra time, as you'll need to make room for the Jameson Ganache by scooping holes into the cupcakes. It took me a bit to get all of the centers scooped out, I ended up with a bowl full of chocolate cake crumbs. Next time I will be making a chocolate cake shake with that!
I seriously think that I will be using this recipe more often, well not too often as it was probably the most expensive cake I've made. But definitely well worth it. Out of the four pack of Guinness that I bought for this, I have 2 cans left and a bottle of Baileys… so there will be more cake/icing (at least) in the very near future!! Who doesn't like a little booze for dessert?
I think a couple dozen of these and a bottle of Jameson make up for the lack of an appearance to a party, right?! Even my non-drinking friends ate these up.
A few days later, I realized I should probably make use of that Guinness and Jameson I had left behind. I mean, really… it would be an absolute waste to not use them, right?
I went in for round two! Instead of making car bomb cupcakes, I used a variation of the recipe to create an Irish chocolate cake.
This is what happens when you have a recipe that calls for beer you don't really drink. So much cake can be made out of 4 cans of Guinness! This time, I was able to produce one cake (2 layers) and 6 regular sized cupcakes.
I've been practicing with my star tip! The cupcakes were actually harder to do than the little 'rosebuds' on the cake.
I split the cake so that I could use the remaining ganache from the cupcakes, I used semi-sweet chocolate this time. I didn't like the taste of the semi-sweet chocolate, it actually came out a lot sweeter than I would have liked.
After the first time using this recipe I opted on picking up a 40 oz bottle of Guinness instead of a four pack, I'm not really a fan of Guinness unless it's in a Snakebite. Unlike Laura and Lisa who went to the Guinness factory in Dublin. And unless I need to supply cake for multiple parties it's just better this way. I've been asked to make a red velvet cake with an IPA beer, just have to find the right recipe.
Get the recipe I used for this Irish Chocolate Cake on Smittenkitchen.