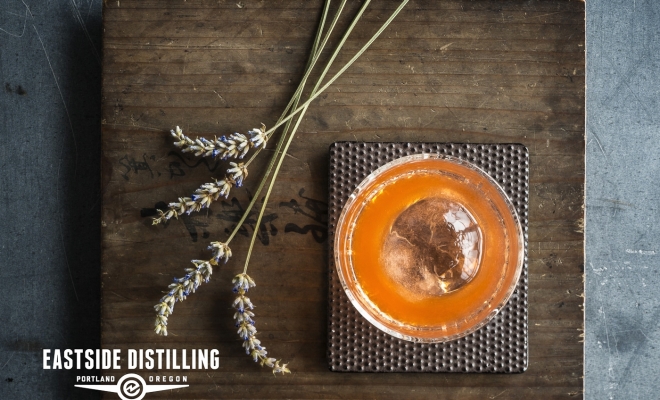 7 Whiskey And Bourbon Cocktail Recipes
|
For those of you that follow me on Twitter, it's apparent that I'm a huge fan of whisk(e)y, so when Eastside Distilling sent us a few of their best whiskey and bourbon cocktail recipes to share with our readers, I was quick to say yes.
Eastside Distilling is based in Portland, Oregon and have six tantalizing liquors (plus three holiday liqueurs) in their repertoire. From Marionberry whiskey to potato vodka to Burnside Bourbon, I might just have found my new favorite and go-to liquors. And because I know you're wondering: yes, the liquors are available to purchase online.
The best part? You don't need to be a master mixologist to impress your friends. Check out these hot whiskey and bourbon cocktail recipes that are sure to make even the "wine only" crowd become fans of whiskey and bourbon.
---
Earl's Demise
25 oz. Cherry Bomb Whiskey (one 750ML bottle)
12.5 oz. Burnside Bourbon
75 oz. Smith Teamaker Earl Grey Tea (chilled)
25 oz. Orange juice
25 oz. Simple syrup
12.5 oz. Sweet vermouth
5 tablespoons Peychaud's Bitters
Mix all the ingredients in a large punch bowl, then add ice or ice ring. Serve in small punch glasses. The mixture serves 10-12 people.
Laura's Review: This is the perfect 'punch' to serve at a house warming party or bachelor/bachelorette party.
---
The Sideburn
1 ½ oz. Burnside Bourbon
¾ oz. Aperol
½ oz. Solerno Blood Orange Liqueur
1 oz. Fresh lemon juice
½ oz. lavender simple syrup
13 oz. Old Fashioned glass over ice
Fill a 14 oz. rocks glass with ice, add all the other ingredients and stir.
Laura's Review: The Sideburn is appropriate for those stay-at-home date nights where you can impress your significant other.
---
Eastside Civil War
1 ½ oz. Burnside Bourbon
½ oz. Cocchi Torino Sweet Vermouth
½ oz. Cynar
2 dashes Fee Brothers Old Fashion Bitters
Amarena cherry
Add all the ingredients, except the cherry, to a 16 oz. mixing glass (pint glass). Fill to within 1 inch of the top with ice. Stir until chilled and strain into a martini glass. Garnish with an Amarena cherry.
Laura's Review: Ideal for those Sunday nights of Grub Hub and Neftlix, the Eastside Civil War will have you feeling like a real adult (even if you are watching Disney movies).
---
Marionberry Beret
1.5 oz. Marionberry Whiskey
.5 oz. Dry Curacao
2 oz. Fresh Grapefruit juice
Served on the rocks
Fill glass with ice, add Marionberry whiskey and recipe ingredients and stir.
Laura's Review: It's Friday night. You're getting ready for a girls night out on the town – sip on the Marionberry Beret to help get you in the party mood.
---
Now, if you're thinking that those whiskey and bourbon cocktail recipes are fancy and all, but…
…here are some easier recipe options to consider:
Marionberry Whiskey mixed with Whole Foods Grapefruit Soda (or grapefruit juice + club soda)
Cherry Bomb Whiskey substitutes well for vodka when mixed with pink lemonade.
Burnside Bourbon on the rocks because why the hell not.
Be sure to follow Eastside Distilling on Twitter (@EastsideDistill) and like them on Facebook (Eastside Distilling) and visit their website for more whiskey and bourbon cocktail recipes.