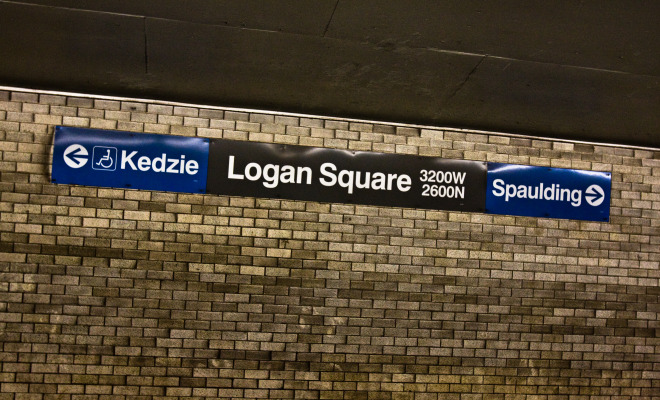 Logan Square Bars: An Unofficial Guide
|
Logan Square is best known for its mustachioed, skinny-jeaned, full-sleeved unicyclists. As a resident of this fine neighborhood for the last year-and-a-half, I can promise you that Logan Square is much more than hipsters who produce tasty craft cocktails. Milwaukee Avenue is chock-full of quaint shops, innovative bars, and mouth-watering meals. And all throughout this area there are restaurants and bars that won't cost you a fortune and will leave you wanting to come back to Logan Square time and time again.
If you're wondering which Logan Square bars to check you, you're in luck! We've compiled a list of our favorite bars and restaurants in the 60647.
Logan Square Bars
We will start this adventure with everyone's favorite reason to visit Chicago's Logan Square neighborhood: the bars. If you're wondering what to do in Logan Square and it's after 5pm (or after 5pm somewhere), stop by one of these great bars.
Chicago Distilling Company
2359 N. Milwaukee
Chicago, 60647
If vodka and white whiskey are in your drinking repertoire, then CDC is the place for you! The distillery is located in the heart of Logan Square complete with a tasting room perfect for a Sunday afternoon cocktail or a laid-back Friday night. Buy a drink and support our local farmers, because Chicago Distilling Company's liquor is crafted with organic Illinois grains. Check out a distillery tour on the weekends to learn "everything you've ever wanted to know about the world of spirits."
Scofflaw
3201 W. Armitage
Chicago, 60647
Admission: this is my favorite first date place! It's close to home and they have really, really, really yummy drinks. Their cocktails menu is rotating which means you can never get tired of the options. A neat little trick they do is called "Dealer's Choice": tell the bartender or waiter what you like in your libation (vodka, sweet, and fruity or whiskey, smoky, and sour) and the bartender will craft you something with those specifications. After the drinks, stay for the food. Their French fries are super delish and the roasted cauliflower is the grand combination of salty and sweet. If all of this wasn't enough, hang out 'til midnight and you'll get a free chocolate chip cookie!
Parson's Chicken and Fish
2952 W. Armitage
Chicago 60647
Parson's is the ideal summer spot (or grab your coat and spend time there this fall). The patio is huge with enough picnic tables for the entire neighborhood to have a party. Food is served (hence the name), but I don't go to Parson's for their chicken or their fish, I go for their Stiegl Radler in the red-and-white adorned courtyard. Other bonuses: they do a pretty mean Negroni slushy and have Bang Bang Pie shop (another Logan Square business) on their dessert menu.
Revolution Brewery Co. Brewpub
2323 N. Milwaukee
Chicago, 60647
Not only does Logan Square specialize in yummy craft cocktails, craft beer is also at a premium at Revolution. I'm a big fan of Bottom Up Wit, but Anti-Hero IPA is probably their #1 seller. My fave thing is to order the samplers and get a bunch of $2 testers of everything on tap. Can you say cheap buzz?! No beer at Revolution is complete without the ever-popular bacon fat popcorn. Yes, you read that right. Bacon. Fat. Popcorn. So amazing! Popcorn cooked in bacon fat and topped with bacon bits and parmesan cheese. You'll think you've died and gone to heaven. Once you find out you love their beer, go a bit outside of Logan Square to the next door Avondale to check out their brewery (oh hey, free tours with free beer!).
The Whistler
2421 N. Milwaukee
Chicago, 60647
Every once in a while you have to give into the hipster vibe in Logan Square, and one of the best places to do that is at The Whistler. They have a DJ or live music every night of the week which makes for either a really fun weekend, or a super chill weeknight. Sorry for what I'm about to do, but THEIR MILK MAID DRINK IS AH-MAZING! I dream about it. I want one now. It's tiny inside, so get there early and snag a spot at the bar. There is no waiter service so it's better to belly up then stand in line every time you want the milk maid…or one of their other cocktails that I've never tried because I love the milk maid so damn much.
Other bars of note:
Masa Azul
2901 W. Diversey
One word: Tequila
The Owl
2521 N. Milwaukee
Two words: 4am bar
Longman & Eagle
2657 N. Kedzie
Tip: Bookmark this post for the next time you're wondering which Logan Square bars to hit up!
Did we leave your favorite Logan Square bar or restaurant off this list? Share it with us in the comments!