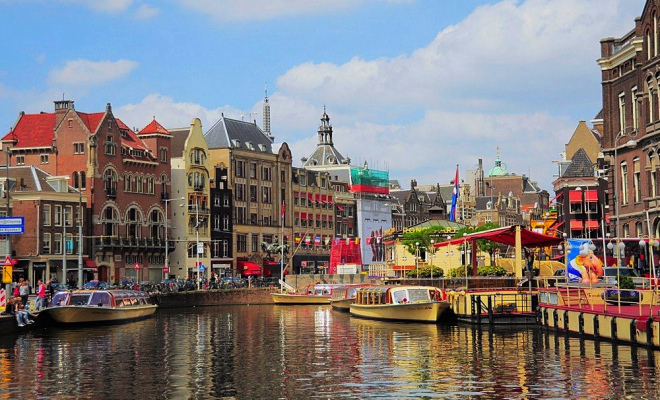 Flickr/faungg
Exploring Amsterdam Through Its Scenic Canals
|
Visiting Amsterdam is a once-in-a-lifetime trip. It's lined with charming old buildings, scenic bridges and prominent canals — 165 to be exact that have a combined length of 60 miles — and there's no better way to discover the beautiful sights, sounds and history of this captivating city than by exploring Amsterdam from its waterways.
Amsterdam was built to be seen from the viewpoint of its many canals. Numerous royalties and celebrities have toured the city through canal cruises, including the Beatles and Winston Churchill.
Canal cruises are one of the most popular tourist activities in Amsterdam, bringing in millions of passengers every year. When you visit, you have the option of taking a daytime or nighttime cruise, a dinner cruise, a private cruise or being your own captain. Most tours are offered in various languages, and there are a vast number of departure points located throughout the city.
Being such a popular attraction, several quality canal cruise operators provide water tours of Amsterdam. Each tour company offers its own perks, but the great thing about so many options is you can choose the one best suited for the type of tour you're looking for. Some of the better-known operators include Amsterdam Canal Cruises, Blue Boat Company, Canal, Friendship and Reederij P. Kooij.
Amsterdam Canal Cruises offers a 75-minute daytime cruise that passes all of Amsterdam's highlights and includes personal audio commentary that's available in 19 languages. On this cruise, a Kid's Cruise is also offered with the purchase of every kid's ticket. This interactive adventure entertains your younger children who may not be that into sightseeing with their own audio tour and a pair of binoculars. You can also enjoy a relaxing night out on the town during an evening or dinner cruise, or purchase a combination ticket to take a canal cruise and visit a museum or another attraction, like the Van Gogh Museum or Amsterdam Dungeon.
Blue Boat Company provides a daytime City Canal Cruise, accompanied by two local and knowledgeable guides who have lived in Amsterdam for more than 40 years. Another popular cruise is the Rijksmusem Cruise that takes you back to the 17th century. You see and learn about the places of inspiration for Rembrandt's works of art, and a ticket to the museum is included with the tour ticket's purchase, so you can take the short walk to visit this treasured attraction. For those of age, go on the Pub Quiz Cruise, a cruise that brings together Amsterdam's famous canals, a cold Heineken and games.
Canal's most sought after tour is its Canal Bus. This hop on, hop off cruise lets you completely personalize your sightseeing adventure. The Canal Bus makes 16 stops, including Rembrandt Square and Albert Cuyp Market, and you can hop on and off at any of its stops. If you're interested in Amsterdam's industrial side, venture on the Harbour Cruise, or if pizza and ice cream are the way to your heart, you'll want to take its Pizza Cruise.
Friendship is known for its luxurious canal cruises through Amsterdam's ring of canals. With four lines — that take you out during the day or night — you can choose the boat that best fits your personality. During Friendship's boat tour, you'll pass the Amstel, Hermitage, the Maritime Museum, the Red Light District and more.
Reederij P. Kooij has a fleet of six canal boats from the family-owned shipping business, P. Kooij. Peacefully sail through the beautiful city canals while seeing and learning about this historic city. Choose from a one-hour Regular Roundtrip tour, a two-hour Candlelight Roundtrip tour — complete with wine, cheese and other snacks — or rent a private boat.
If you'd rather not tour the city with other people or don't feel like paying to rent a cruise boat all to yourself, then rent a paddle boat, or canal bike as they're also called, instead. This way, you're able to be your own captain! You can go straight from your Amsterdam hotel room, tour the city at your own pace and get some exercise that won't seem like exercise because your mind will be focused on Amsterdam's surrounding beauty. Canal is a good company to rent a canal bike from, and it has three canal boat rental piers to depart from.
When you travel to Amsterdam, a city known for its breathtaking canals, the only way to really experience it is taking in the sights and history whilst floating down its waterways.
---
About the Author
This post was created by InterContinental Hotels Group. IHG operates over 4,700 hotels in 100 countries and territories through nine different hotel brands. For more tips for exploring Amsterdam and beyond, follow them on Twitter: @InterConHotels.