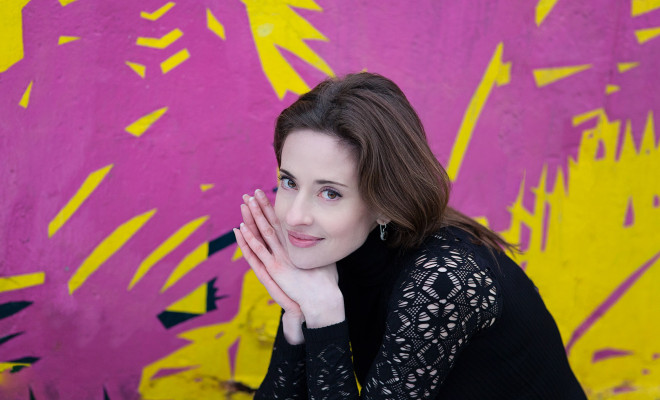 saturdaynightsalright.com
4 Secrets To Taking Absolutely Irresistible Online Dating Profile Photos
|
If you're online dating, chances are you've noticed a shift happening when it comes to people's profile photos.  More and more, people are starting to use better photos to showcase themselves on their dating profiles. It's a dead certainty that these people are getting a lot more interest in their profiles than people who are still using poorly lit, blurry, pixelated shots.
Across the web, good, strong images are everywhere and finally online daters are catching on. If you want your dating profile to stand out from the crowd, one of the easiest ways to do that is by creating an irresistible online dating profile photo.
Your online dating profile photos don't just show people what you look like, but they also give potential mates clues about what kind of person you are and what kind of lifestyle you lead. Using good quality online dating profile photos gives the message that you're serious about finding love online and that you value yourself.  Here are my top tips to help you create irresistible online dating photos that showcase the real you – but you on a good day.
1. Feel good
The one thing your photographer can't control, and which has a huge impact on how your online dating profile photos turn out, is how good you feel about yourself. It's really important to get your head in the right place if you want to rock your dating photo shoot. Take a minute to figure out how confident you're feeling. Do you need to up your confidence quota before heading out? If so, here are some things that can help.
In the lead up to your shoot, book a make-up session, get your hair cut, hit the gym, ditch the take-outs, nurture your skin, indulge in a manicure, get your eyebrows waxed, listen to music you love, buy an outfit that makes your feel a million dollars, just do what it takes to get your head in the right space. If all else fails, fall back on the classic strategy of 'fake it 'til you make it'. Put your game-face on and head out to your shoot telling yourself that you're going to own it.
2. Head outdoors
Want to take better online dating profile pictures? Taking pictures outdoors works really well. Firstly, you have some lovely natural light that you can take advantage of, and secondly you can choose some different locations and backgrounds which can add value to your photos if they tell people a little more about you. Do you love going to the park or visiting public gardens, heading to quirky markets or shops, having a coffee by the river or canal? Well head there for your shoot. If you're a bit more of a city girl, you might want to head to the part of town with some quirky street art etc and use that as backdrop for your images.
Try and mix it up a bit so that you have a range of photos to choose from. Be careful to avoid anything too messy or busy behind you. Simple, clean backgrounds work best. You need to be the main thing in the photo. If you can include some bright colour in some of your shots, that will help them stand out. Either embrace the colour-block trend in the clothes you choose to wear or if you're more into neutral colours, find some colour in your background and use that.
 3. Experiment!
If you're not sure how to pose for the camera, that's OK – just keep trying out new things. Try moving around, standing up, sitting down, walking along, spinning round, dancing a little, leaning against things, taking your jacket off and putting it on again, playing with your hair, all while your photographer keeps shooting. Your photographer will be able to capture some fun, natural, relaxed shots by encouraging you to keep moving. If you're still feeling a little tense, try picturing something funny, relaxing or sexy. It really works! What people are thinking often reflects on their face, so leave your worries behind and only think about good things or good times.
 Related Post: How Has Technology Changed Dating?
4. Have a laugh
The most important thing you can do to make your dating photos compelling is to relax and be natural and happy; showcase that gorgeous smile. There is nothing more attractive than a big, confident, infectious smile. Ultimately, showing off your genuine smile is what will attract people to your dating profile so make sure your photographer or photographer friend is someone you can have a laugh with.
You May Also Like: 10 Things I Hate About Online Dating
---
About the Expert
Passionate about photography and helping people find love, Saskia Nelson is the talent behind the award-winning and internationally acclaimed Saturday Night's Alright, the UK's coolest dating photography business, specialising in creating online dating photos that kick ass and win dates for 100s of single people.  She is also the co-founder of Irresistible Dating.
She also puts her extensive (7 years! eek) online dating experiences to good use by sharing her experiences and wisdom on her blog. Looking for more dating photography tips? You can find her living it up on Twitter @SatNightAlright, Facebook and Instagram.