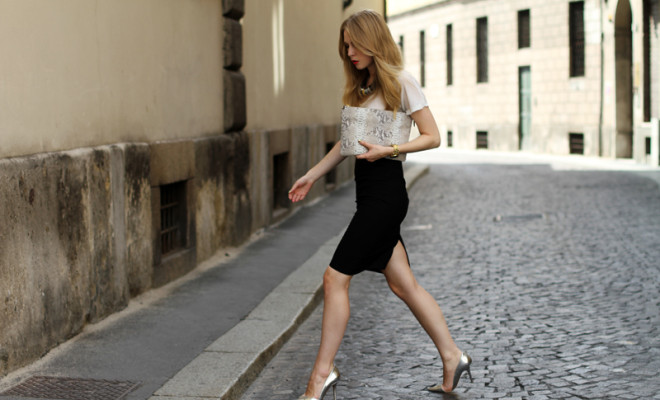 Cheat Sheet! French Garment Care Tips Every Girl Should Know
|
For most of us, designer clothing or items like wool coats and expensive lingerie are investments – items we hope to keep for years to come. If you've spent a fortune on an item clothing and have no idea how to properly care for it, never fear! This cheat sheet full of garment care tips created by garment care experts will help you keep your expensive clothing looking sharp for years to come.
Looking for a specific garment care tip? Jump to your desired section below!
Dresses || Outerwear || Tops & Blouses || Sweaters
Jeans & Pants || Lingerie || Bridal
---
Designer Dresses
Designer dresses are made from high-end, quality fabrics, and should be cared for accordingly. Silk, satin, velvet, cotton, and jersey are just some of the fabrics used to make quality dresses. Below are a few garment care tips on how to care for your most expensive dresses.
How to properly clean designer dresses:
Always read the label. It's not there just to look nice, the label on your dress (or any garment really) will let you know the best way to care for designer clothes or any piece.

When dry cleaning your dress, be sure to find a cleaner who knows how to properly clean your item. If you dress has sequins or beads, make sure the cleaner will protect the press during the cleaning process to keep the tiny pieces from being destroyed.
How often should designer dresses be cleaned?
Wash designer dresses as little as possible. The more you wash, especially in the washing machine, the more wear and tear on your garment. If you only wear your dress for a few hours, hang it back up and wear it again.
How should designer dresses be stored?
Hang your designer dresses in a dark, dry closet or wardrobe. This will help eliminate mildew and mold, and keep your dresses safe from too much sun, which can damage delicate fabrics.

When hanging dresses in the closet, make sure they are stain and perfume free. Stains can

grow worse over time

, and perfumes can attract moths and silverfish.

Hang dresses on quality hangers, such as wood, to prevent the fabric from warping.

The exception to this rule are dresses made from jersey, knit, or are beaded. Those should be folded

, or kept in a box.
Bonus Tips:
To help keep designer dresses fresh and avoid over-washing, invest in a

quality steamer,

which will press and freshen your clothes.

Another great way to freshen a dress without washing is to spray it with a mixture of

water and vodka

. This is how wardrobe professionals keep items fresh when they don't have time to wash.
---
Outerwear
Outerwear keeps you warm and looking great. If you spend a bundle to get bundled up in a designer coat, then it makes sense to take good care of it. With proper care it will keep you warm for years to come!
How to clean a designer coat:
Down jackets can be washed in a machine

. Use the permanent press cycle, and be careful not to use too much soap. The jacket can be dried on low in a dryer, with a few tennis balls to prevent clumping.

Find a trustworthy leather cleaner for leather and suede coats. Leather cleaner, polish, or a suede brush can be used for daily maintenance.
How often should you clean a designer coat?
Leather and suede coats need only be cleaned once per season.

Down jackets and wool coats can both be washed twice a season, once at the beginning and once at the end.
How to properly store a designer coat:
When the season ends, store your winter outerwear in quality garmet bags

 for protection. Make sure to clean the items first, before putting them in long storage.

Give your items room to breathe when hanging them in the closet. This gives each piece space to avoid wrinkles, creases, and accidental tears.
Bonus Tip:
Do not over-stuff the pockets of a leather coat, as

 this can cause the material to warp.
---
Blouses and Tops
The staple of any wardrobe, and the piece that will be noticed more than any other. Your top is the foundation from which you build your whole outfit, and unlike those Forever21 tops you have hanging in your closet, expensive tops need special care. These garment care tips detail how to properly clean and store expensive tops and blouses made from delicate fabrics.
How to properly clean a blouse:
Cotton tops can be machine washed, but be sure to read the label first!

A more delicate fabric like rayon should be hand washed and hung to dry. Never wring delicate fabrics, to avoid stretching.

Silk can be dry cleaned or hand washed.
How often should tops be cleaned?
Tops should be washed after one to three wears, depending on how soiled they become. Like dresses, limiting the amount of washing will preserve your tops.
How to store your tops:
When hanging a button-down shirt, button the top, middle and lower buttons to help the garment keep its shape.

As tempting as it may be at the end of a long day, do not throw your shirts in a pile on the floor. If they are able to be re-worn, hang them back up. If not, place them in your clothes hamper.
Bonus Tips:
Be sure to

sort shirts by color

. Not just for washing, which is essential, but for hanging in the closet as well. It is also a good idea to have separate clothes hampers for darks and lights.

Save your designer tops for special occasions: fancy dinners, weddings, and parties. The less you wear your garment, the slower the garment will wear out.

Try to avoid problems before they occur. Be careful when eating and drinking to avoid spills; this will lengthen the life of your top. If you do encounter an accident, dab the stain immediately

 with seltzer water.
---
Sweaters
When taken care of properly, classic sweaters can last you for years. Sweaters have their own unique set of care instructions, depending on what type of material they're made out of.
How to properly clean sweaters:
Cashmere can be washed by hand, using a gentle soap like Woolite. Lay the sweater flat to dry, using a towel to press it down. Dry cleaning is also a viable option.

Wool sweaters can be dry cleaned or hand washed. Turn inside out and use gentle soap in the sink. Make sure to rinse well, and lay flat to dry. Never hang a wet sweater, as it will ruin the shape.

Hardier fabrics such as cotton can be machine washed, but make sure to read the label first.
How often should you wash sweaters?
Wash lighter fabrics like cashmere or cotton after two or three wears

. Wool or more durable fabrics can wait for five wears.
How to properly store sweaters:
To store cashmere sweaters for the off-season, seal in an air-tight plastic container

 or bag.
Wool and other similar sweaters should always be folded, never hung. Hanging can cause the fabric to warp and distort the sweater's shape.
Bonus Tips:
Wondering how to remove pills from a sweater? Simple! Hold your sweater flat and trim the pills off with a razor

.

If your sweater has a snag, don't throw it away! Instead, use a

crochet hook

to remove snags from a sweater.
---
Jeans and Pants
From handmade raw denim, to quality wool, to breezy linen, your wardrobe is not complete without some stellar pairs of pants. Designer pants in great fabrics will hold up for years, if given the proper care.
How to properly clean designer pants:
Wash jeans in cold water on a gentle cycle, or hand wash.

Many types of pants can be washed in a machine. Wool or linen can be washed by hand, or even in the gentle cycle. But again, make sure you read your label.
How often should you wash jeans?
Do not wash pants and jeans everyday. In fact, you can wait for four or five wearings to wash pants. Although some believe you never need to wash

 your jeans, or can clean them in the freezer,

 it's best to wash them after five to seven wears.

Raw denim jeans should be broken in before they are washed. This can take several months.
How to properly store pants:
The best way to hang pants is from the pant cuff. This will prevent creasing or damage to the fabric. If this is not possible, a quality wood pants hanger is a good alternative.
Bonus Tips:
Try to avoid the dryer when possible. This goes for pants, and any other item you would wash at home. The heat from the dryer damages clothing. Hanging items to dry is much easier on the fabrics, and sunlight is a natural disinfectant.
---
Lingerie
Although they are rarely seen, lingerie and other delicates are an integral part of your wardrobe. Well made undergarments are costly, and made from delicate fabrics. Follow the tips below to keep them in shape.
How to properly clean lingerie:
Delicate lingerie in fabrics such as silk or lace should always be hand washed. Lay flat to dry on a towel.

Sturdier items can be machine washed, but a mesh wash bag should be used to keep the items safe.
How often should you clean your lingerie?
Bras do not need to be laundered after each wear. Unless they get sweaty, you can wait three or four wears before washing.

As your grandma has already reminded you, underwear should be washed after each wear.
How to store lingerie:
Do not toss bras and camisoles into jumble in your drawer. Keep them organized and stored neatly to preserve their shape and integrity.
Bonus Tips:
Bras start to lose support between three and six months

 of wear. At that point they should be replaced.

Try to rotate out your bra each day, giving them a rest after wear can help maintain their shape.
---
Bridal Wear
Bridal wear can elicit a variety of emotions: joy, excitement… and in the case of bad bridesmaid dresses, revulsion. If the garment in question is a bridesmaid's dress that's definitely not your color, then into the donation bin it should go. But what about the dress you want to keep forever, and possibly pass down to the next generation? Check out the tips below.
How to clean bridal wear:
Your wedding gown may only be worn for a few hours, then never again. In this instance you should ignore the rule to wash as little as possible, and have it professionally cleaned.

Many bridal and evening gowns are made of satin.

Silk and acetate satins should be dry cleaned, other materials can be hand washed. Turn the dress inside out and use a gentle soap.
How often should bridal wear be cleaned?
The rule for cleaning is the same for all dresses. If you have only worn it a few hours and it has no stains, there is no reason to clean it.
How should my wedding dress be stored?
After the big day, you can decide to

archive your wedding gown

, preserving it for future generations. This can be a pricey process, starting around $100 and climbing over $1,000, but it can help you keep your dress for a lifetime.
Bonus Tip:
Be sure to take care of any stains or spills immediately, blotting with ice or seltzer water to prevent stains from setting and helps when caring for designer clothes. 
---
As with any investment, taking the time to properly care for your wardrobe will ensure its value. Beautiful clothes are worth the extra time and care needed to keep them preserved. Now you have some handy tips to help you on your way to crafting your perfect, well maintained wardrobe.
Quickly and Efficiently Stylish. In 2005, French fashion designers Olivier and David Gabison developed the first clothing steamer that was powerful enough for heavy denim yet gentle enough for the most delicate fabrics, and their high-quality clothing steamers are now available in the US! Now you can save precious time on trips to the dry cleaner by steaming your clothes at home. With professional quality suitable for all fabric types and a design that doesn't have to be hidden in a closet,
SteamOne
suits your style. Check SteamOne out on
Facebook
or Twitter 
@SteamOneUS
 and on 
Pinterest
!