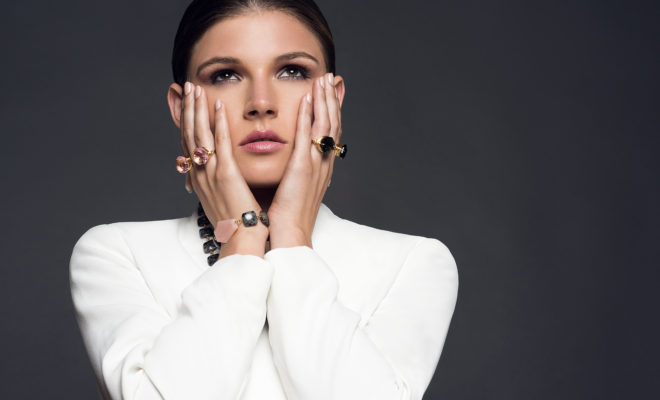 Manic Trout / abril25
Best Places To Buy Unique Jewelry Online
|
I'm always on the hunt for new places to buy unique jewelry online. Unfortunately, shopping for jewelry online can also be a frustrating process if you don't know where to look. If you search through Google, you inevitably find yourself sifting through page after page of low-quality jewelry retailers to get what you're looking for (trust me – I've done it plenty of times). Likewise, Etsy is awesome if you're looking for something specific, but can be incredibly overwhelming to browse.
So what are the best places to browse for and buy unique jewelry online? Check out our favorite places to buy unique jewelry online!
Satya Jewelry features a wide range of beautiful jewelry with a spiritual focus. In addition to a lovely range of symbolic gold jewelry that's perfect for layering, they also feature a lovely range of Mala beads and healing gemstone necklaces, as well as a great range of men's jewelry. Most importantly, designer Satya designates a portion of every sale to help fund the Satya Foundation, a 501 (c) organization that has raised over $1 million for children's groups throughout the world.
---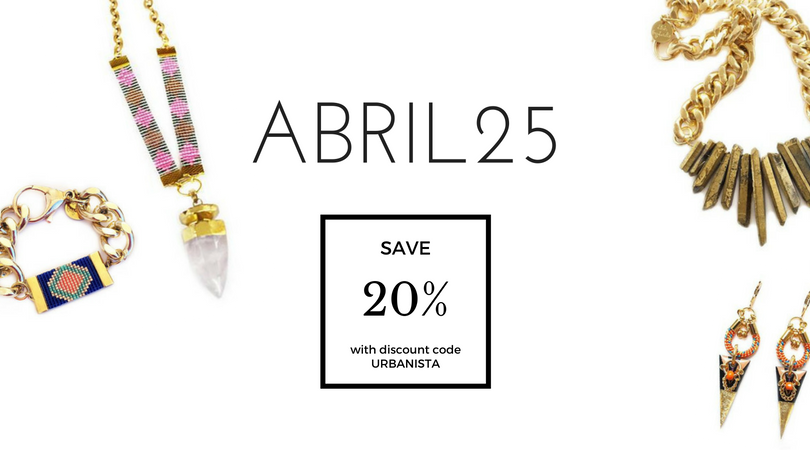 If you love to shop independent designers, you'll want to check out abril25! The site has a beautifully curated selection of jewelry from indie designers – many of whom have been featured in top magazines. Despite having such a quality selection, the prices are (gasp!) actually affordable, making it a great place to buy unique jewelry online.
DU Bonus: Save 20% sitewide on abril25.com using code URBANISTA.
---
Odds are, you've probably heard of BaubleBar, as they're quickly becoming one of the more popular places to buy unique jewelry online. They have a great selection of fashion jewelry and their prices aren't sky-high. They even have stylists on-hand that will help you accessorize a specific outfit, or train you how to properly layer your jewelry.
---
Does anyone else's pulse quicken when they visit this website, or is it just me? Catbird carries high quality jewelry that will last for decades – but this definitely ain't your grandma's fine jewelry store. In addition to a drool-worthy array of engagement rings and modern jewelry crafted out of high-quality materials, they also carry a variety affordable basics like gold stacking rings.
---
Many travelers have that one "thing" thing they try to purchase in every city they visit. For me, it's jewelry – particularly when the jewelry is a reflection of that place, like buying Czech glass jewelry in Prague for example. For this reason, I love Ten Thousand Villages, which features handmade jewelry from artisans around the world. Even better? Every purchase improves the lives of makers by supporting their craft and providing a fair, stable income.
---
Elisabeth Ashlie started off as a handmade jewelry line created by Chicago sisters Lauren and Kate and has grown into a thriving online boutique featuring affordable, delicate jewelry plus small items such as paper goods and beautiful ceramic ring dishes. For $29 a month, you can sign up for The Dearly Box, a subscription box featuring a carefully curated selection of jewelry.
---
If you're looking for affordable fashion jewelry that you can wear for a few months and then cast aside, Love Adorned might not be for you. However, it's definitely the place to shop if you're looking to treat yourself to something really special that will last for years. This is the type of artistic, beautiful and high-quality jewelry that your grandkids will fight over someday. They also have a nice selection of vintage jewelry.
---
If you're looking to buy estate jewelry, I highly recommend checking out Ruby Lane! While listings on this site aren't cheap, prices for estate jewelry tend to be slightly lower than what you'd find on Etsy. In fact, some absolutely beautiful Art Deco pieces can be found in the $50 – $99 category under vintage jewelry.
---
If you've been dying to buy Chanel earrings for ages, but don't want to get scammed with fakes on eBay, you must check out TrueFacet. They carry a wide range of designers from Alexis Bittar to Yves Saint Laurent, and every piece of jewelry or watch sold on the site is authenticated by experts. It's also a great place to sell!
---
What's your go-to spot to buy unique jewelry online? Share your favorite with us in the comments!