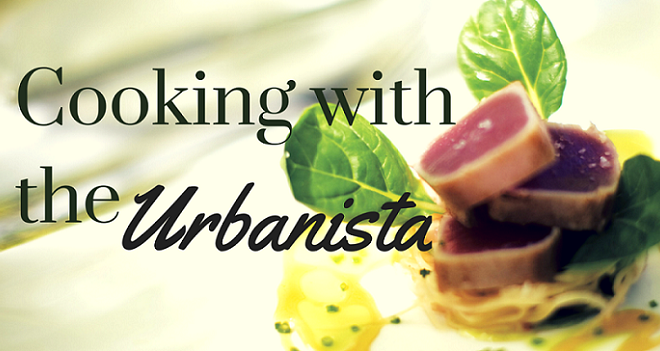 Is Plated Worth It? (Review)
|
I love to cook. I mean, I love to cook so much that I would rather spend all day in the kitchen making a meal for someone than do anything else. No joke, spending hours in the kitchen making something that someone else will enjoy brings serious joy to my heart (yea, I said it). There was a time when I wanted to go to culinary school, but life got in the way so I had to find other ways to play in the kitchen.
When I got the email saying we'd have the chance to try Plated, you know I jumped on it. It actually came at a perfect time, I was going to be on my own for a bit and had to fend for myself food wise, however, because of my schedule grocery shopping and food prep would be difficult. I'm currently working two jobs so I'm working between the hours of 8 AM and 11PM – fun times – so here's my Plated review.
Ordering was super easy, all I had to do was pick the entrée and delivery date that I wanted it to arrive. After signing up and entering our promotion code (which you'll get later on, promise), I was all set. A couple of days before my delivery date I received email confirmation that my package had been shipped, which was good because with everything going on I'd already forgotten that it was even coming.
And it arrived
I woke up Friday morning and as I was about to head out I was greeted by my Plated package. Everything was packaged individually in an insulated box with some ice packets, most of the materials could easily be reused. Also included were recipe cards, with pictures and step by step instructions. They were easy to follow and it was really helpful that they included pictures. I'm more of a visual person and sometimes recipes can get a bit complicated. That wasn't the case with these though, so it's a plus that Plated has simple recipes.
That's not to say that they were simple in taste, because they definitely weren't! The menu is broken down into three categories: Land, Sea, and Veggie. Each recipe will show you what you need, what's sent, difficulty level, prep time and type of meal. At first glance I didn't think that these would actually hold up as a main course, some of the options seemed more like side dishes to me, but I was pleasantly surprised when I actually had the finished product.
The Food
The first meal that I chose was a Steak au Poivre with Spinach Potato Gratin, as I mentioned, everything you needed was sent and portioned out for you. All you had to do was put it all together.
The card said it would take anywhere from 30-40 minutes, which wasn't bad at all. Unfortunately for me I decided to do this before running off to work so I wasn't actually able to enjoy it right then. I had just enough time to eat what little I plated up for the picture. Everything else was boxed up and put in the fridge for later. I wouldn't recommend this, if at all possible give yourself enough time to sit down and eat properly. But then again, I'm sure most people aren't in as much of a rush as I seem to be lately. You want to be able to enjoy the fruits of your labor.
I do have one complaint, I don't know if it's just me being used to boxed potato gratin or what, but this dish seemed a bit dry. There wasn't much liquid, and while the potatoes were pre-cooked they still didn't seem cooked enough. This could have very well been my fault though, so I will be trying this recipe again when I'm not in a rush. Even so, I've only known potato gratin to be creamy and rich, so this was definitely a lighter version.
Aside from that it really was good!
Next up came the Cheesy Farro risotto with purple cauliflower
I've never made risotto, or Farro for that matter, so I was a bit nervous about this at first. While I am able to do many things in the kitchen I, for some reason, have never been able to make rice. Maybe it's just the idea that you have to boil it and leave it, just seems too simple and I over complicate it?! I'm not sure, I've had several people explain how they make rice (although really it's always the same process) and have yet to actually do it myself. SO… I was worried.
I'm not sure if it was the Farro or just the instructions that were given to me… but it worked. I was actually able to BOIL a grain.
There wasn't a ton to do with this dish, which was nice. I was a bit worried about the cauliflower, you're supposed to put it in the oven to roast until it's caramelized. I found it a bit hard to tell since it was purple. Purple Cauliflower, did you even know that existed? I didn't.
I was skeptical with the amount of cheese that was given for the risotto but once everything was mixed together it came out perfectly. Well, as perfectly as one can think when they've never made something before. And while this was one of the things I thought was more of a "side" dish, it was definitely filling on its own.
The verdict
After everything was said and done, I ended up with a good amount of food. You purchase these by the plate, and of course they sell them in pairs. So while this was technically a meal for 2 people, I ended up with about 4 portions (of each). I may just eat really small portions though, so be careful with that! Everything was very flavorful, I didn't find myself seasoning everything when the recipe card suggested, so if you decide to try it out make sure you're tasting things along the way. Some may like more salt than others, and that's always something you want to do as you go along.
Pricing wise it's not too bad, without a subscription you're paying $15 a plate (orders come in 2, 4, 6 plates). You don't pay for delivery and handling (so that's good) and only pay a small percentage in taxes. Personally, with the amount of food that it turned out to be and the price, I'd take this over eating out every day for a week. And as a single person it's definitely better than spending $150+/- on groceries that may (or may not) get eaten over two weeks. You're paying for Plated to delivery your groceries for you (and only what you need so nothing's going to waste – unless you don't like something in particular that's included) and meal planning (which can sometimes be the worst part of the whole deal anyway). What's not to like about that?!
Unfortunately for me, after I'd placed my order they came out with dessert. Had I known that I would have waited and gotten that as well. I went back in just to get an idea of how much it would cost for a weeks worth of food (for me anyway) and it's still not bad at all!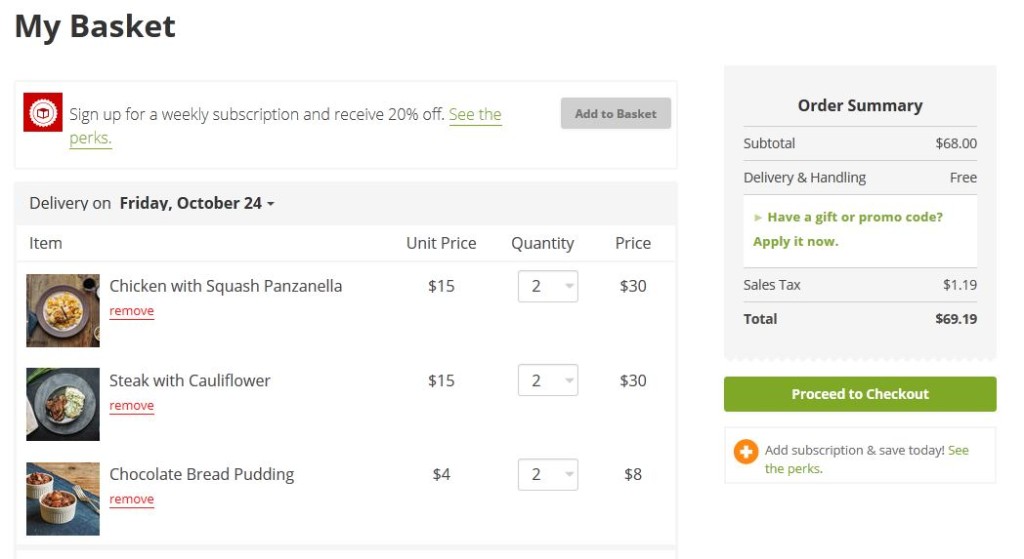 Super glad that I got to try this out and definitely recommend it to anyone who likes to cook (and maybe doesn't have time to plan things out).
And to sweeten the deal, Plated has given us a discount code for you lovely readers, so you can try it out as well!
Check it out (or if you already have) let us know what you think!