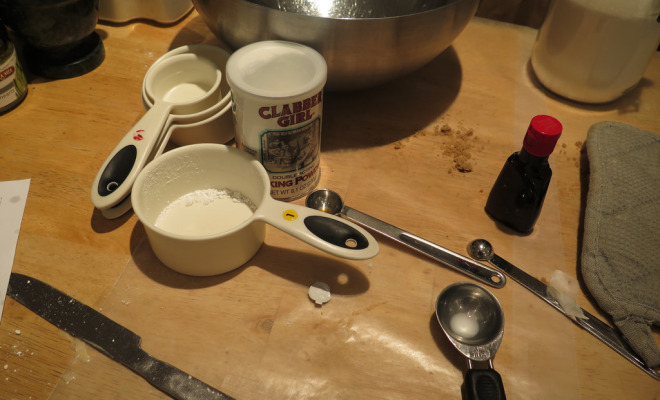 Stuffed German Chocolate Cupcakes (RECIPE)
|
I don't know if you have noticed a trend with me, but I like to cook. I have made somewhat of a name for myself and have been asked to make things for people in the past. At the request of a friend I made German chocolate cupcakes for his birthday. I wanted to make them a little bit differently so I decided to STUFF THEM! Yup, you read that right… they were stuffed.
I figured it would be fairly easy to do – scoop out the inside of a cupcake and then load it up with frosting. Nevertheless, I thought it would be a good idea to look into it first, just to be sure. I found this recipe on Pinterest and decided to use it as inspiration.
Because I like to make things from scratch as opposed to use cake mix, I used my own cake recipe, which is listed below. Don't get me wrong, I have been known to cheat on occasion, but I try my hardest not to. I don't have anything against cake mixes, but I like to know that I had a hand in every aspect of what I'm making, and that includes knowing exactly what is going into it.
The coconut icing (recipe below) didn't come out as well as I would have liked. I read a couple of comments on the website saying it came out a little too runny for a few people. I ended up being one of those people, but at least I had enough sense to do this part the night before the party, allowing a lot more time for the icing to thicken up. In the end I added in more powdered sugar hoping that it would thicken up like it should… but it didn't.
Oh well…
Frosted and sprinkled with toasted coconut and pecans. I made half of the cupcakes with pecans and half without, for those with nut allergies.
I made the birthday boy his own (regular sized) cupcakes! At the end of the night, however, he realized that we had left the bar without the box. Thankfully, he was able to go back the next day and found them tucked away in one of the refrigerators at the bar. Many thanks to whomever put them in there!
So here it is, everything you need to know in order to make these amazing stuffed German Chocolate cupcakes. The base is my signature cake recipe, which can be adapted for virtually any cake you wish to make.
MY SIGNATURE CAKE RECIPE:
3 oz unsweetened chocolate, melted
1 stick unsalted butter
2 1/4 cup light brown sugar, packed
3 eggs
1 1/2 tsp vanilla extract
2 tsp baking soda
1/2 tsp salt
2 1/4 cup sifted Swans Down Cake Flour
1 cup sour cream
1 cup boiling water
Sift the cake flour once, measure and then set aside.
Melt the unsweetened chocolate in small microwave-safe bowl; stirring at 30 second intervals until melted (no longer than 1 minute). Stir until smooth; set aside to cool.
Cream the butter until smooth in large bowl, add in the brown sugar and eggs. Beating with mixer until it is a light and fluffy consistency. Beat in the vanilla extract and the melted chocolate, and then finally the baking soda and salt.
Add the flour alternately with the sour cream, beating until smooth. Pour in boiling water and stir with spoon until completely blended.
Line a cupcake pan with liners and fill 2/3 of the way with the batter.
Bake about 20 – 25 minutes or until toothpick inserted in center comes out clean.
And now, for what some might consider the best part…..
CHOCOLATE GANACHE ICING:
Makes about 3 cups (enough to generously frost 2 dozen cupcakes)
Ingredients:
12 ounces semisweet chocolate chips
2 cups heavy cream
1 tablespoon corn syrup (optional, adds shine)
Directions:
Combine chocolate chips and heavy cream in a medium saucepan over low heat.
Stir constantly until chocolate is completely melted, about 10 minutes.
Turn heat up to medium and cook for 2 more minutes.
Remove from heat, stir in corn syrup.
Transfer frosting to metal bowl (a stand-up mixer bowl if you have one) and place in the fridge to cool for about 2 hours or until spread-able.
To fluff the frosting, give it a 2-3 minute whirl with your mixer. As air is incorporated into the frosting, it will turn a lighter color and increase in volume.
COCONUT PECAN FROSTING (GERMAN CHOCOLATE FROSTING)
Make about 4 cups (enough to frost a large cake)
Ingredients:
3 egg yolks
1 cup packed brown sugar
12 tablespoons butter (1-1/2 sticks) cut into pats
1-12 ounce can evaporated milk
1 teaspoon vanilla
Pinch of salt
1-1/2 cups toasted pecans, chopped
2 cups toasted flake unsweetened coconut
Directions:
Combine yolks, evaporated milk, butter, and brown sugar in a medium saucepan over low heat.
Cook, stirring constantly, until the butter is melted and all ingredients are well-combined. Continue cooking for 10-12 minutes. Remove from heat.
Stir in vanilla and salt, and then add coconut and pecans and stir until well combined.
Transfer to a bowl and refrigerate until cool throughout.
Filling your German Chocolate cupcakes:
I like to keep it pretty simple at this point, mainly because it can take a while to get them all prepped and finished (especially if you are in the habit of making mini cupcakes like I am). So, once the cupcakes have cooled down (and you'll want them to be cool), using a sharp knife you'll want to cut into the cake at a 45° angle. Working in a circular motion, slowly until you pull out a cake cone. Once all of the centers have been scooped out then you are ready to fill. Just spoon in the filling. At this point you can do one of two things; cover the filling with a thing layer of cake or just frost it. Either way you will still be piping the chocolate ganache and garnishing as you please. I ended up toasting shredded coconut and sprinkling that mixed with bits of pecans on top of my chocolate ganache.
Let me know if you give these a try. I'd love to hear how you either fixed or prevented the issues that I ran into!