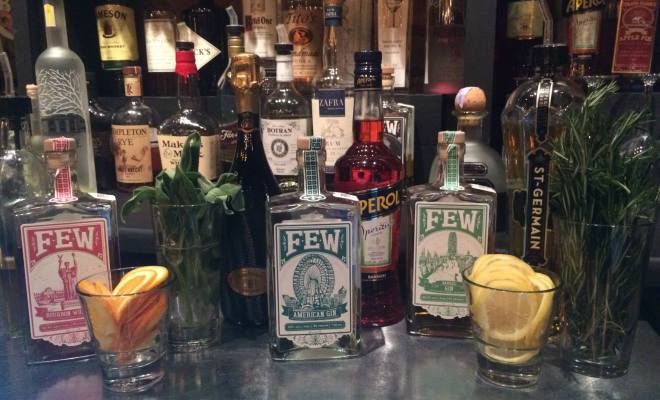 Photo courtesy of Facebook.com/PizzaRusticaChicago
The Kitchen & Bar At Pizza Rustica Restaurant Does Cocktails
|
We all know the power of social media. But it's the human relationships that develop from the various platforms that are truly magical, and Pizza Rustica Restuarant is the perfect example.
The owner (Juliana)  reached out to me – inviting me to a cocktail event on 12/15. Of course, there were a few reasons why I was very excited and interested to attend:
1) I adore this Rustic Northern Italian Bistro
2) It's convenient –  literally 2 blocks from my condo
3) Cocktails…'nuf said
4) It happen to fall right on my birthday!
It was a VIP event – for SpringRewards members (and sold out!).  My cousin was my 'date' and we arrived right one time.
It was an intimate affair featuring three of FEW Spirits: FEW Bourbon, FEW Barrel Gin, and FEW American Gin. Allison, from FEW (in case you didn't know, FEW is a local distillery – located in Evanston), went through describing each spirit. Then in tandem with Maegan (bartender extraordinaire) began to create three signature cocktails – explaining in detail the how's and why's. Creating these cocktails were more than just pop open some liquor and add to a mixer.  Oh no, this is MUCH more involved – not difficult at all, but the few extra steps and ingredients can transform your ho-hum libation to making your tastebuds scream in joy.
After watching Maegan prepare each signature drink and let us taste the liquid deliciousness, we each could get a full size drink to enjoy.  My personal favorite was the Citrus Sage cocktail.
Illustrado Films was there to capture the night – you can view their video recap of the event here.
My cousin and I then each ordered some food to savor with our drinks and round out the event.  As we were finishing the cocktails and chatting with Maegan, suddenly…the lights went out in the restaurant!  Power outage? Fire? Oh no – it was just the entire staff (and patrons) joining in to sing Happy Birthday…to me. Good thing the lights were off because my face was blushing! After the joyful song I devoured a fabulous piece of Tiramisu which was the perfect ending to my birthday.
Pizza Rustica – you never disappoint!
Chicago is filled with wonderful restaurants, but it's the friendly neighborhood restaurants that often are the most fantastic and enjoyable. I urge all of you readers to stop by the Pizza Rustica Restaurant to observe first hand just how sensational this restaurant truly is.  It's more than just pizza, it's an experience!
Do you have a Pizza Rustica Restaurant story to share?