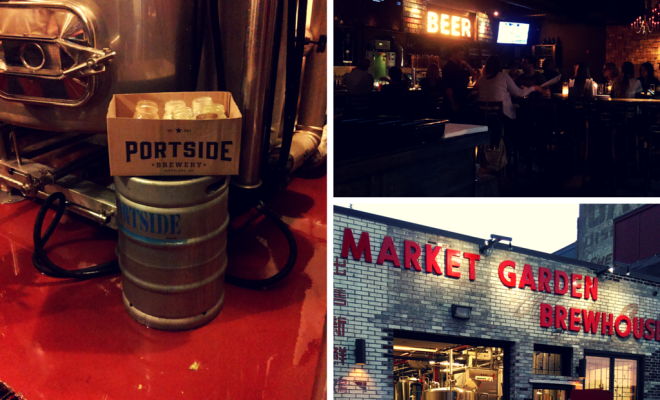 5 Breweries In Cleveland Every Beer Lover MUST Visit Before They Die
|
I admit – when I was told that we'd been invited to go to Cleveland, I didn't really know what to expect. In fact, I knew nothing about the city other than, well, Drew Carey. Shameful, I know. 
Nonetheless, I'm always ready to visit a new city and I have to say, I was pleasantly surprised with the city and despite swearing I would never leave Chicago, I could actually see myself living in Cleveland. Since we've already done the recap what's left to talk about?
A lot, actually! Namely? Beer.
Fun fact: breweries in Cleveland are kind of a big deal!
It's true! While Cleveland has a deep history in the brewing business, it petered out after Prohibition. With the popularity of breweries like Great Lakes Brewing Company, the distilleries and breweries in Cleveland are starting to make quite the name for themselves – so much so that the city has been listed on many "best" lists, specifically for the breweries that are popping up. They've even been included in USA Today's travel section picking the Ohio City neighborhood as one of the "10 great places to bar-hop" in the world. Yea, the world. There are 11 breweries in Cleveland – including 30 in the whole Northeast Ohio region – and counting. We were lucky enough to visit five of them!
1. Hofbräuhaus Cleveland
1550 Chester Ave., Cleveland, 44115
Hofbräuhaus has multiple locations throughout the US, and they all have one thing in common, they are all using the same recipes that have been handed down from Brew Master to Brew Master for over 400 years. Everything that is brewed on site has to be approved by the Brew Master in Munich Germany, in fact everything from the equipment down to the ingredients that are used are all imported from Germany.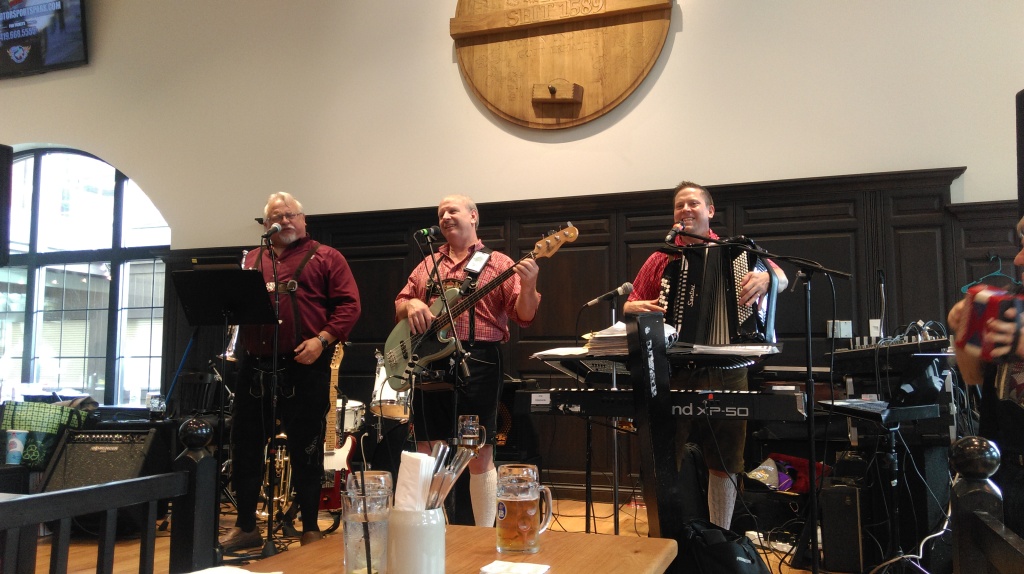 But beer isn't the only thing that you can get when you visit the Hofbräuhaus, there's live entertainment in the form of music and if you're lucky enough you can watch a Masskrugstemmen – or stein holding contest! To compete in a Masskrugstemmen a participant must hold a 1 liter Stein, of course filled with your choice of Hofbräu beer, with one arm, completely stretched out and parallel to the floor. You must hold the Stein as long as possible in this position. In cooperation with Hofbrau, many restaurants, bars and German Clubs across the US are selected to hold regional tournaments with the winner being named "US Champion in Masskrugstemmen" and will receive a trip for two to Munich for three days to visit the original Hofbräuhaus.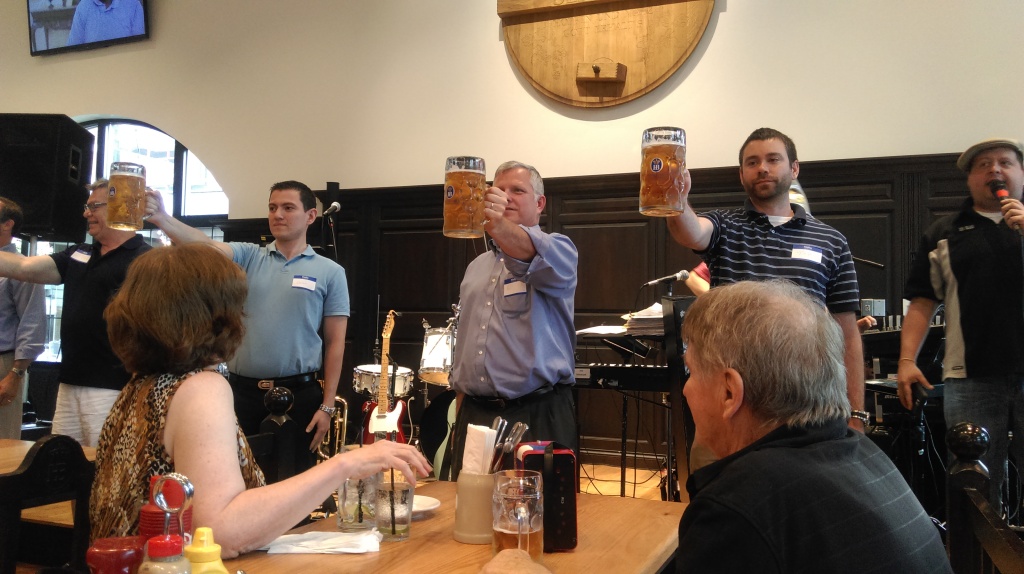 Gentlemen competing in the Masskrugstemmen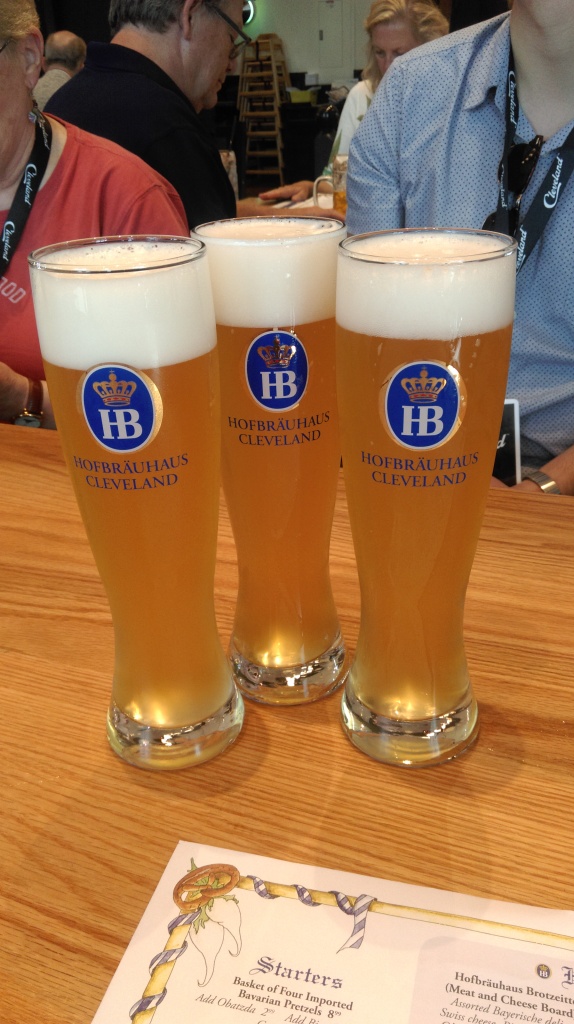 Hofbräu Hefe Weizen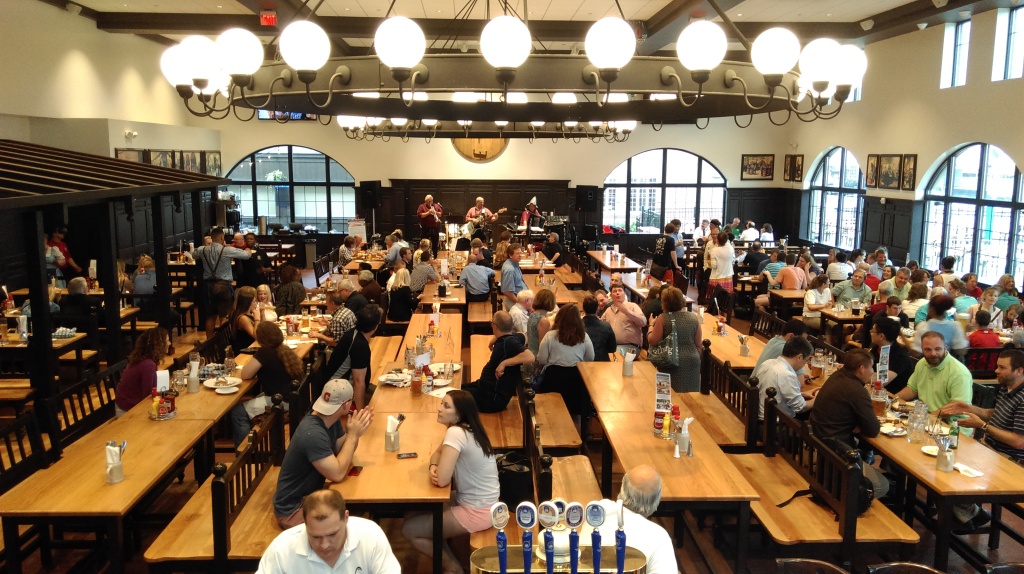 The main dining hall at Hofbräuhaus
An added bonus, although not really beer related is the Bier Stube which can be found in the Hermit Club. The Hermit Club is a 100-year-old dining room connected to the Hofbräuhaus. It's a completely different feel from the main dining hall which is loud and rambunctious.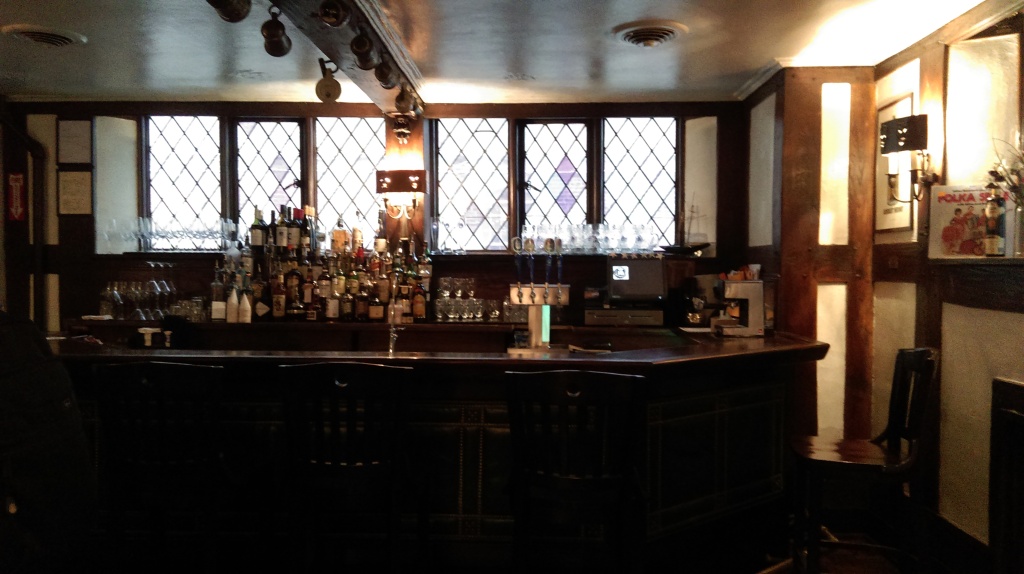 The bar in the Bier Stube
The Bier Stube takes you back in time and brings you into a small town pub in the English countryside. With dark wood decor and original mugs from the Hermit Club – which some members still use today – there's more of an intimate feel to the Bier Stube that some might find relaxing and homey. This area of the restaurant takes reservations while the beer hall is first come first serve. The history of the Hermit Club is interesting in itself, starting in 1904 and still accepting members to this day, the club is one of the oldest private clubs dedicated to the performing arts and have been meeting here from day one.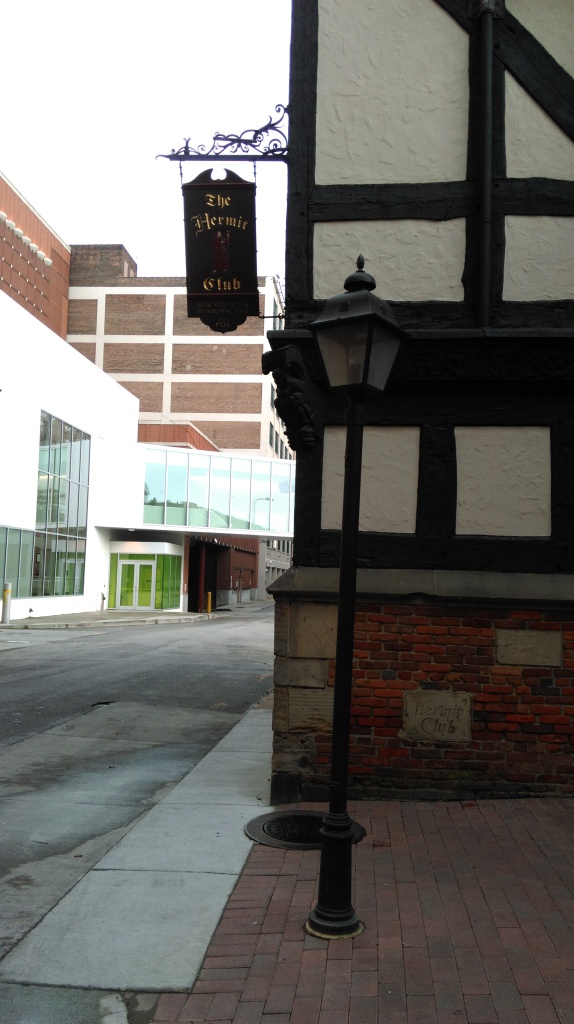 The back (original) entrance to the Bier Stube
2. Nano Brew Cleveland
1859 W. 25th St., Cleveland, 44113
Nano Brew is a biker bar, but this isn't your normal biker bar.  From the Bike Box that's parked outside (which in itself is pretty cool as there are several scattered around town) to the Nano Brew Bike Tune-Up Station (a collaboration with Joy Machines Bike Shop). Nano Brew is big among the Ohio city biking crowd.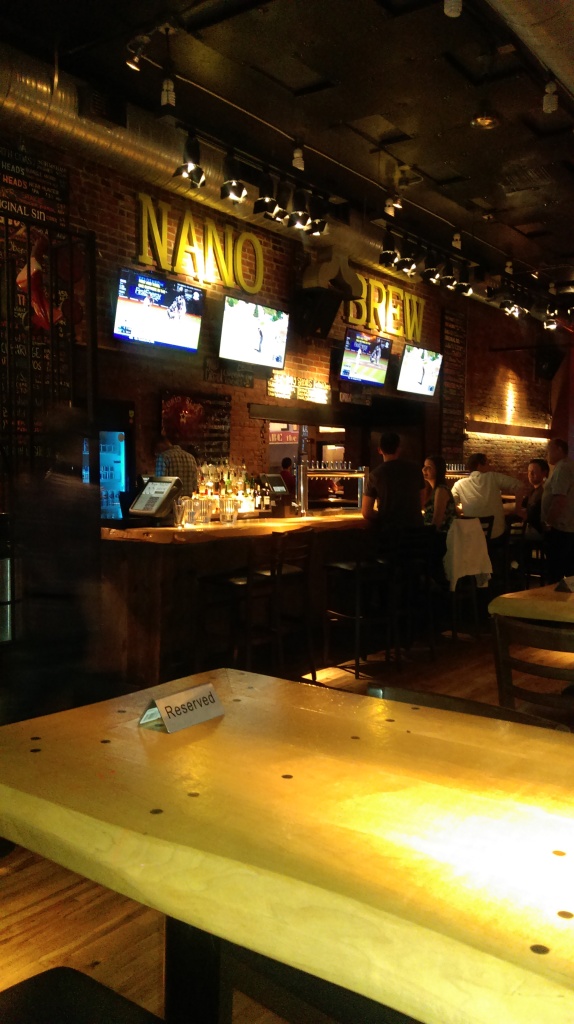 The main bar at Nano Brew Cleveland
It is also notably a one-barrel brew house with a very extensive beer list, some of which are made on-site. Admittedly I am not huge into beer, but I've gotten into the habit of trying something new to break the monotony that has been my relationship with big name domestics. Because of this I will usually order a flight if it's available. This night was no different, I started by asking the server for recommendations and of course he recommended the home brews. So I ordered a flight with the Nano Tandem Cruiser Lemon Radler , Nano Namber Ale, Nano Straight Up, Fat Head's Bumbleberry. I have to say that my favorite was the Tandem Cruiser, I wasn't sure about it at first because summer beers tend to be full of citrus, but this was more of a light (dare I say refreshing) tasting beer. While the Namber Ale was hoppy it wasn't overpowering so it agreed with my taste buds, it was a smooth and hearty ale. I was satisfied. The Straight Up was, well, straight up. It was definitely stronger in flavor and had more of a bite to it than I'd like. My second favorite would be the Bumbleberry with its hint of blueberry and subtle sweetness.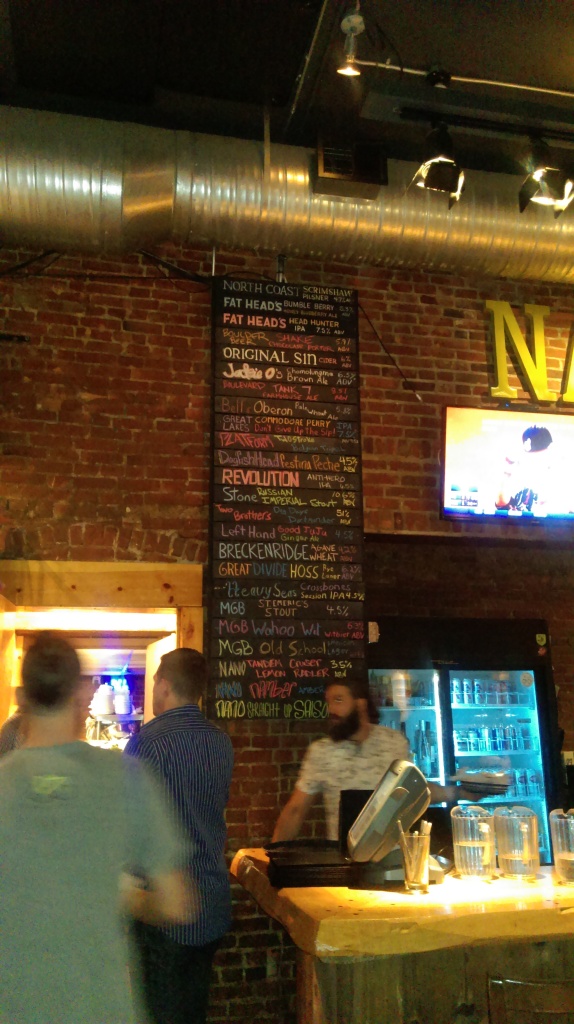 Extensive list of (ever-changing) beers at Nano Brew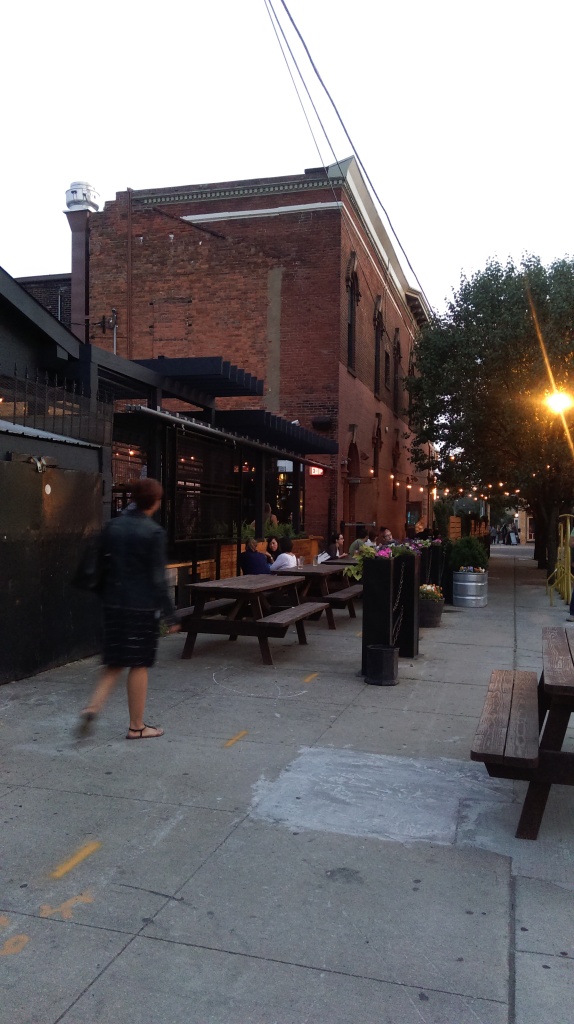 Part of the outdoor patio at Nano Brew
A couple of years back the Nano Brew Cleveland bought its neighboring bar the Black Pig and expanded. With the addition to their inside bar/restaurant space they also expanded their outdoor space and created an enormous, multi-level back patio that has an outdoor bar. There's an amazing view of the Terminal Tower from the top-level of the patio, so make sure you tweet @TowerLightsCLE and see if you can entice it to light up for you.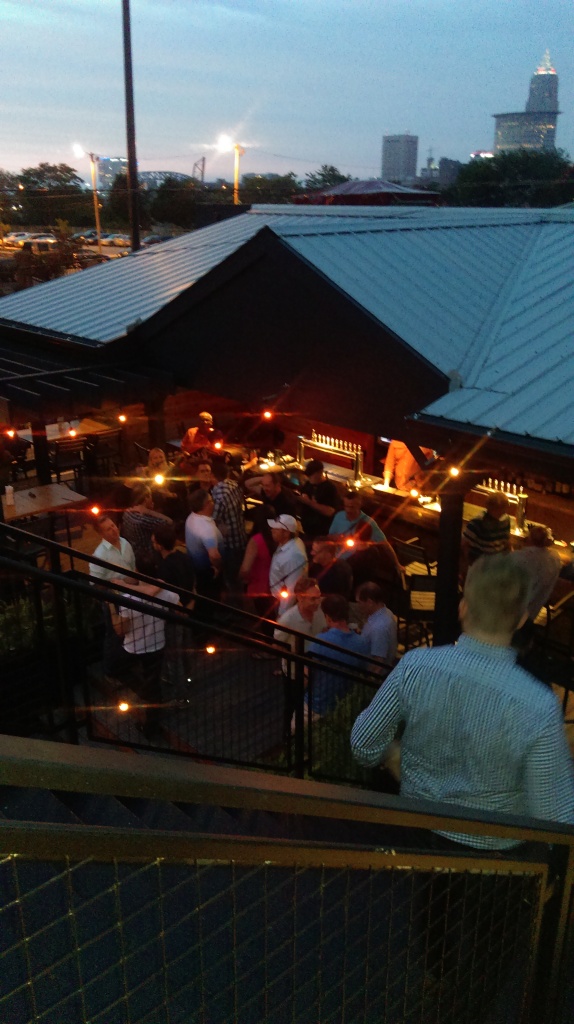 The large back patio/deck at Nano Brew
3. Market Garden Brewery
1947 W 25th Street, Cleveland, 44113
Located in Ohio City next door to Cleveland's history West Side Market, and known to feature Cleveland's first American beer garden, which is really nice and I highly recommend you sit out there if you ever visit! The bar is stocked with more than 100 beers and 30 rotating drafts. Some of which are made in a space behind the beer garden. Food wise the chefs at Market Garden Brewery try to stick with local produce, which seems to be a growing trend in the Cleveland area.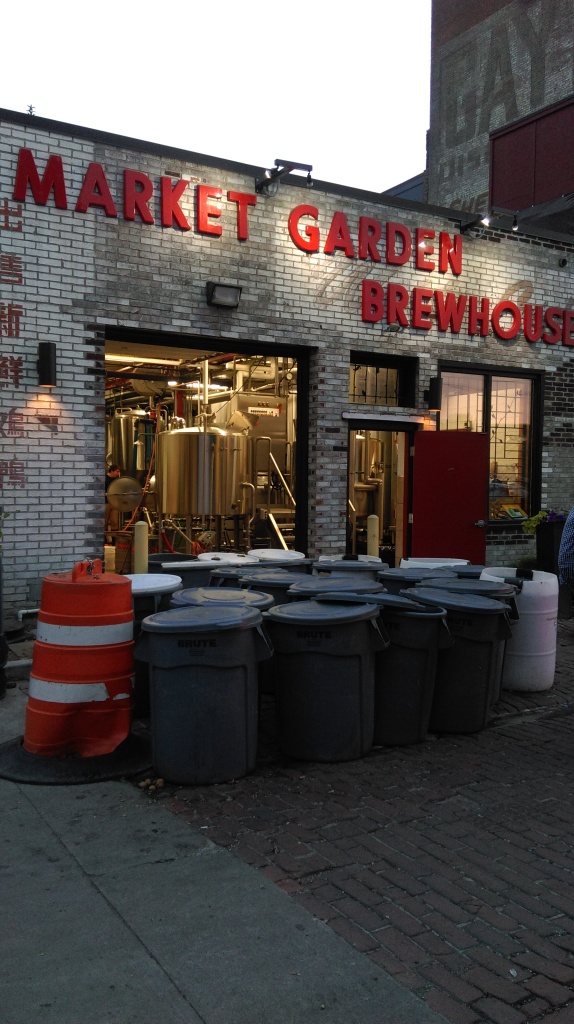 The actual Brewery part of Market Garden brewery
4. McNulty's Bier Markt
1948 West 25th Street, Cleveland, 44113
McNulty's Bier Markt is actually three bars in one, with Bier Markt and Cento on the main level and Speakeasy in the basement. I think of all of the places that we visited this was my favorite, because it was so diverse. The building was actually an older department store and they've remodeled the display cases, turning them into semi private booths. This is the seating that you're greeted by once you walk past the small sidewalk patio. On the inside, if you enter to the right you walk into Bier Markt, and if you walk in to the left you walk into Cento. Both two very distinct locations with only a little overlap in beer selections.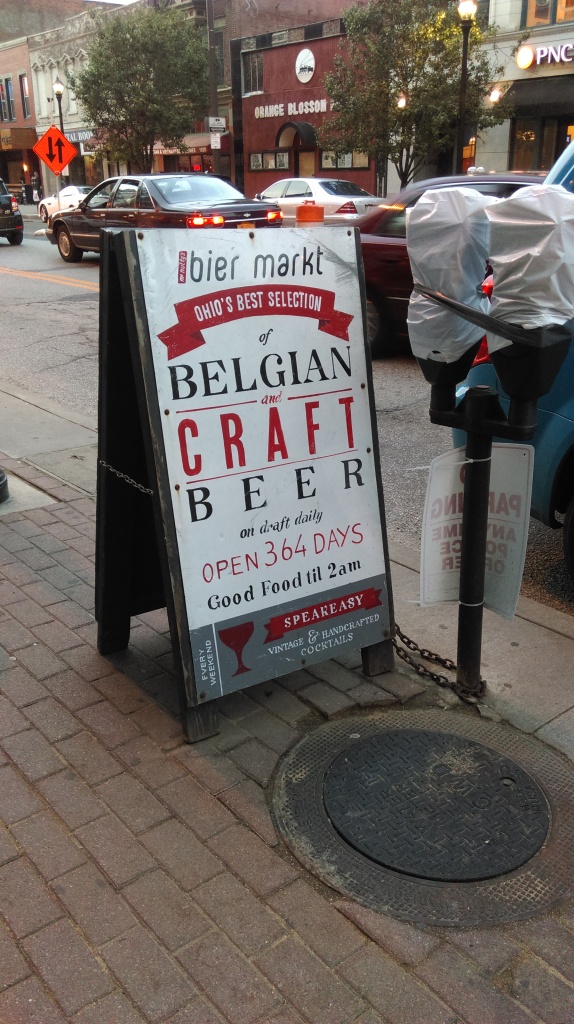 Sign on the sidewalk patio
Cento has more of an Italian flair, which can be seen in their extensive wine list and food selection, all of which is prepared with regional and sustainable ingredients. See, there's a trend here… Sadly we didn't get to stop and eat (or drink) here as it was more of a walking tour, but I can only imagine good things based on various yelp reviews! Definitely on my list of places to go when I visit again.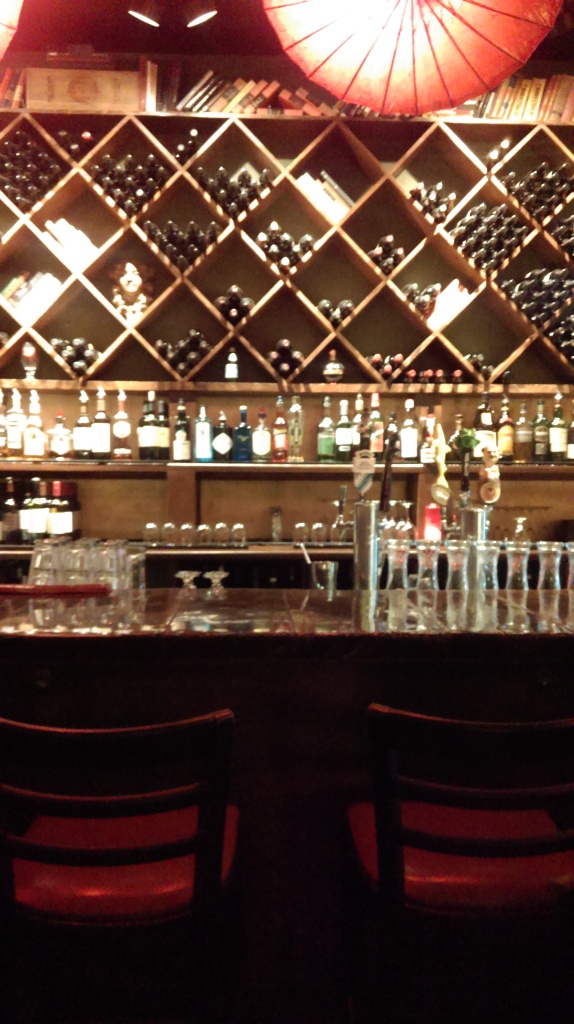 Remember how I mentioned the Speakeasy? Well it's in Bier Markt's basement. They've done a wonderful job of creating a secretive vibe with their dimly lit decor, part of which is restored wood from an old barn. It should also be noted that a tunnel was found full of empty bottles, some of which are used as added decoration. So even if it wasn't used during prohibition, you can still pretend.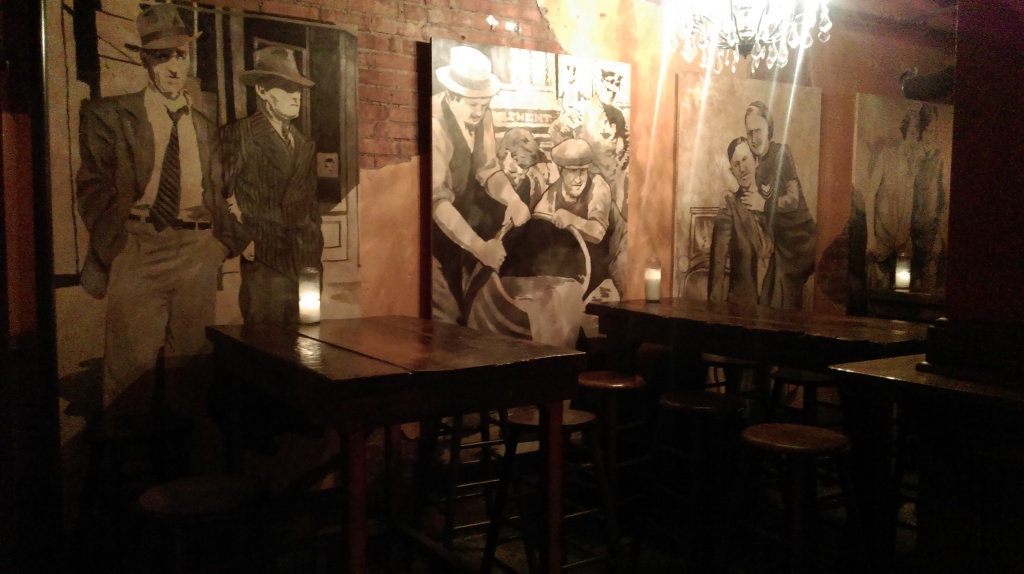 Black and white portraits that greet you as you walk into the Speakeasy.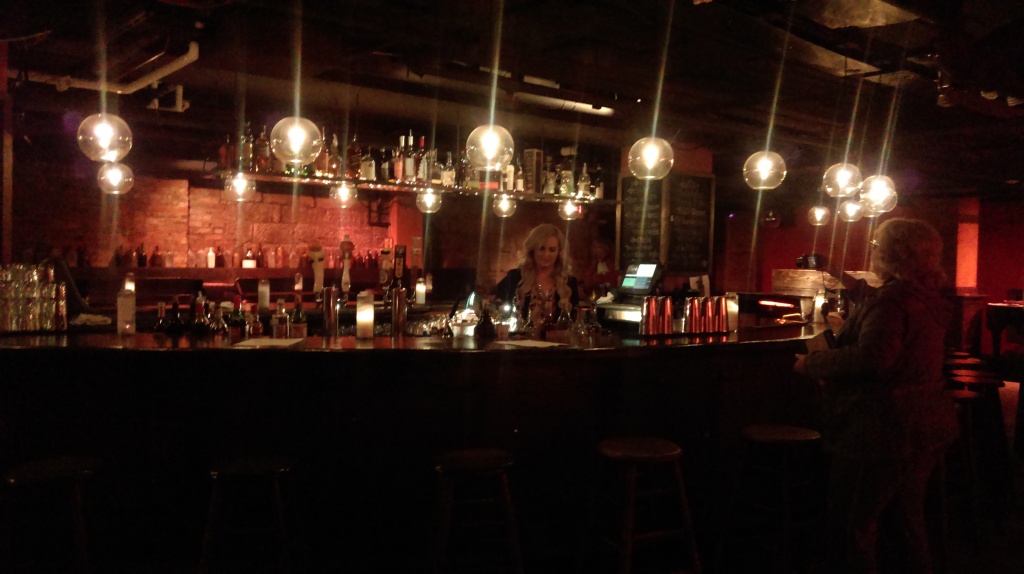 Main bar in Speakeasy
5. Portside Distillery
983 Front Avenue, Cleveland, 44113
They brew beer and they're a rum distillery, the first, in fact, since prohibition! While there may be other's who sell rum and spirits the Portside is the first to distill and bottle their product on premise.
The space itself is pretty simple as they're mostly dedicated to the craft. They do have a small selection of single plates and plates to share that range from sandwiches, salads and cheese boards. With a total of 14 taps, six of which are poured from the metal tanks that you can see through a big window behind the bar. You can come in on any given day for a tasting and a snack, but they reserve Saturdays for their Distillery and Brew tours where you'll get a history of the four partners, the craft and the building in which the Portside Distillery & Brewery resides. Located on West 9th Street in the Warehouse District and bordering the East Side Flats, which is going through a major renovation.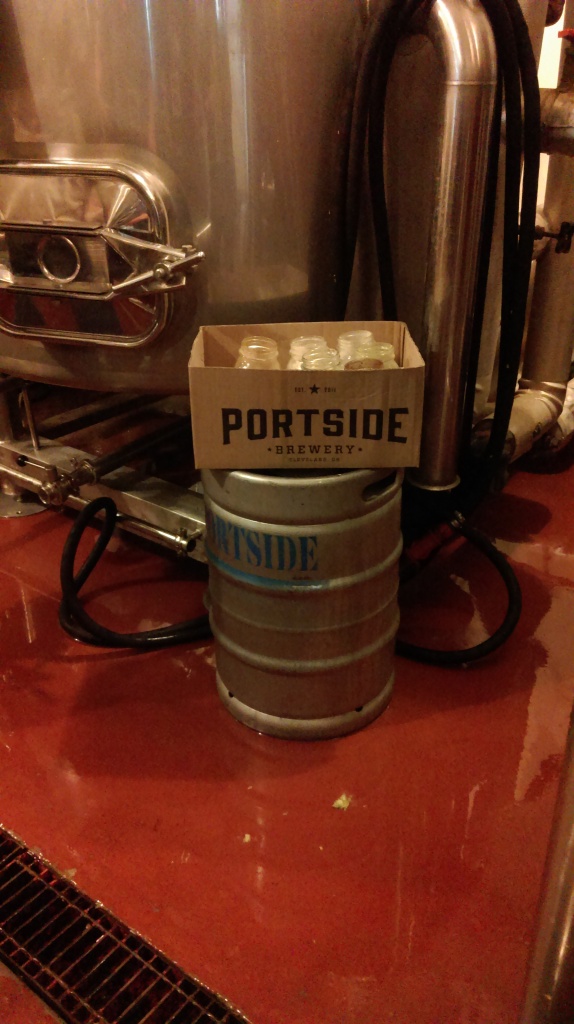 The Portside distillery and Brewery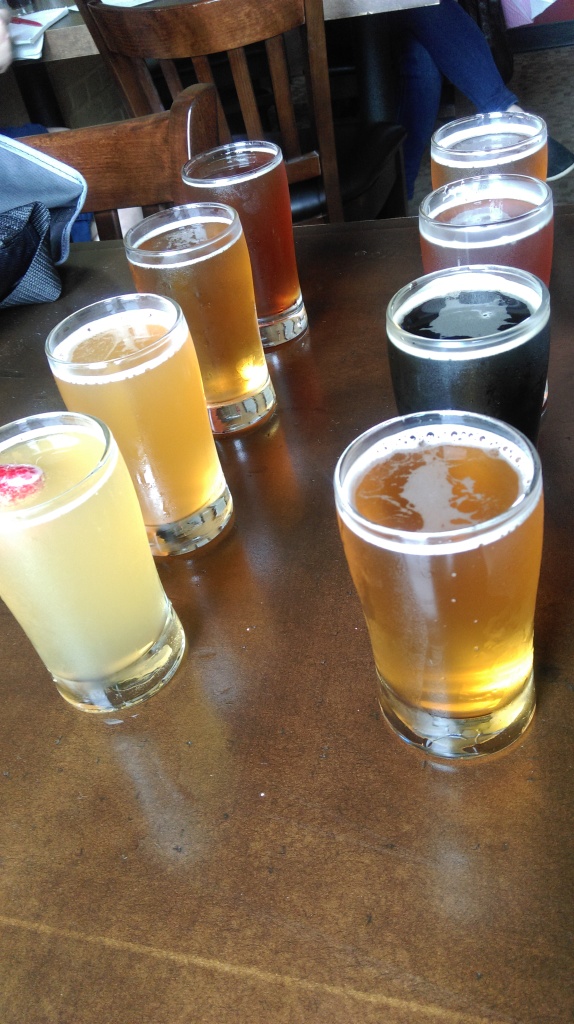 Beer flights at the Portside Distillery and Brewery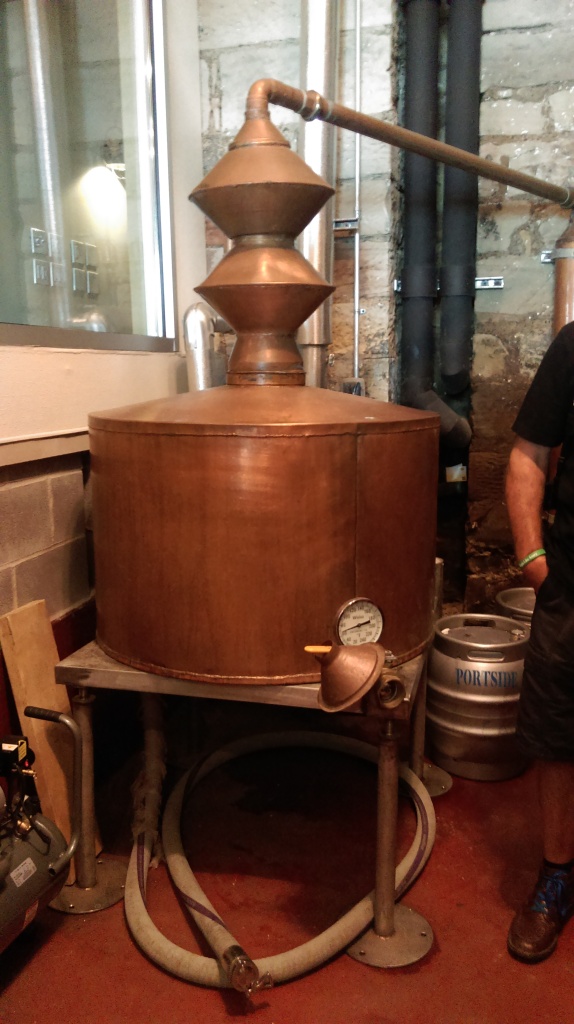 To the right of the bar you'll see another window that looks into the distillery, where the rum is made and bottled. In case you were wondering, Portside also uses local ingredients (as best they can) to flavor their brews and rum. So if you find yourself in Cleveland and are there for a rum/beer tasting make sure you stock up because as of right now they only sell locally.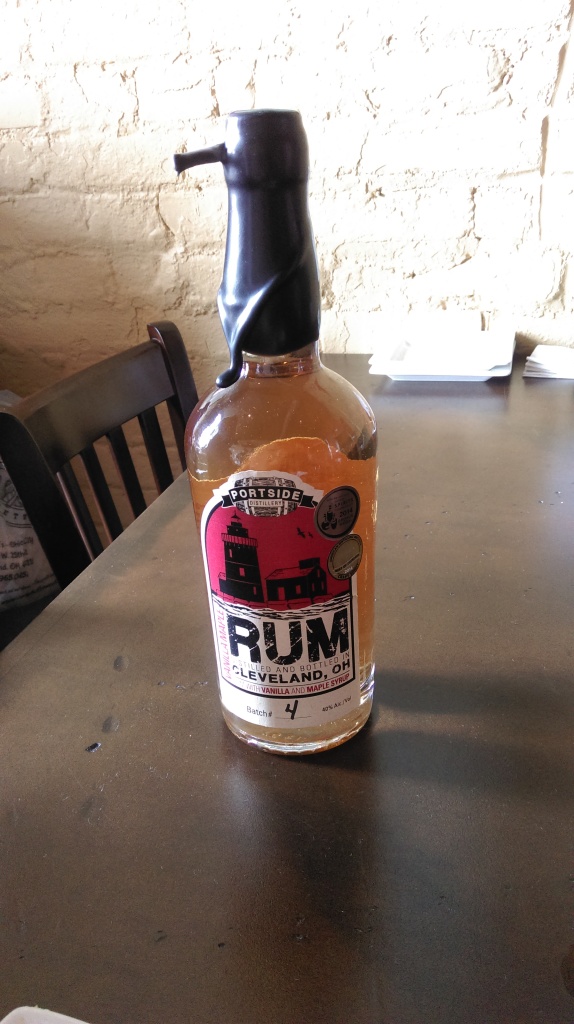 Vanilla Maple Rum
---
Craft beer lovers, start planning your trip!
Whether you're big into beer and want to travel to Cleveland just for the beer, or you're in town looking for somewhere to get some good eats and a brew, we've got some spots for you. I actually would have liked more time at each location to get a taste of what they had to offer, because for as many breweries (micro/mini/nano/whatevs) they all have their own personalities and flavor. And hey, when in doubt just order some beer flights and have a good time hanging out with friends, because when it comes down to it that's all that really matters right?
Again, the only issue I can see to visiting a city where you taste so many wonderful things is that some of those things aren't available outside of that city. Time to investigate where I can get my hands on some beer… or petition the Portside to cross state lines because that Vanilla Maple Rum was delicious, and I don't even like rum.
Have any suggestions on where I should go the next time I'm in Cleveland? Share them in the comments!
---
Disclosure: Our trip to Cleveland was sponsored by Destination Cleveland. However, everything within this post is based on my own personal experiences and opinions. 
All photographs are property of dailyurbanista.com unless otherwise noted.