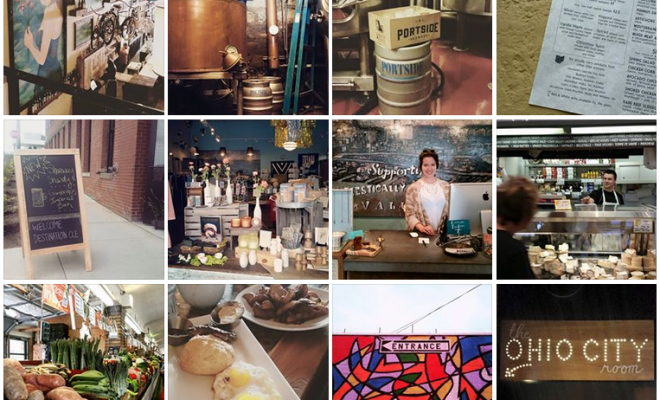 Exploring Cleveland – A City Revitalized (Travel Guide)
|
When I told people that I was planning a visit to Cleveland, Ohio this past weekend, every single person responded one of two ways: they either automatically assumed I was visiting due to some sort of work or family obligation, or they made a snarky joke.
I'll admit – when Destination Cleveland reached out and asked if we'd be interested in visiting for a weekend, we weren't really sure what to expect. While both the New York Times and Travel + Leisure have listed Cleveland as a top destination for 2015, would there really be that much to see and do there?
However, after just one day in Cleveland, Gina and I began to understand why we'd been invited to come explore the city – it really is a hidden gem. To say that we did a lot during our four days of exploring Cleveland is an understatement – we did a lot, and walked away pretty darn impressed with this city's food scene, breweries, markets – and most of all, its energy.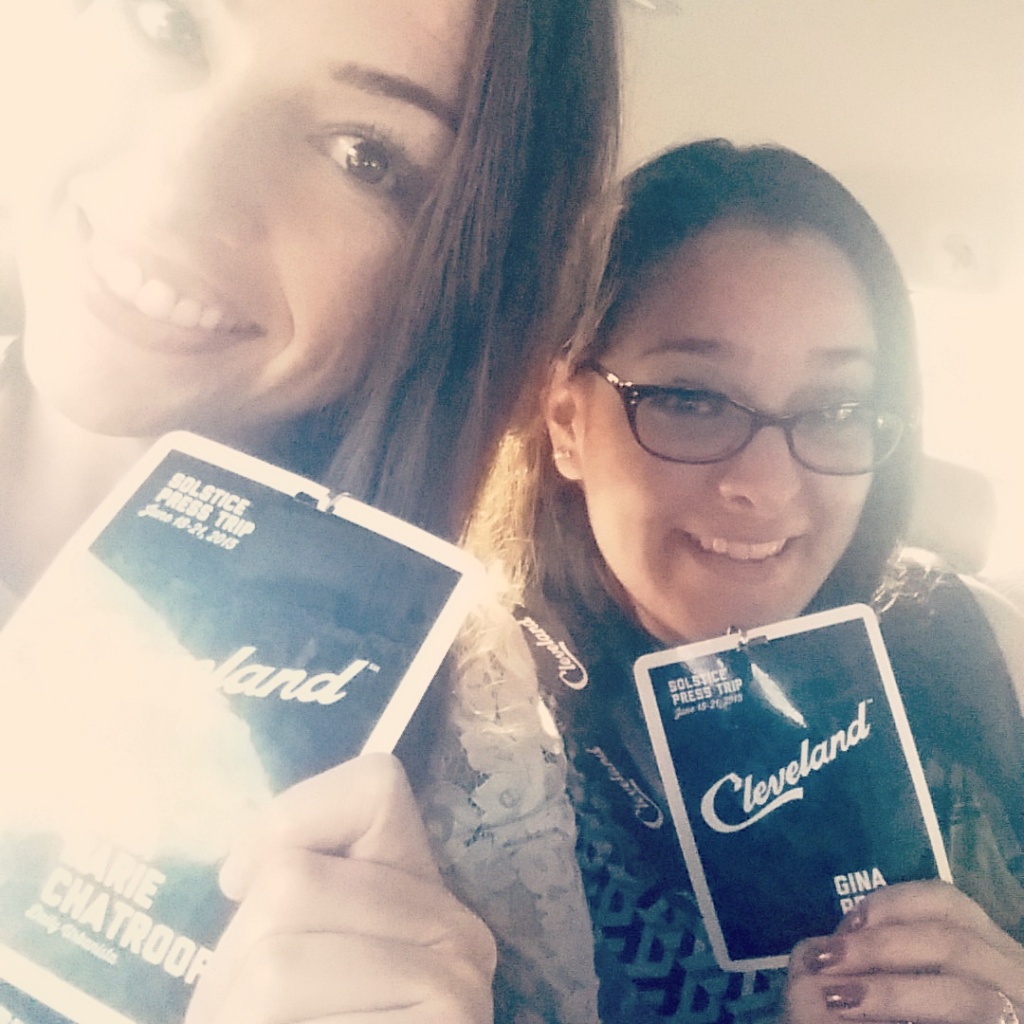 ---
Day 1
We arrived in Cleveland on Thursday afternoon. As you might have guessed, it's a pretty short trip from Chicago – roughly 1.5 hours by plane, and just around 5 1/2 hours by car. It took around 20 minutes to get from Cleveland International Airport to the downtown area. We checked into our room at the Aloft Cleveland Downtown Hotel located in The Flats. We had a bit of time to kill, so we decided to have lunch at Lago East Bank, which was located in the same building as our hotel.
After our late lunch, we headed over to Edgewater Live – a summertime lakefront beach party that happens every Thursday from 5:30 – 8:30pm. The event features a live band, an ever-changing assortment of food trucks, and the beach – which, you know, is the best damn part. We had a chance to talk to the head of Cleveland Metroparks and learn more about the city's vast park system and plans for making use of the lakefront.
From there, we headed over to Hofbrauhaus Cleveland to watch a stein-holding competition, listen to some polka and tour the brewery.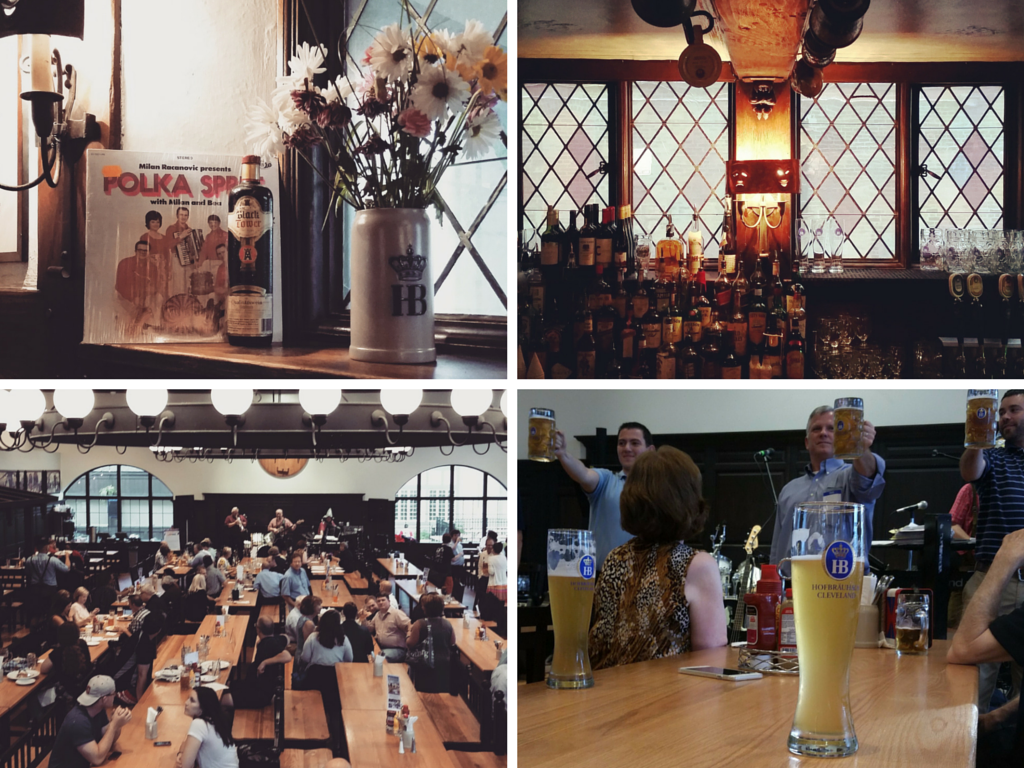 Turns out, Hofbrauhaus is connected to an amazing historical building called the Hermit Club, where there is additional seating available. It has a totally different vibe from the main beer hall – step inside, and you'll feel as if you're stepping into a hidden club somewhere in Munich.
---
Day 2
We started off our day with an early tour of the new Flats East Bank development. The area is undergoing a massive, multi-million dollar face lift – and the end results sound as if they're going to be pretty damn impressive. A modern office building, the Aloft Hotel, and beautiful, modern residential building have already been erected, and there's more in progress. On the way are multiple bars and restaurants – including a seasonal, open-air day/nightclub featuring a swim-up bar.
Later in the morning, we spent more time exploring Cleveland on the Lolly the Trolley Tour. Our tour guide was very knowledgeable about the city, and was able to tell us the history of everything we passed for the entire 2.5 hours we were on the tour.
For lunch, we visited Pier W – which was absolutely gorgeous. It's been a critically-acclaimed restaurant since 1965, and it's easy to see why. Not only does the restaurant offer amazing views over Lake Erie and the Cleveland skyline, but the food is delicious.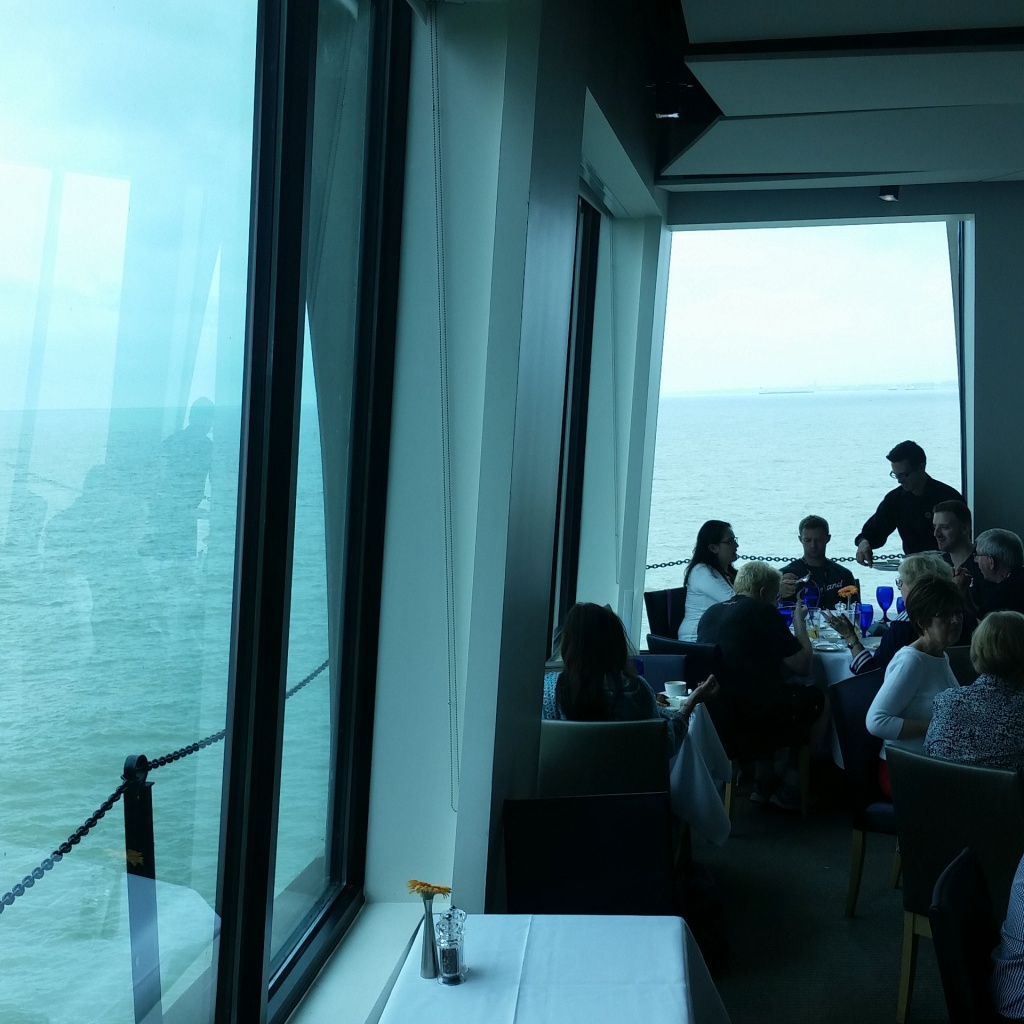 That afternoon, we toured the Rock and Roll Hall of Fame and Museum. I wasn't actually sure if I'd enjoy the museum – many times, places like this can be over-hyped, hokey tourist traps. However, I was pleasantly surprised! Although we were on a tight schedule, our amazing docent Shoo provided us with an excellent tour of the museum's "must see" exhibits.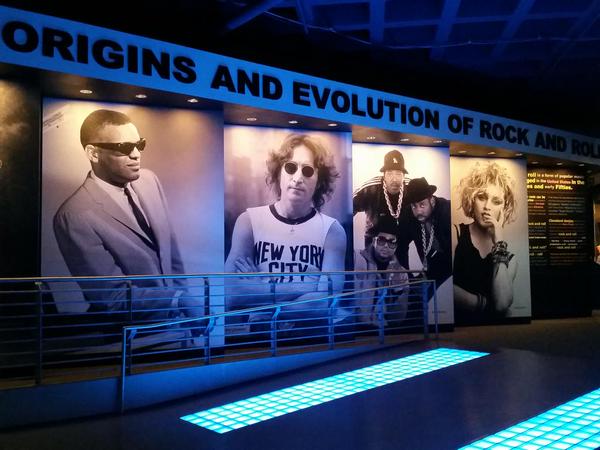 This was actually my first time doing a museum tour with a docent and I thoroughly enjoyed it. Shoo was incredibly passionate about music, and genuinely excited to share her vast knowledge of music history with us.
Even if you're not a huge fan of rock and roll, the Rock and Roll Hall of Fame and Museum is absolutely worth a visit – particularly if you're a history buff. It's fascinating to see how music has influenced our culture, and the various ways music has evolved over time. My favorite exhibits were Cities and Sounds (a permanent exhibit) and the Hall of Fame Film, which combines film footage, music, interviews and photography to tell the story of every Rock and Roll Hall of Fame Inductee from 1983 to present day.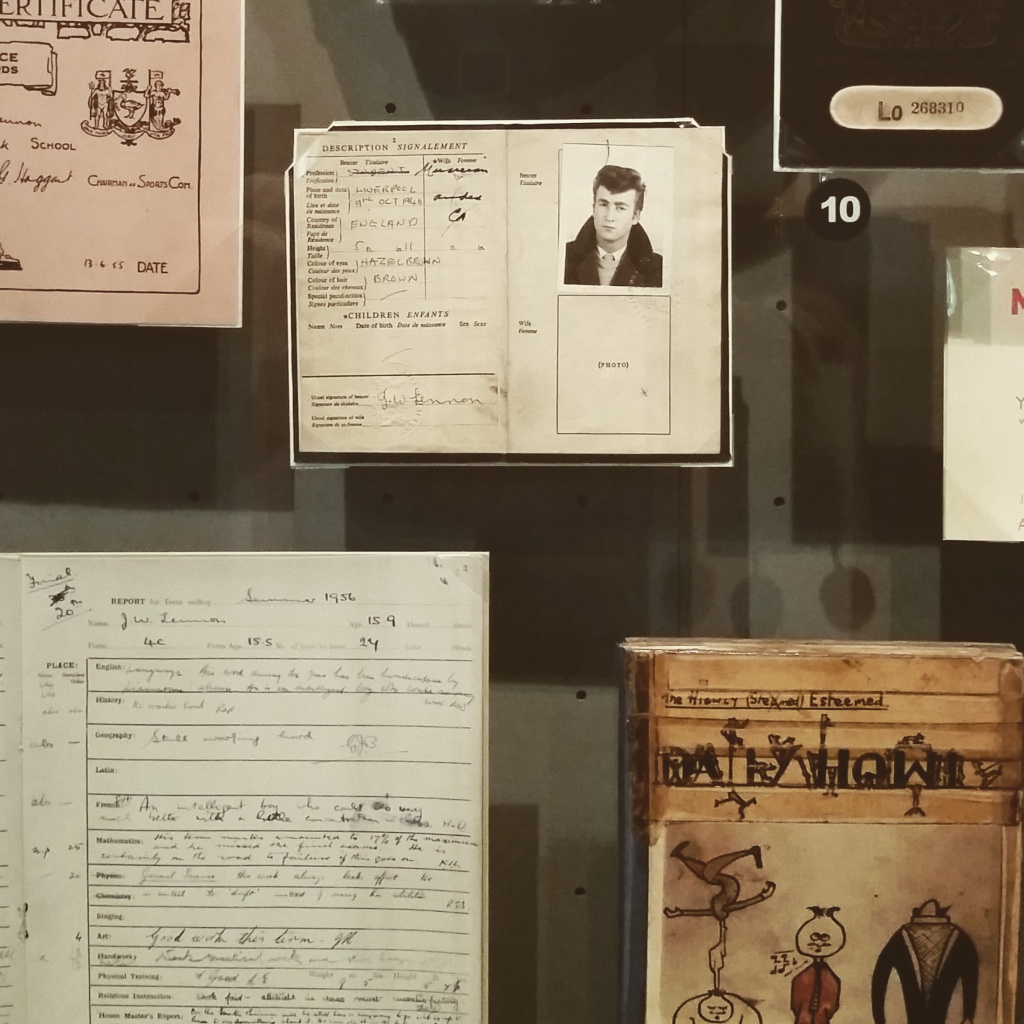 After a little bit of downtime (we were knackered!) we headed over to Sterle's Country House – a 61 year old Slovenian restaurant – for dinner. We arrived just in time to check out the Polka Pirates, live and in concert! The food portions here were insane, and we all left in a food coma.
We finished off the night with a tour of several amazing Ohio City bars and breweries: Nano Brew Cleveland, The Market Garden Brewery, Bier Markt, Speakeasy and Bar Cento.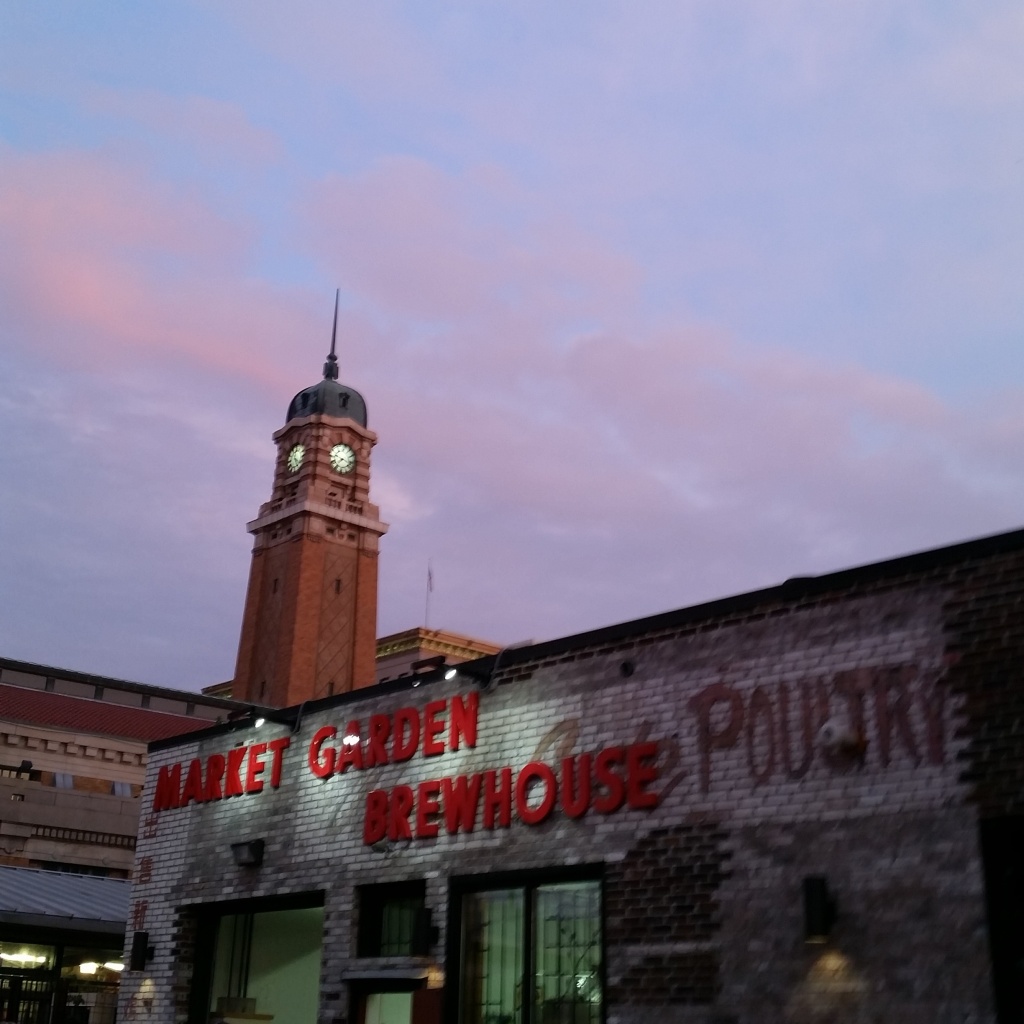 ---
Day 3
We got our Saturday morning started off right with brunch at Town Hall, followed by a trip to Cleveland's famous West Side Market. The market has been thriving since 1912, when markets like this were an essential part of everyday living.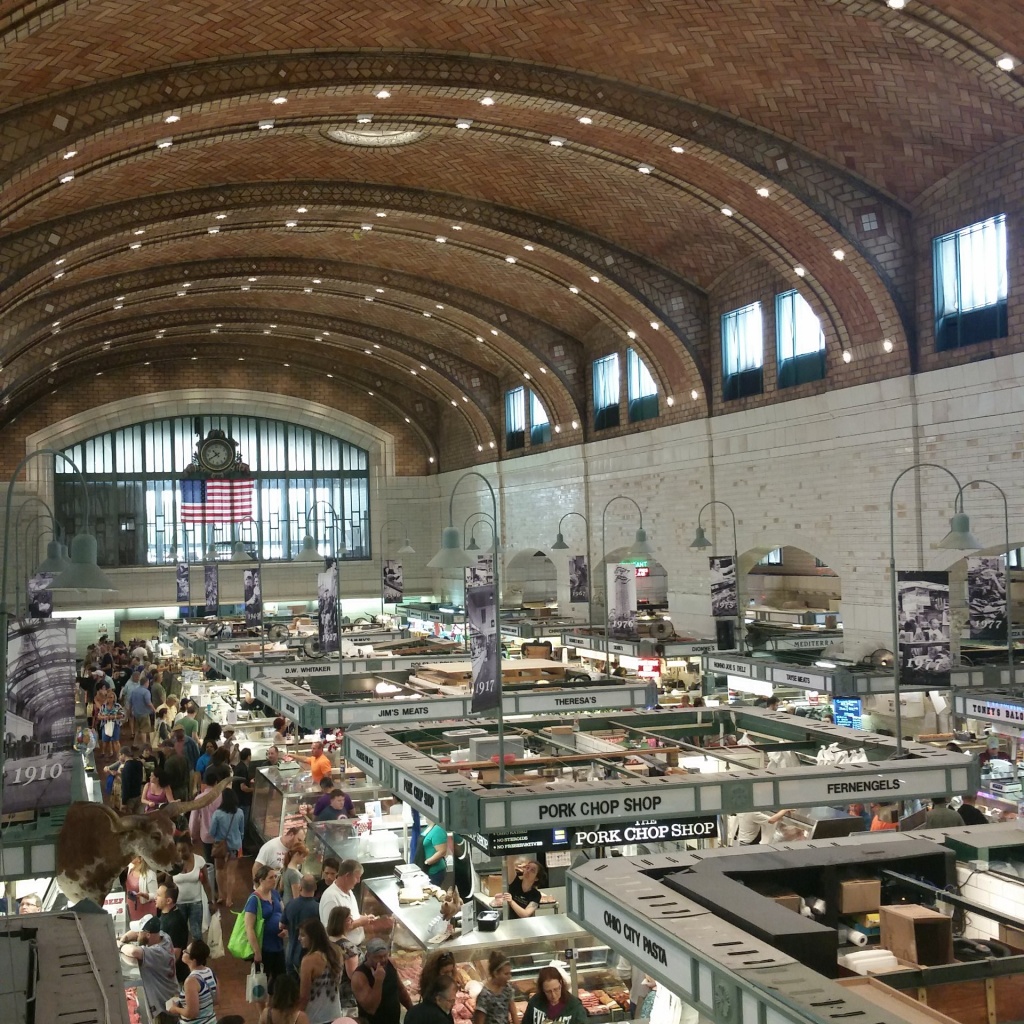 Today, West Side Market has roughly 100 vendors selling a wide range of grocery items including meat, dairy, baked goods, produce, and more. The vendor booths represent a wide variety of ethnicities, and according to Ohio City Inc.'s marketing and events coordinator Zoe Adams, some booths have existed in the market for several generations.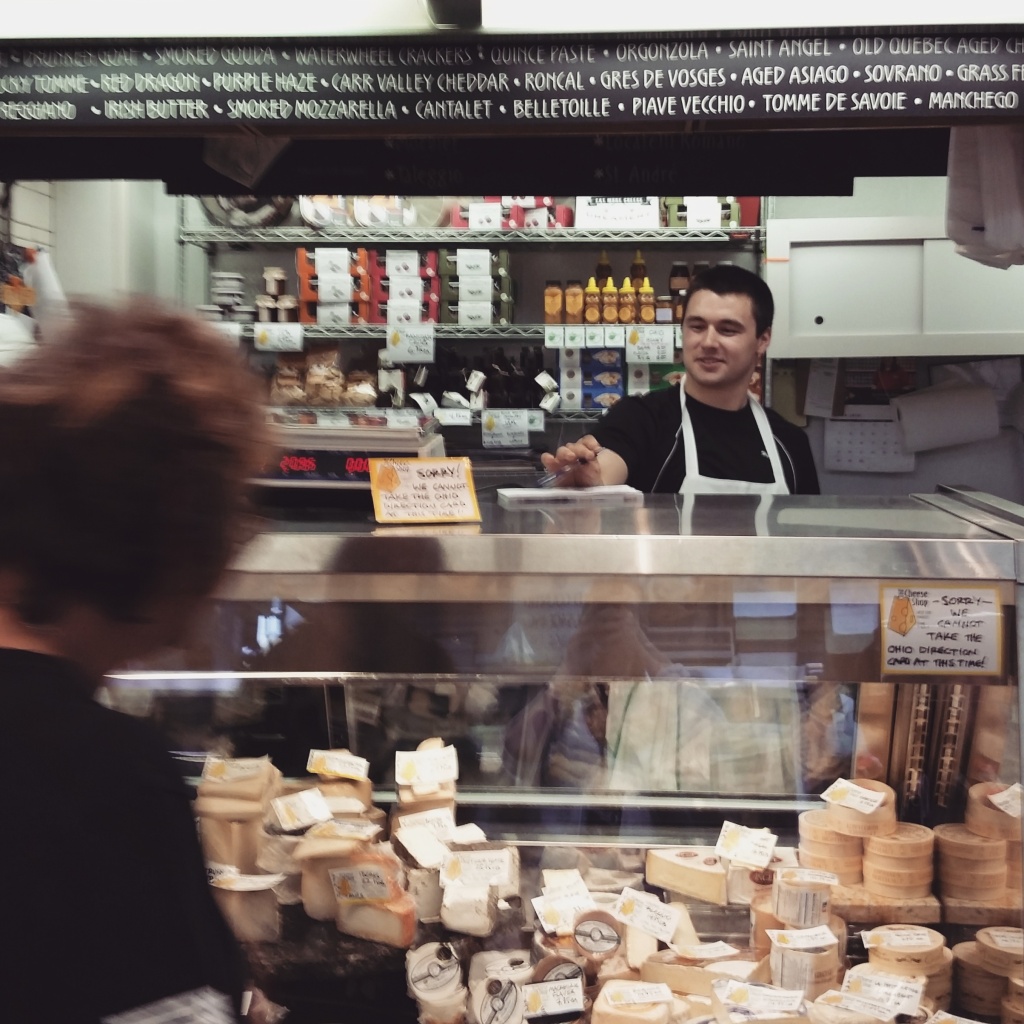 After we left West Side Market, we had the opportunity to explore more of the Ohio City neighborhood. If you're not familiar, Ohio City is Cleveland's hip, young neighborhood – think boutiques, independent coffee shops, breweries, and an artistic vibe. However, it lacks the pretentious hipster vibe that one might expect from such a neighborhood. Instead, everyone we encountered was friendly, down-to-earth, and there was a bit of a "small town" community vibe.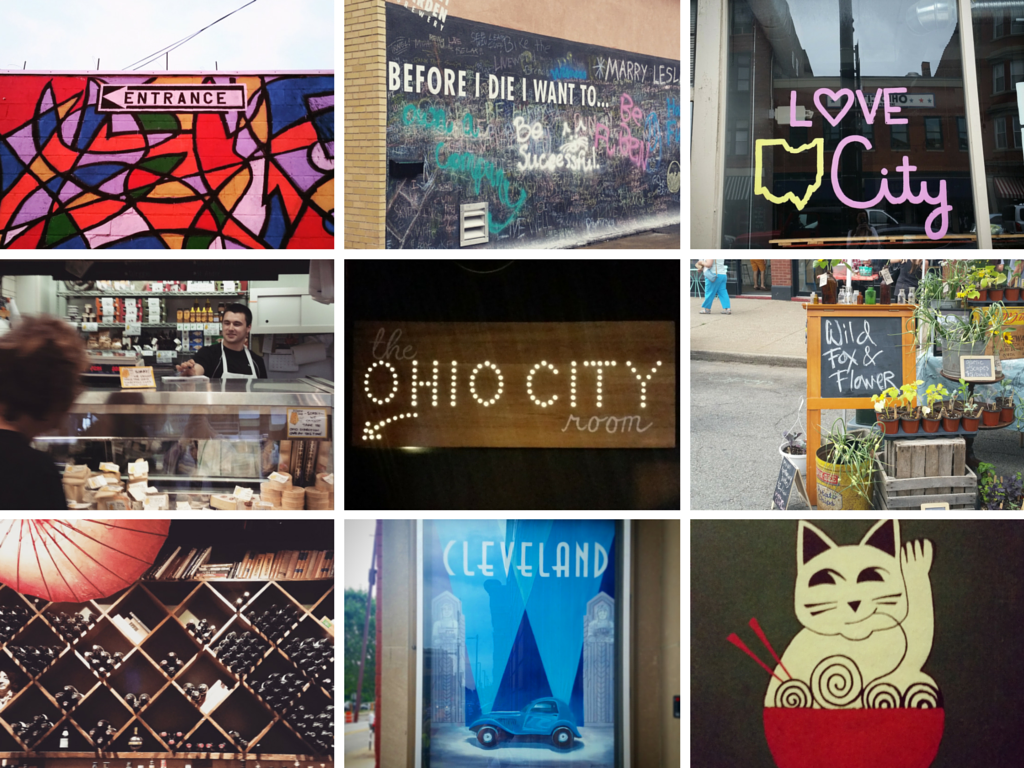 In fact, this was one of the things that impressed me most about Cleveland. As a Chicagoan, I appreciate cities that manage to retain the Midwestern mentality: the mix of friendliness, lack of pretension and ego, and work ethic. Incidentally, I think this is also something that Chicago is beginning to lose – but that's another story.
Another thing that really impressed us was how connected Cleveland residents are to their city. Every single business owner we spoke to was able to share the detailed history of their building and Cleveland. It's immediately apparent how passionate many Cleveland business owners are about their city.
At the recommendation of Corinne from Destination Cleveland, we checked out Room Service Boutique… and fell in love. Not only was the owner Jennie incredibly sweet, but she has AMAZING taste – her displays make you feel as if you're walking through a beautifully-curated Pinterest board.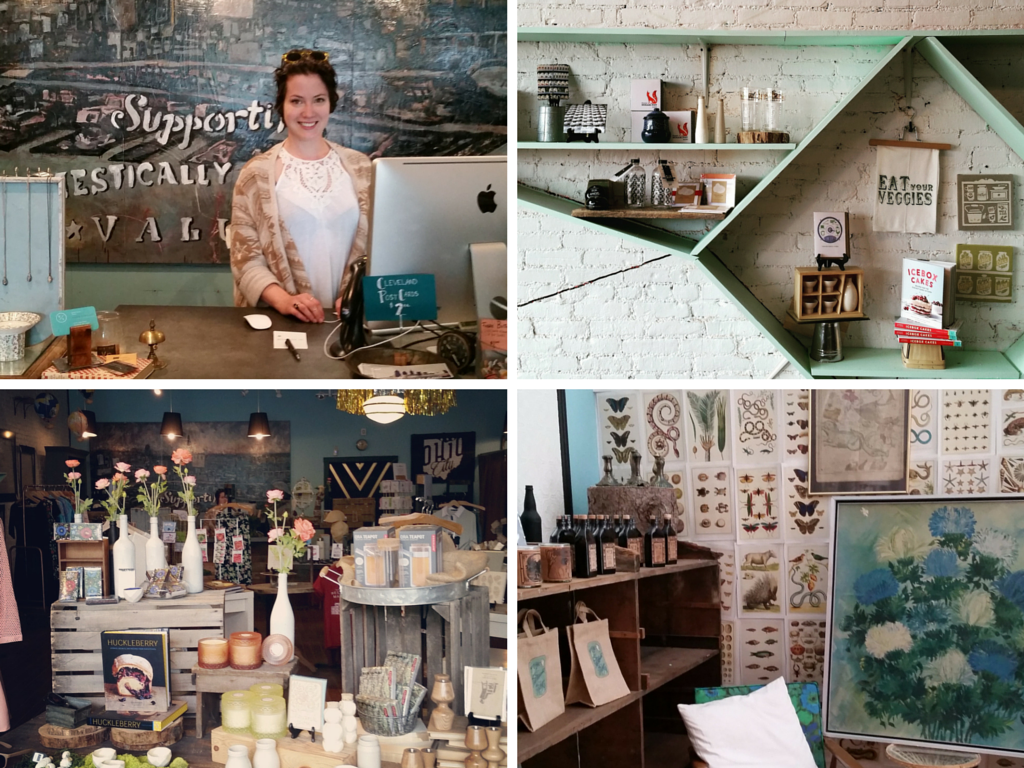 After spending a bit of time in Ohio City, we headed back over to the Warehouse District area to check out Portside Distillery. This distillery and brewery is the first one in Cleveland since Prohibition went into effect in the 1920's!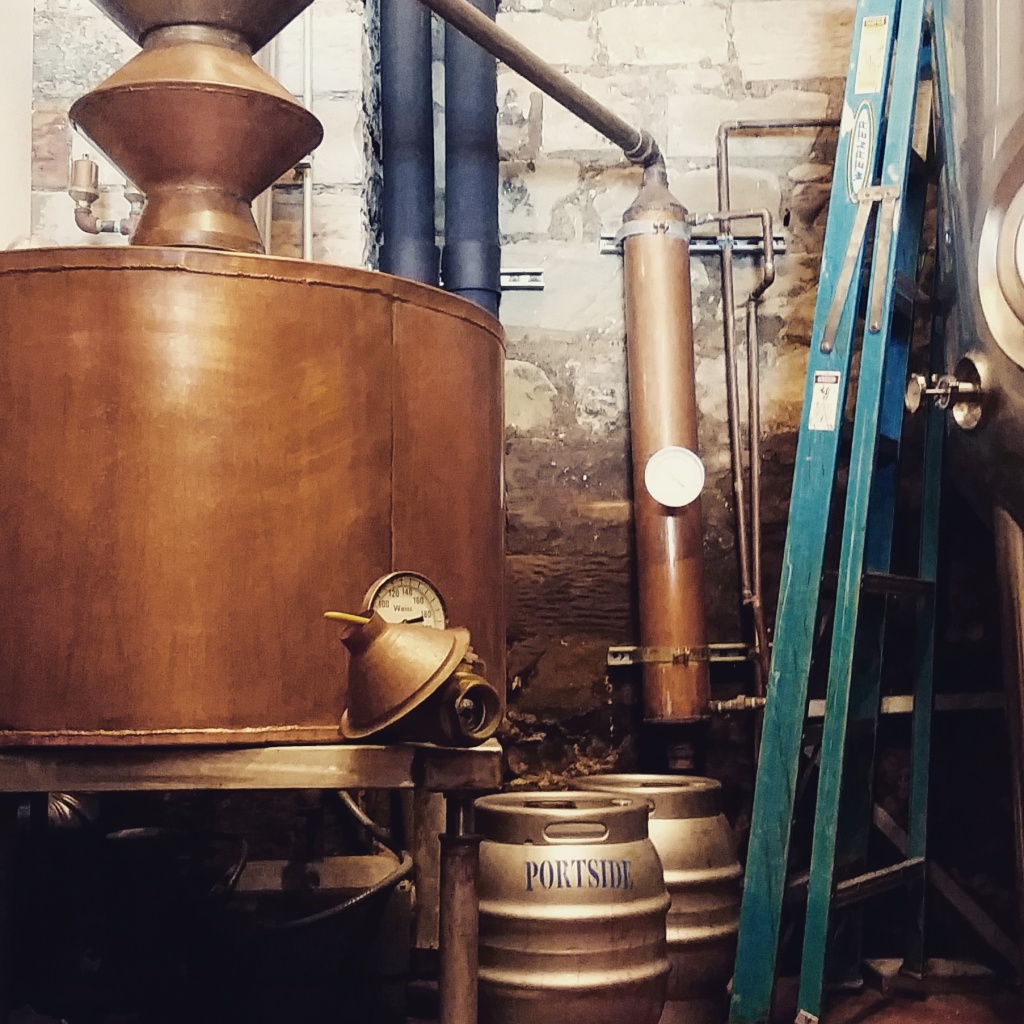 After a little bit of down time, we headed over to The Greenhouse Tavern for dinner. The restaurant is owned by James Beard Foundation Award-winning Chef Jonathon Sawyer, a Cleveland native. From reclaimed barn wood to reclaimed doors used as partitions, nearly everything inside of the restaurant is made of recycled or re-purposed materials!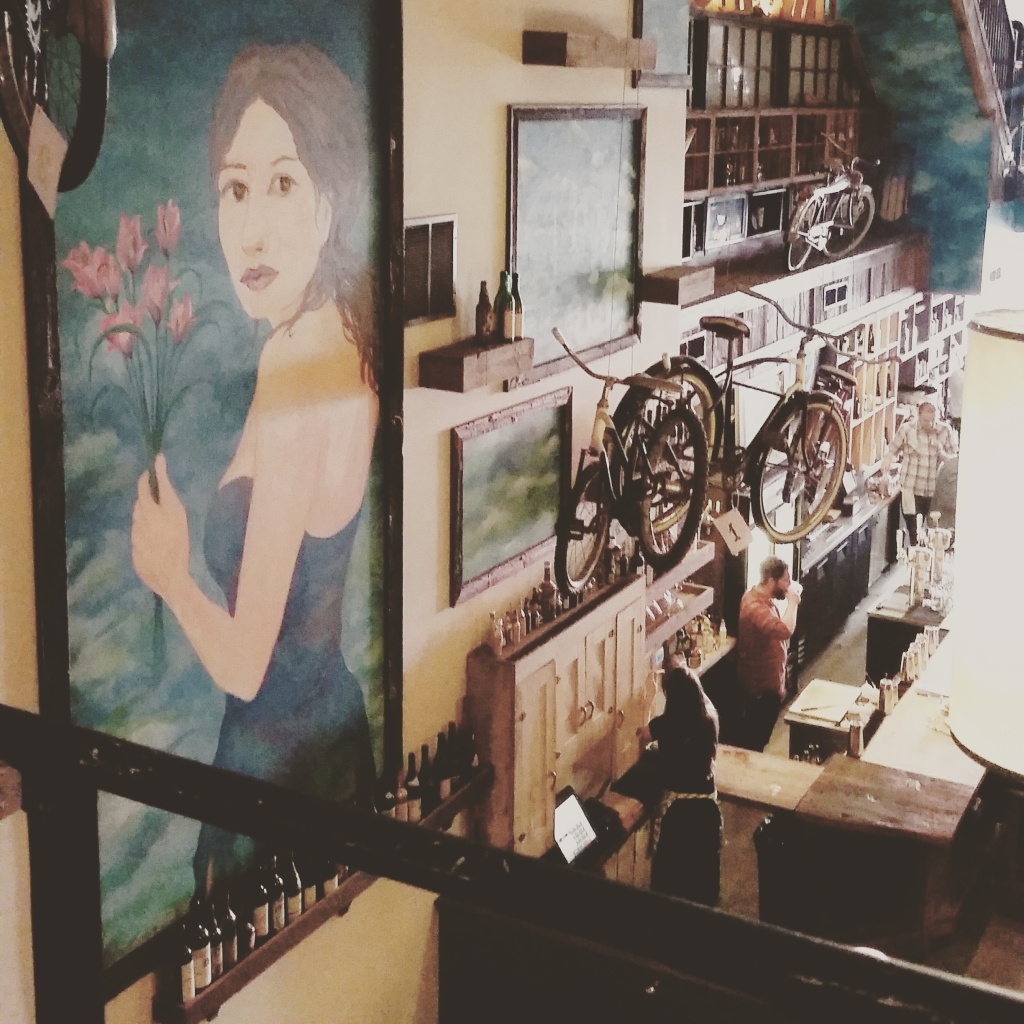 After an absolutely amazing dinner at Greenhouse Tavern (trust us, we're covering this in an upcoming post!), we headed over to the Cleveland Museum of Art for the 7th annual Solstice Festival. I'll be honest – I didn't realize what a huge deal it was to have landed tickets to Solstice until people started remarking on how lucky we were to be attending. The event is so popular that all 6,000 tickets sold out during the museum member's-only pre-sale!
Before the event kicked off, we had the opportunity to tour Gallery One, the museum's amazing new 12,000 square-foot interactive learning center. The way the Cleveland Museum of Art has managed to blend art and technology is absolutely amazing – especially given the fact that this is a free museum! There are several interactive displays that are built to help both children and adults better understand art, in the same manner you'd learn about it in art school – form, detail, era, etc.
The highlight of Gallery One is the Collection Wall – a 40-foot, interactive, microtile wall featuring over 4,100 works of art from the permanent collection.

After everyone left, Gina and I stayed in Gallery One for a while – we were having a little too much fun playing with the interactive displays. Along with, you know, the general novelty of being left alone in the museum…
After we got over acting like five year-olds, we headed into the Solstice event. A) I can absolutely see what the hype is about; B) I realized almost immediately that I was pretty under-dressed. If anyone, anywhere in the US starts to question whether people in Cleveland (or the Midwest in general) can be fashionable, they should attend Solstice. The people, the atmosphere and the overall vibe were more East Hampton than Midwest: bow-ties, pastels, seersucker, and flowy  maxi dresses. And me, in my jeans.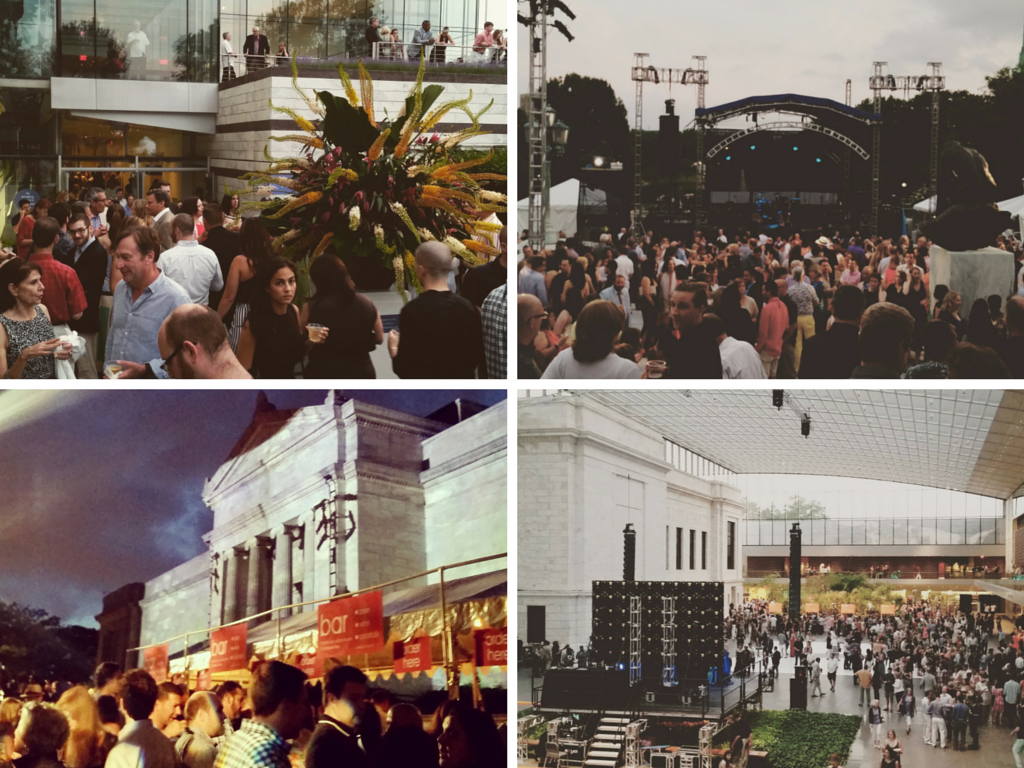 I've been to dozens of events in Chicago – a few summers ago, my coworkers in San Francisco actually questioned why the heck I went to so. many. damn. events. (Clearly, they have never felt the excitement of being free after an awful Midwestern winter…) However, I have to say – this is by far one of the best events I've ever attended – if not the best.
During the event, you're free to roam through the exhibits. Since most people were on the lawn of the museum near the concert stage or near the dance floor in the atrium, we were able to check out most of the artwork without anyone bothering us. The museum has a nice collection, including pieces by Renoir, Monet and Dali.
We spent a bit of time outdoors and began talking to a couple who, once they discovered we were visiting to write about the city, were very excited to share their thoughts with us. The husband spent some time telling us about growing up in Cleveland, and the many ways in which the city has truly been revitalized over the last several years. "You know," he said, "I really feel that Cleveland is poised to become the next Chicago."
To someone who hasn't visited Cleveland, his statement may seem like wishful thinking, but after spending a bit of time in the city, I don't think he's too off-base.
---
Day 4
By the time our last morning in Cleveland rolled around, we were pretty darn tired. However, we knew we absolutely had to check out Cleveland Flea's Sunday Market in Hingetown before we left! We had the opportunity to talk with Cleveland Flea's founder Stephanie Sheldon and Hingetown founders Marika Shioiri-Clark and Graham Veysey.
The Hingetown neighborhood is really being resurrected by a group of small business owners in their 20's and 30's, spearheaded by Marika and Graham. The neighborhood features a strip of hip, independent small businesses and Transformer Station, a free contemporary art and photography museum, which is located in – you guessed it – the city's historic transformer station.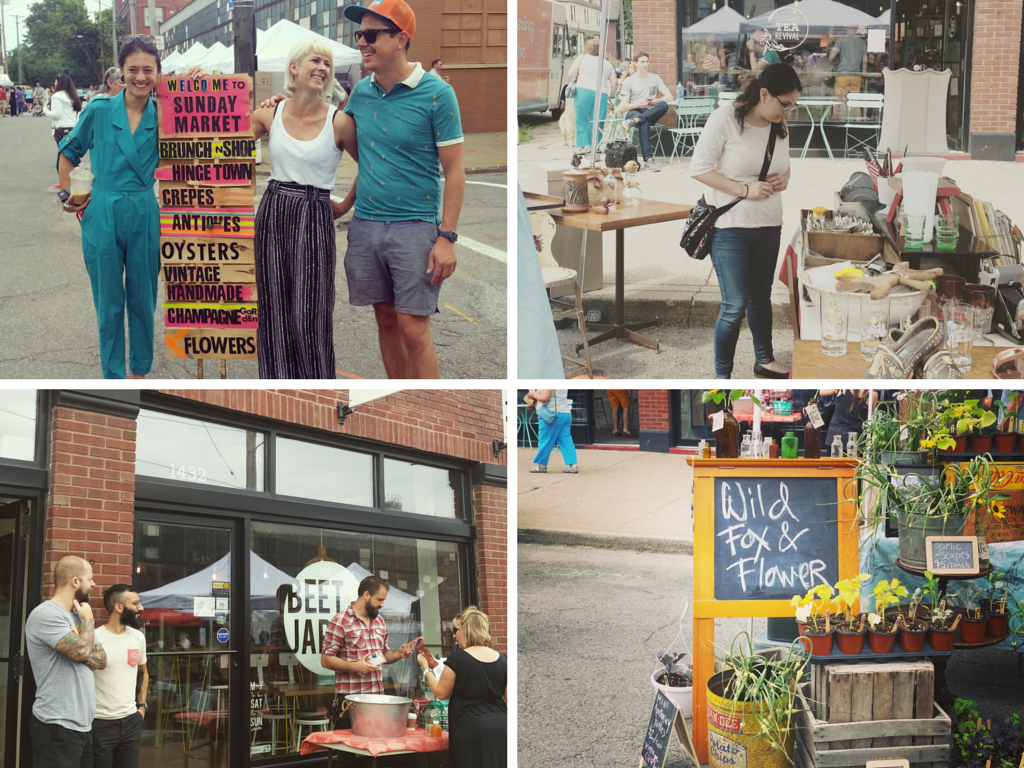 Once per month, the Cleveland Flea hosts a Sunday Market in the neighborhood. Owner Stephanie describes the market as a "business incubator, local street food festival, and handmade goods shopping experience". Part of her goal with Cleveland Flea is to help ready businesses for their first storefront.
"This is very much like brunch all day – laying in the grass and picnicking," she says, "It fits the vibe of the neighborhood."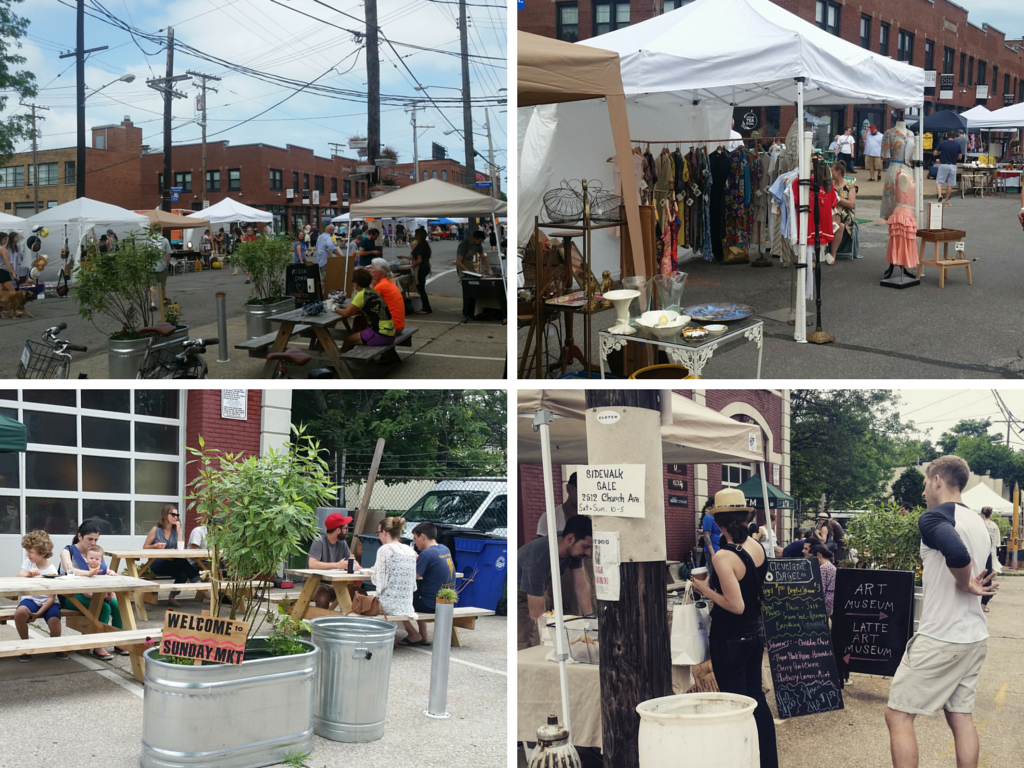 Visiting the market and chatting with Marika, Graham and Stephanie was an excellent way to wrap up our trip to Cleveland. Like nearly everyone else we spoke to on our trip, their love and passion for Cleveland and desire to help the city grow is clear.
In fact, the excitement over Cleveland's growth is palpable nearly everywhere you go. As one person said, "I really think Cleveland is about to take a big leap as the next big destination city."
This is a sentiment we heard a lot during our trip – and after spending four days exploring Cleveland, I think they're right.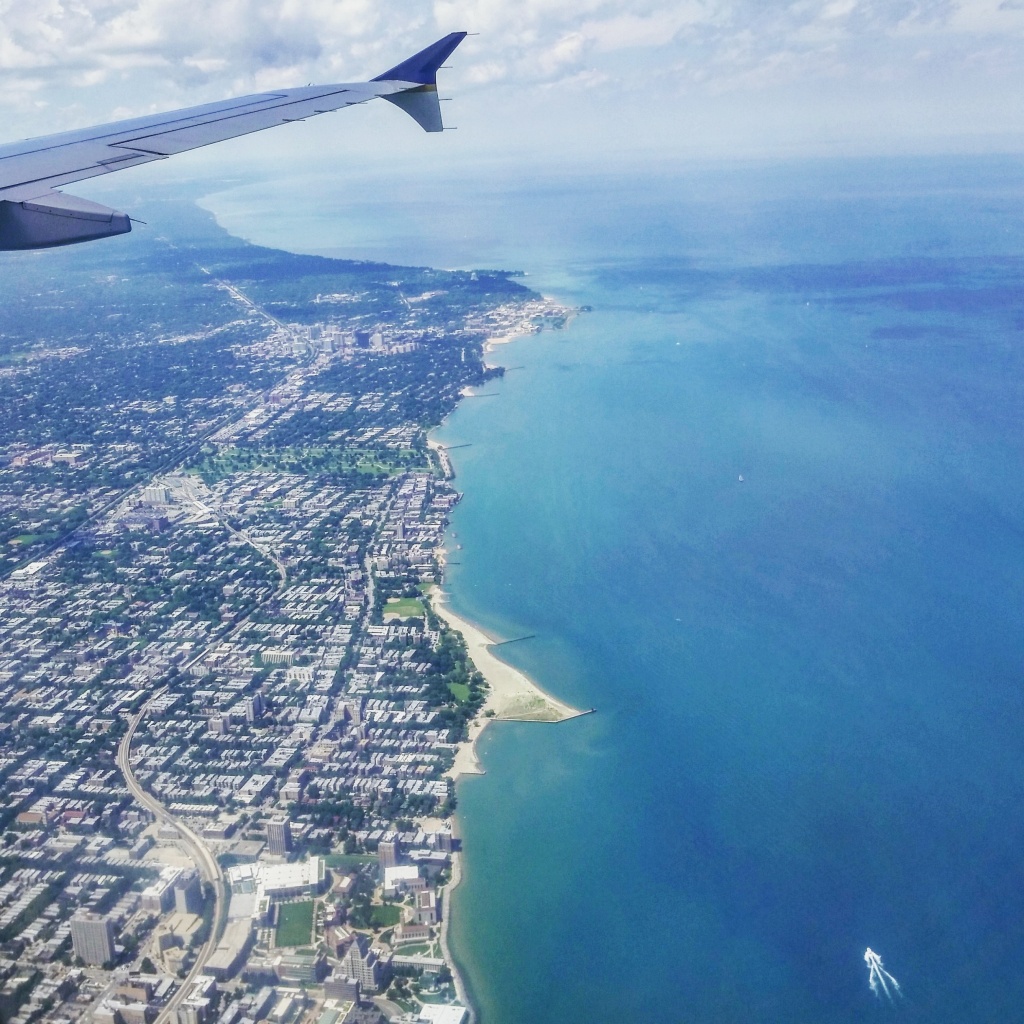 ---
Where to stay in Cleveland
We stayed in the Aloft Cleveland Downtown Hotel located in The Flats, and absolutely enjoyed our stay. Not only were all employees from desk staff to housekeeping incredibly friendly, but the location is excellent and the hotel amenities and in-building restaurants are great. Don't even get me started on the beds, pillows and comforters – we may have pondered ways in which we could steal our mattresses – they were just that comfortable.
If you're looking for more affordable accommodations, The Cleveland Hostel is absolutely lovely and the location (right in the middle of Ohio City) is great. Mark Raymond, the hostel's owner, has done an incredible job of creating a space that is decorated in a way that is hip, quirky and very Cleveland. Every inch of the hostel is clean and peaceful, and the shared bathrooms are designed like home bathrooms – no locker room showers!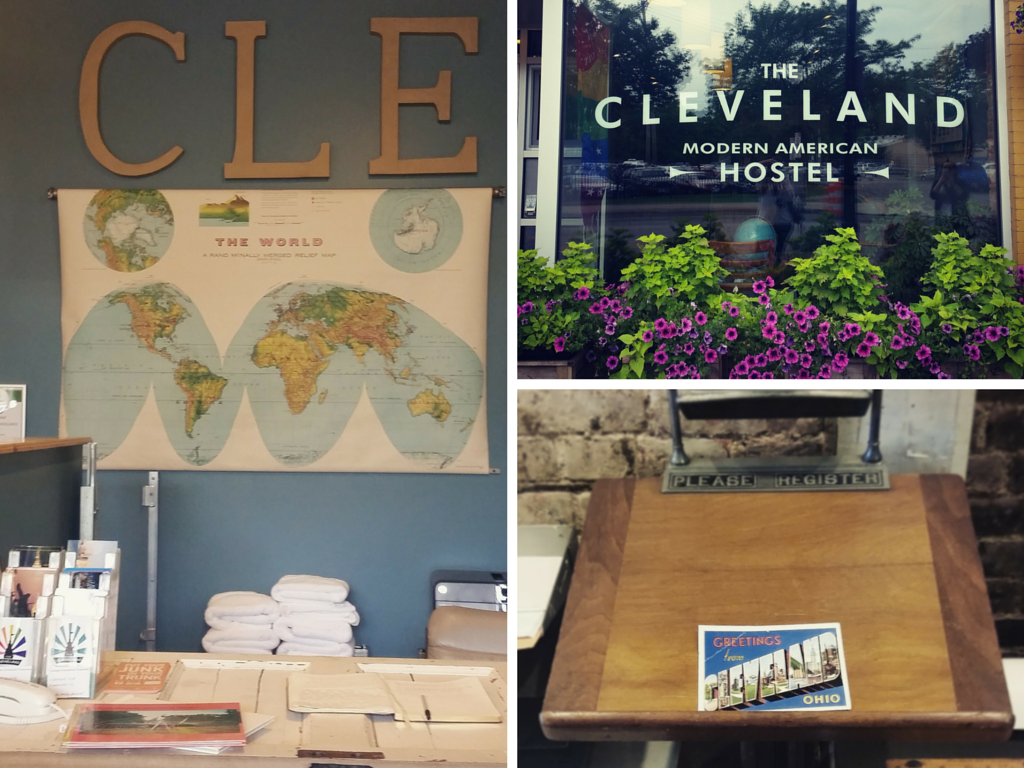 And the pièce de résistance – Cleveland Hostel's beautiful roofdeck overlooking the skyline!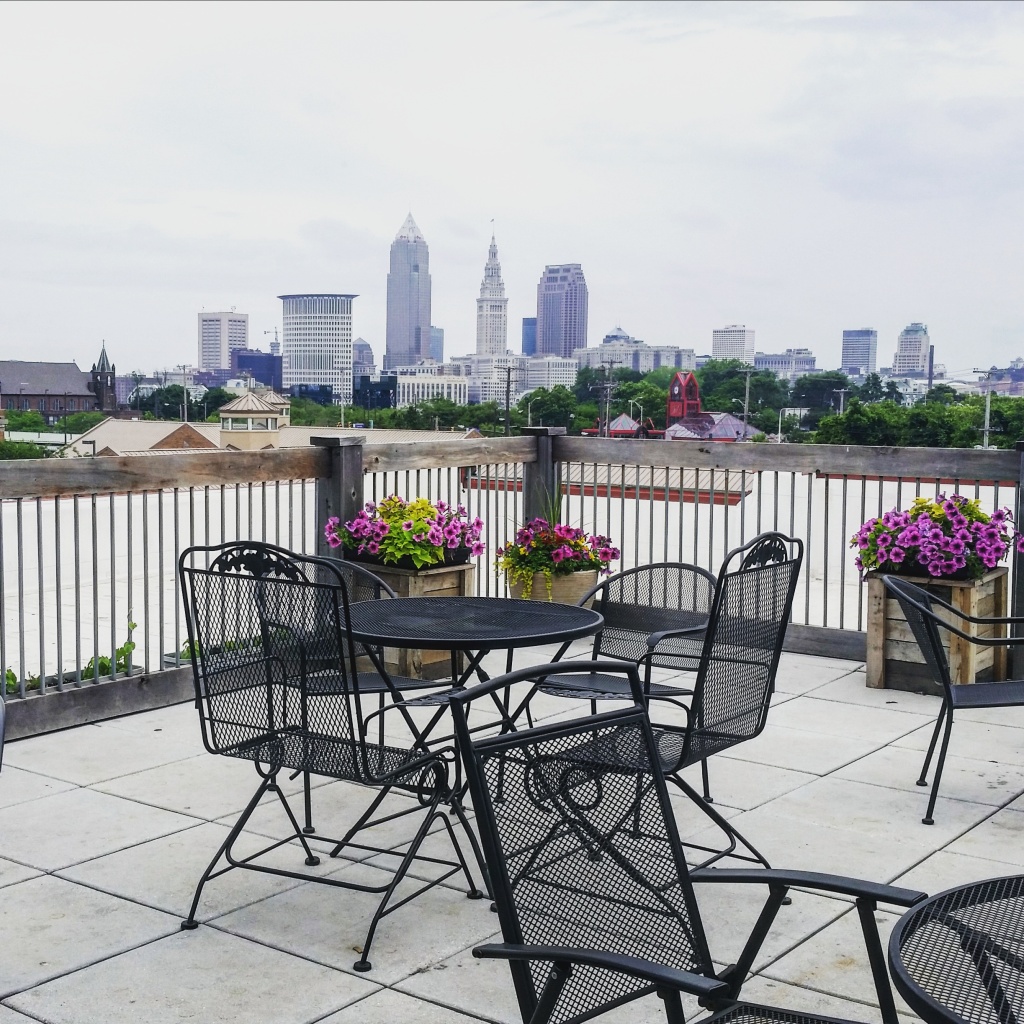 Planning a trip to Cleveland, Ohio? For more tips on what to see and do, check out Destination Cleveland! 
---
Disclosure: Our trip to Cleveland was sponsored by Destination Cleveland. However, everything within this post is based on my own personal experiences and opinions. 
All photographs are property of dailyurbanista.com unless otherwise noted.