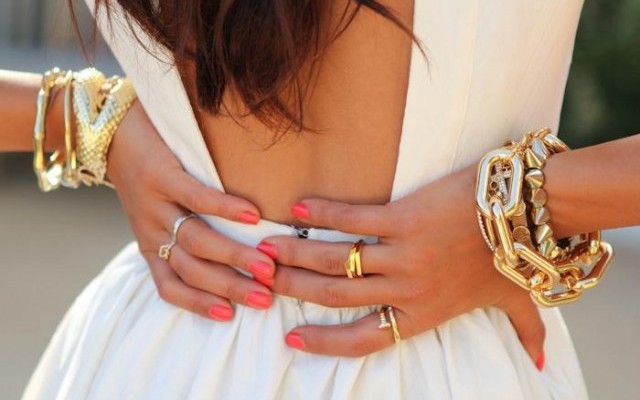 Hot Fall Outfit Ideas For Every Day Of The Week
|
Once Fall rolls around and temperatures start to drop, it can be difficult to resist the urge to default to the "basic" Fall uniform: jeans, boots and a North Face jacket. We've pulled seven days' worth of hot fall outfit ideas covering everything from date night to Sunday brunch.
Tip: Interested in a specific item? Click on any picture to see more! 
---
Monday
Cute yet comfy work clothing
Fact: whomever invented the sweater dress is a genius. It's one of the few workplace-appropriate outfits that makes you feel like you're still snuggled up in your pajamas. This cozy knit sweater dress is a perfect option for your next lazy Monday. Pair it with patterned tights (go for these Spanx tights if you want a bit of control!), pair it with shoes that are comfy-yet-cute, like these booties by Dolce Vita, throw everything in a bag that matches your laid-back vibe (like this Deux Lux bucket bag) and off you go!
---
Tuesday
How to dress for success
Wondering what to wear to an important work meeting? A classic, tailored black dress like this sheath dress by Ann Taylor is a great option for your next job interview or presentation. Accessorize with simple, understated jewelry like this gorgeous gold bangle by Michael Kors. Add in a simple structured bag like this taupe Tory Burch tote, and throw on a classic pair of pumps, like this pair of Calvin Klein pumps.
---
Wednesday
What to wear on a casual date
Fact: getting ready for a first date can be a bit of a nightmare. Wondering what to wear for a casual date? Go for a look that is understated, yet feminine. This striped off-shoulder top is casual, yet the neckline makes it flirty. Pair it with dark denim, like these black cigarette-cut jeans and laid-back yet fashionable shoes like these black Vince Camuto flats. Go for casual, yet feminine accessories like this gold Kate Spade watch, delicate jewelry like this gold "balance" necklace, and a classic Tory Burch bag.
---
Thursday
From work to happy hour
This color block dress from Romwe is perfect for transitioning from the office to Happy Hour – and can you believe that it's only $11.67 on sale?! Add a bit of edge by pairing it with this fitted faux leather jacket from Topshop, black patent leather pumps by Ivanka Trump and Marc by Marc Jacobs tote and accessorizing with bold jewelry like this hammered plate collar necklace and this great geometric ring by DVF.
---

Friday
Girl's night out
Need something to wear for girl's night out? We love this Nasty Gal jumpsuit that's easy to wear and sexy without leaving you feeling over-exposed. Since it's girl's night out, you can get a little more creative and funky with your accessories! We think this jumpsuit would look amazing paired with these sexy gold Pelle Moda heels and funky beaded envelope clutch. Add some edgy jewelry like these gold and rhinestone ear cuffs from Topshop and this chunky gold bracelet from Marc by Marc Jacobs. We think this dark plum lipstick by Tom Ford would finish out the look perfectly.
---
Saturday
What to wear on a hot date
Did you know that the color red can actually make you more attractive to men? If you're trying to figure out what to wear on a hot date, this red bodycon dress by MNG is perfect. Keep it from looking to "Pretty Woman" by pairing it with funky accessories, like a fitted jacket, fringe leather wristlet, gold geometric jewelry like this Wanderlust bracelet and Panacea earrings. Wondering what type of shoes to wear with a red dress? Your best bet is simple black heels, like these Michael Kors pumps.
---
Sunday
Cute and casual for brunch
Stretch pants are part of the official uniform of Sunday brunch. Keep them from looking 'basic' by pairing them with a cozy-yet-cute sweater dress, like this winter white knit sweater dress. Pair it with comfy shoes, like these wedge booties by Chinese Laundry and simple jewelry, like this delicate gold arrow necklace by Wanderlust + Co. and gold engraved bracelet by Kate Spade. This geometric-patterned bucket tote is perfect for running errands and roomy enough to hold your purchases.
---
One thing we've noticed while coming up with these Fall outfit ideas: some people love Fall fashion, others seem to hate it. What's your favorite fashion season? Personally, mine is Spring, although these Fall outfit ideas are making me appreciate fall fashion a bit more! Share your favorite season for fashion in the comments.