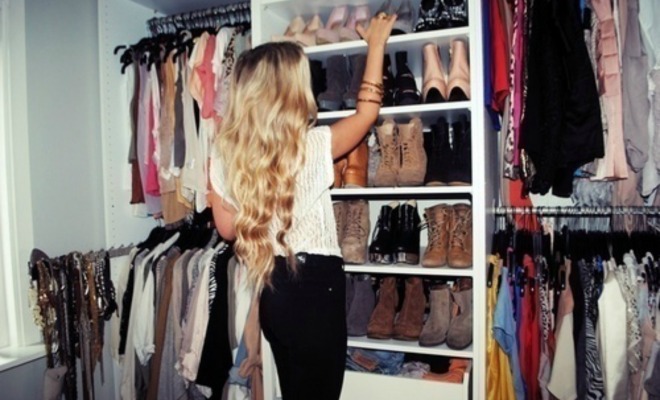 Fall 2015 Fashion Trends: It's Time To Get Funky
|
There are those moments when fashion surprises, even excites. I just checked the Doppler radar for fall and believe it or not, the fall 2015 fashion trends are measuring at a level of "fierceness" that I haven't seen in a while! It's hard to believe, but fall is here and bringing her big designer bag of fashion tricks with her.
Fall 2015 fashion will be full of candy colors, lots of sparkle, and fresh forays into cutting edge glamour.
Body Candy

If you watched this year's Video Music Awards, there are probably some things you wish you could un-see or un-hear. Video Vanguard Award recipient Kanye West made a bid for the White House and Nicki Minaj made a verbal lunge at Miley Cyrus. The host was the fashion stand-out of the night with the most outfit changes (but least amount of clothes) and at one point wore a bag of "Jordan Almonds ", according to Margaret Cho on Fashion Police. Miley's polyvinyl chloride mini dress, designed by the handmade fashion label, Mamadoux, featured pastel spheres resembling hard candy that barely covered the singer's own, um, candy.
Someone like Cyrus waves a giant, foam finger in the face of fashion trends. She "twerks" to the beat of her own stoner pop track and revels in wearing a look that seems literally nuts. It probably wouldn't matter to her if she found out she was on trend for fall, but she was… in her own, uh, special way, of course. I'm definitely not saying that pasties and strategically-placed Jordan Almonds are anything even remotely resembling a fall trend. We'd surely freeze our candy off if that were the case. Of course, if you invest in appropriate and fashionable coats and jackets, you can probably wear whatever pasties or Tic-Tacs you want underneath.
Pastels (not pasties) are in for fall amongst a dizzying array of out-there colors and patterns. New York Magazine's fashion feature, The Cut, made an eerie prediction just last winter in their article, "13 Fashion Trends You'll Want To Wear Next Fall" when they cited "Jordan Almonds " as an up-and-coming fall flavor.
This trend certainly gives the phrase "eye candy" a whole new meaning. It's also a look I'd gladly welcome since I don't see why baby blue and lavender should be left only for spring. We've been given an Easter egg this fall and I don't know about you, but I can't wait to rock some "candy" this season!
Related Post: Hot Fall Outfit Ideas For Every Day of the Week 
---
The Glitterati

Glitter doesn't just go away. If you've ever worn the stuff, you know that quite well. It lingers on your body long after you've tried to rinse it away and travels from person to person, leaving scattered, sparkly traces in its wake.
Yes, glitter is making a fall comeback, although I wouldn't be so quick to call it that. The British fashion publication, i-D, explored glitter's age-old appeal in the thinkpiece Why Glitter Won't Die. There's evidence of sequins dating all the way back to King Tut with the modernized version invented by none other than Leonardo Da Vinci.
I'm not sure that even Da Vinci could have foreseen all the club-going, drag queen-strutting gaudiness that glitter has brought us over the years, but it's provided some truly dazzling creations as well. This fall, gleaming designer pieces like Christian Dior's sequin turtlenecks are projected to outshine the competition.
If you've written glitter off, why not dust off your old sparkle dust, grab some shimmery Dior knockoffs, and give this glitzy trend another go? It will make you feel like you're living in a life-size snow globe once the first icy heap of the season arrives.

---
Fall 2015 Fashion Free-For-All

This could very well be a fall like no other filled with no-frills self-expression and an anything goes attitude toward fashion. Now that fall has arrived, we can remember how to wear all the clothes we've been taking off this past spring and summer. Layers are back in business, so we might as well layer on the fun fabric and elaborate looks.
If you want to paint yourself in pastels, douse your entire wardrobe in glitter, or delve deeply into experimental fashion, there is nothing holding you back this season. It's all about creativity and unhinged individuality as fashion should be.
Feel free to approach this fall as if it were an elongated, uncut awards ceremony on MTV, a season-long rave, or a late-in-the-year version of Coachella. It's time to dabble in all sorts of "high" fashion and free-spirited chicness. It should certainly help you stand out amidst the onslaught of snow and soon-to-be holiday madness.
However, this Moschino dress might be where you'll want to draw the line…
---
About the Author
Shannon is a passionate fashion blogger and pop culture junkie from Miami that gets cravings for Vivienne Westwood pumps (and pizza) in the middle of the night. She once worked for a lingerie start-up in New York City before branching out on her own to formulate her own fashion voice. Easily inspired, she hopes to one day make the world inside her head a reality. You can follow her on Instagram: @theshannonn or Twitter: @attilathehoneyb.