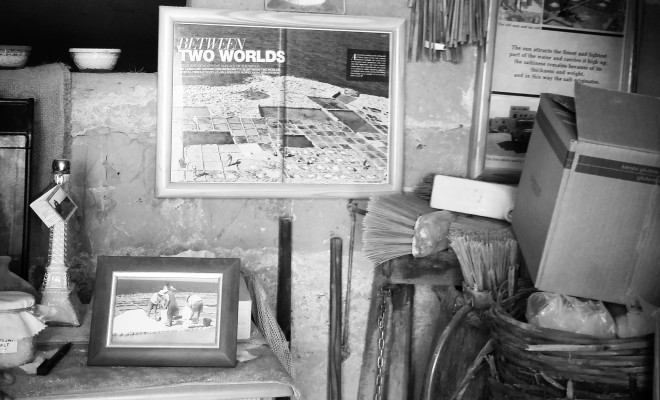 5 Ways to Declutter Your Home
|
I am moving, again!
Life hasn't exactly gone the way that I had originally planned it, but then again does it ever really go the way that you want it to go? I moved out on my own in February, but because I was traveling so much for work I didn't really get a chance to unpack everything, until now. I figured it would be a good idea to go through all of the boxes that I had remaining and figure out what all I had packed away. I've now decided to make the move from the Midwest to the West coast and I then looked around at how much it would cost to move. I asked a couple of people about their own experiences with cross country moves and after all was said and done the decision was made. I was going to sell everything I owned and would only go to California with my clothes and my cats! With that in mind I had to come up with a few different ways to declutter my home in an attempt to see what was worth keeping and what would be sold off. Here are my tips on making decluttering easy and feng-shui friendly:
5 simple ways to declutter your home
1. The Hanger Method
Start by hanging all of your clothes facing one way. As you wear something and put it back on the hanger, flip the hanger around to face the other direction. The size of your closet will determine how long you do this. The first time I did this I did it for about two months, if after two months you haven't worn something then it will still be facing inward. And if you haven't worn it in two months (or however long you wait), then it's not likely that you'll wear it at all. So pull all of those garments out and send them off to the donation box! You can do this seasonally, unless you're like me and wear everything year round, then just do it once around spring or fall.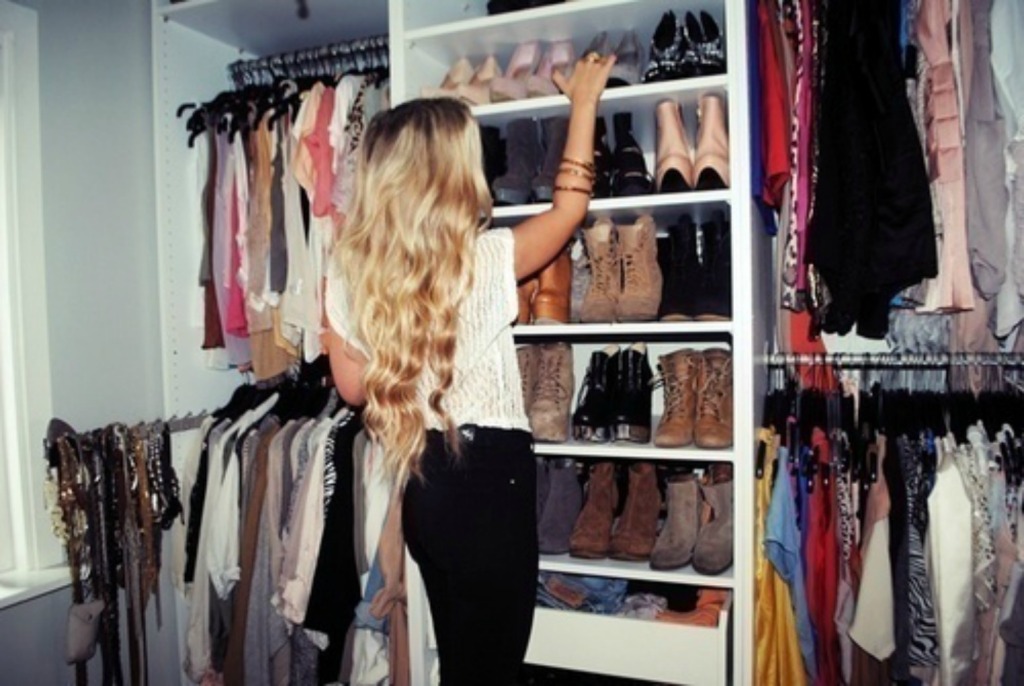 2. Donate, Keep, Trash
Take three bags (or boxes) and lay them out in front of you. Box one should be for anything that you want to keep, box two is for anything that you want to donate and box three is for anything that should be thrown away. One weekend I spent the entire day going through everything and actually ended up throwing out 4 large garbage bags and donating 4 large garbage bags. There's something awesome about cleansing yourself of unwanted things, not to mention the overall good feeling you have when donating goods!
3. Start Small
If the project looks daunting then start small, you don't have to tackle the entire room just yet. Start out with a desk or a bookshelf, or even a closet. I went box by box, the mistake I made was to throw all of the stuff that I wanted to keep onto my coffee table, so by the time I was done going through all of the boxes I had a mound of random crap on my coffee table. In the end it looked like I made a bigger mess than I had when I started off. That was all thrown into a box and will be handled as it comes to Option #5.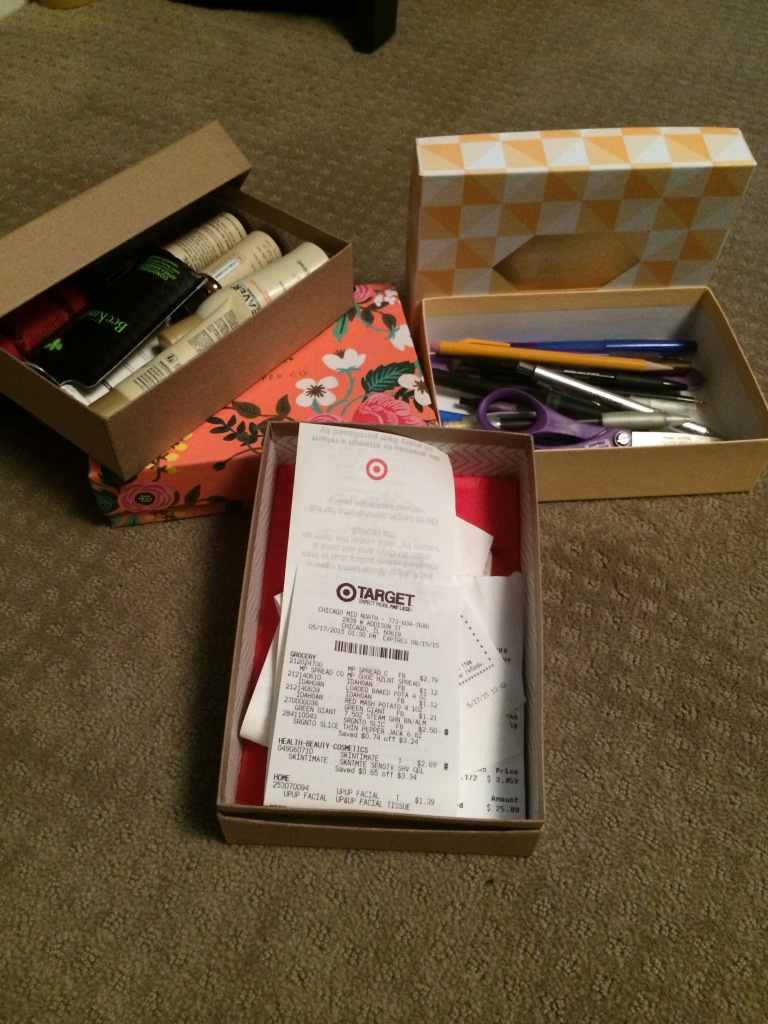 4. Ten Minutes A Day
Start out by spending 10 minutes a day going through things. This one will take time, but you'll get things done eventually. Going through everything can be daunting so just go bit by bit. This kind of goes with #3, there are 3 main points of clutter in my apartment: the desk, the dresser and the bookcase. So I stood in front of each and spent 10 minutes going through and removing anything that wasn't useful. It also helped me organize important papers that I had stacked on top of my desk! *hint – upcycle your Birchbox boxes to organize your random papers, receipts, pens, etc…
5. Box and Banish
Not a long-term solution because you'll have to deal with it eventually but it will do for now. Have a bunch of knick knacks laying about? Make some space by putting everything in a box and then storing it. Once I was doing sorting through the remaining boxes that I had I put what was left into two boxes and put them in a storage unit. Most of the things that I want to keep are also in storage, at least this way they won't get lost in the move or left behind.
And there you have it, 5 simple ways to declutter your home, whether you're moving or just making more room by cleaning up. Plus, it feels better knowing that there isn't a bunch of junk lying around collecting dust. The trick is making sure that you don't start a new collection of random things and that you keep everything organized.
I think it will be easy since I am starting over, at least in the beginning, but I know that I have a soft spot for knick-knacks so wish me luck!
Do you have any tips for decluttuer? Share your favorite way to stay organized in the comments!