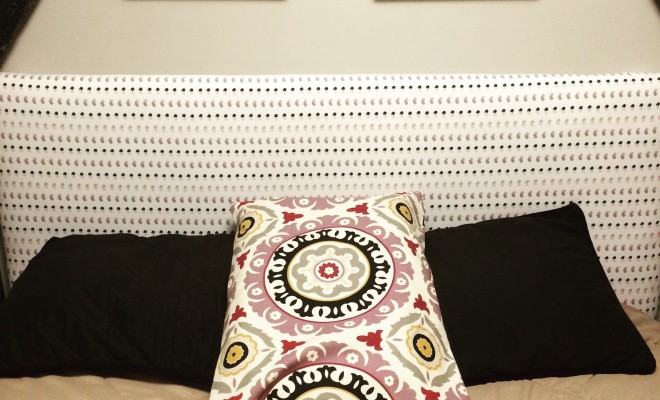 DIY Upholstered Headboard Tutorial
|
Continuing on my quest to feng shui my place, I attempted a DIY upholstered headboard. After hours and hours of researching, Pinteresting, measuring, (drinking), and more pinteresting I finally decided to do it. *I included a list of all needed items below, along with approximate costs, and photo tutorials.
First things first, I had to measure my bed (I have a standard queen size mattress at 60 inches wide) and bless the interwebs for suggested headboard sizes. Most recommended from 1-3 inches wider on each side, depending on the size of your bed. I settled for 62 inches wide, which allowed for a 1 inch flank on each side of the mattress. As for height, I went on the shorter end at only 32 inches high.
Now that I had the measurements I knew I needed some wood. Who knew there are so many wood options?!  Again, perusing the web I figured out that plywood, actually 3/4 plywood was the most commonly used.  So I set off to go to Home Depot – I found the wood aisle (men, I get it…it's like a kid in a candy store!) and found someone to cut the wood.  A nice woman helped me, judgement free, and we settled on some sort of plywood and I gave her my measurements and bam. 10 minutes later I have my 62″ x 32″ cut plywood.  Granted, some of the many tutorials I found via pinterest showed some fun designs and what not but call me a traditionalist…because the rectangle size was just fine for me.
Next up was getting some soft stuff – no one wants to lean against hard wood!  After all of my searching a similar theme and suggestion was to use foam. But the thick green foam at any local fabric/craft store can get pricey so a suitable and economical replacement is to buy a mattress foam topper! Genius. Also needed was some batting to put on top of the foam topper. Again you can purchase this at the fabric/craft store but for us lazy folks a regular mattress pad topper is an excellent substitute.
Fabric. The heart and soul of the headboard.  I spent the most time wandering the fabric aisles to find one that would coordinate with my bedroom accessories.  After searching and thinking and deciding I finally found the perfect printed upholstery fabric!  There was another fabric that really caught my eye but I deemed it too busy for an entire headboard, but since it coordinated so well…I purchased a bit and recovered a pillow!
After all of the materials were in hand, I got down with my staple gun. An hour later (and sore knees) I had my DIY upholstered headboard! I was beyond giddy to finally put that fine specimen on display.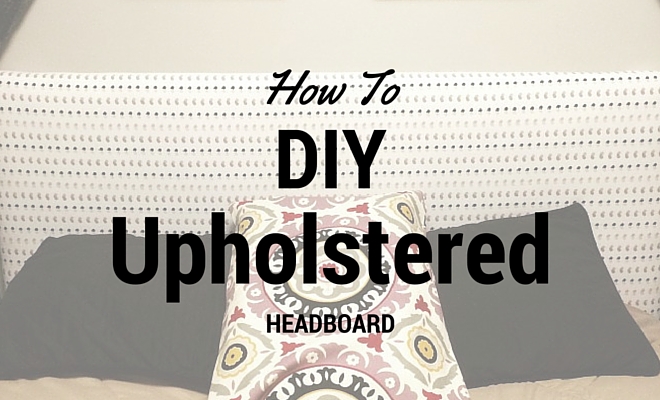 While a DIY upholstered headboard isn't on everyone's to-do list, it is rather fun, customizable, and cheaper than purchasing a headboard.  Below is the breakdown of what you'll need and how to do it.
Getting Started
You will need the following things:
plywood (cut to size)
foam batting (foam mattress topper)
batting (basic mattress pad)
fabric
staple gun + staples
Other optional items: spray adhesive, drill + screws, 2×4's, wine
Step 1
Measure and measure again and measure one more time to determine the size you will want. I read on one of the many other blogs out there that putting painters tape in mocked-up shape and dimensions on the wall is an easy and temporary way to figure out what will work for you.
Step 2
Head to your local home store (I went to Home Depot) and find some plywood (recommended 3/4) and have it cut to size.
Step 3 
Purchase foam batting and regular batting. If you are resourceful (and lucky?) it's back to college time and most items are on clearance at Target – so mattress foam topper and mattress topper both in size Twin XL were just want I needed!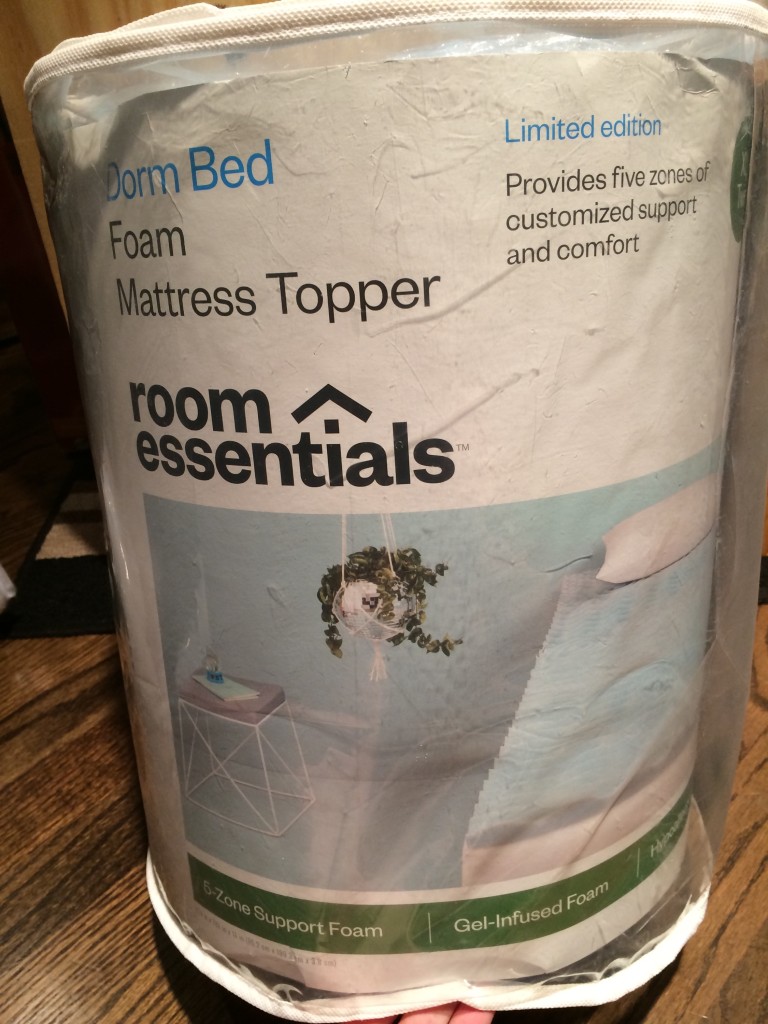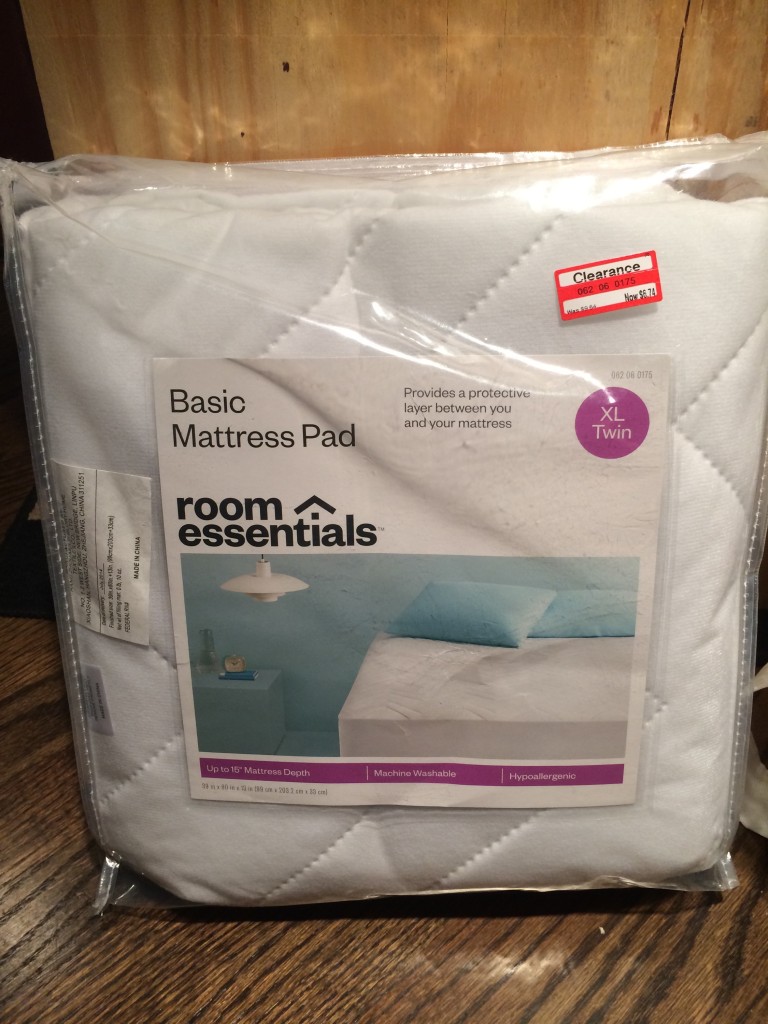 Step 4
This is the hardest part yet the easiest to update – fabric.  Your local Joann Fabrics (or similar store) usually has upholstered fabrics on sale plus coupons galore.  As mentioned, you can easily swap the fabric out when you redo a room or get bored with the printed fabric.
Step 5
Staple gun will be your best friend!  Take that plywood and staple the thick foam batting.  Some blogs recommended using spray adhesive. While I did have some one had, I forgot to use it and I think it's just fine to staple without spray adhesive. Then you'll wrap the mattress topper – pulling taught – and staple gunning that down.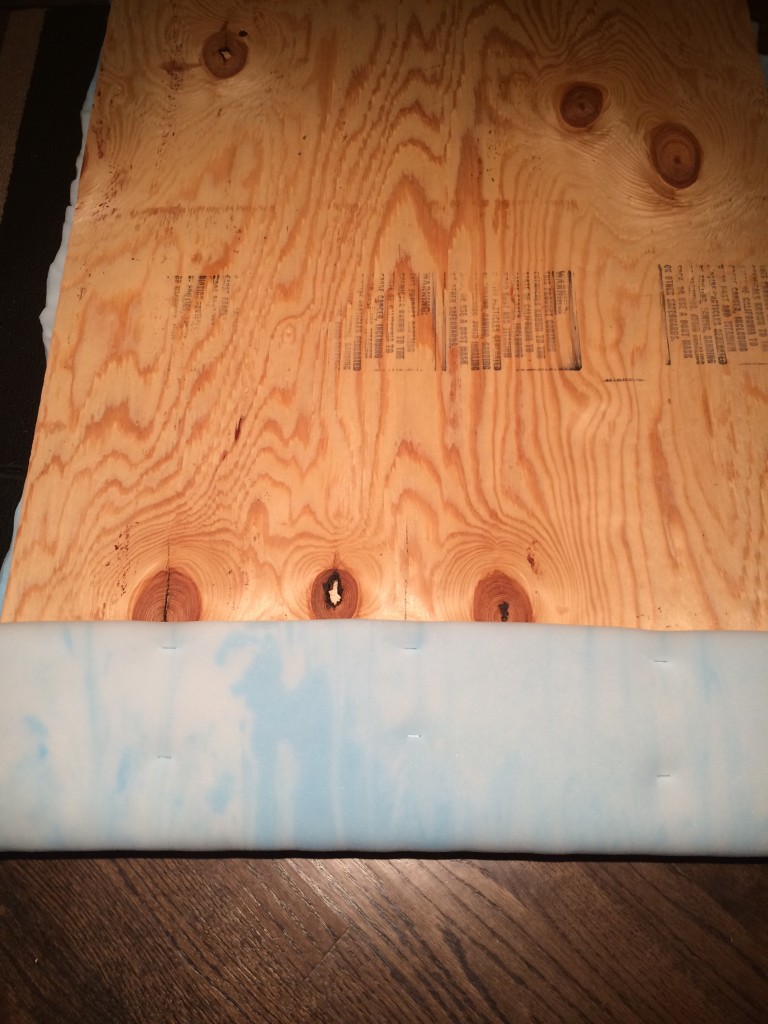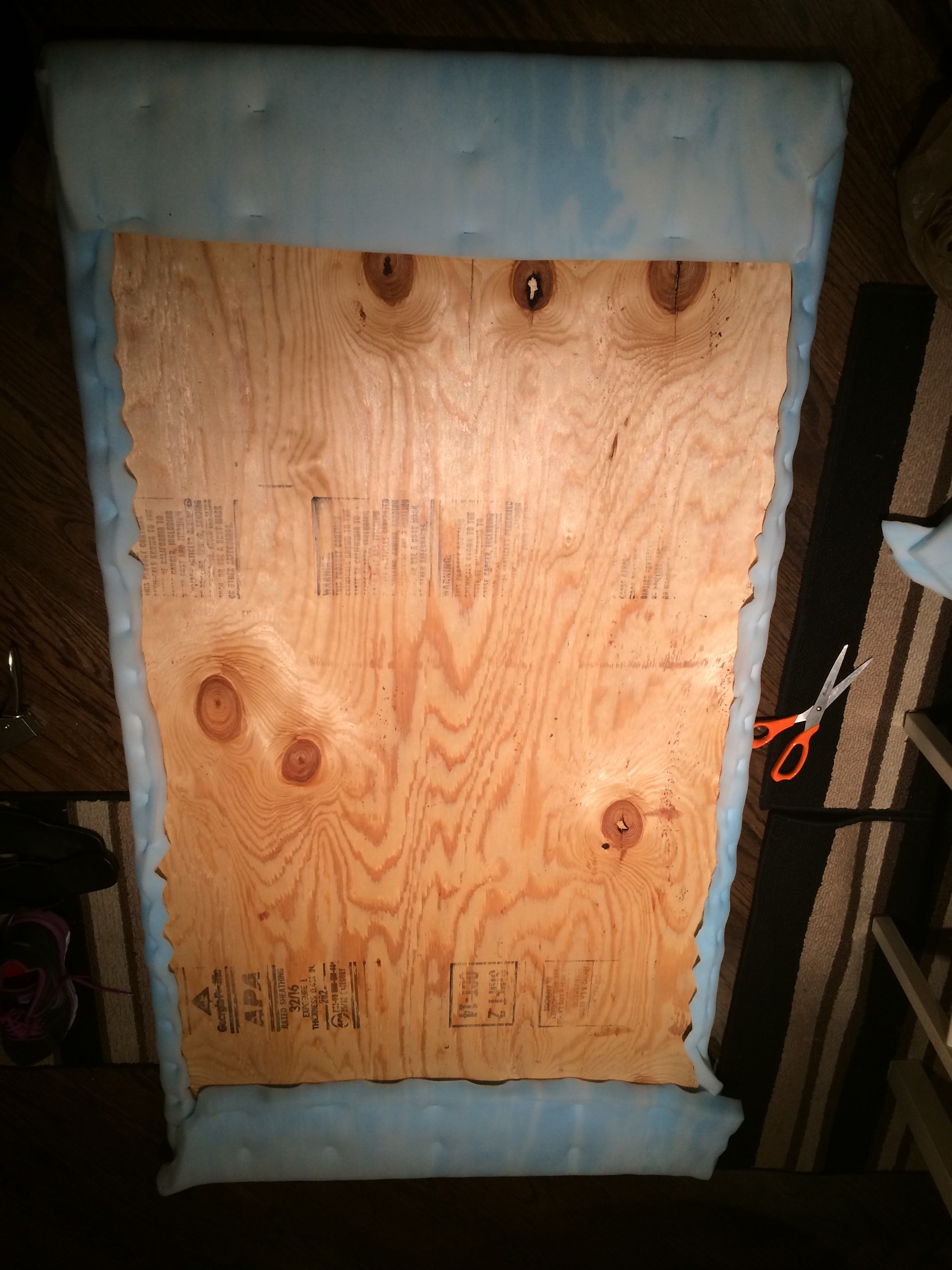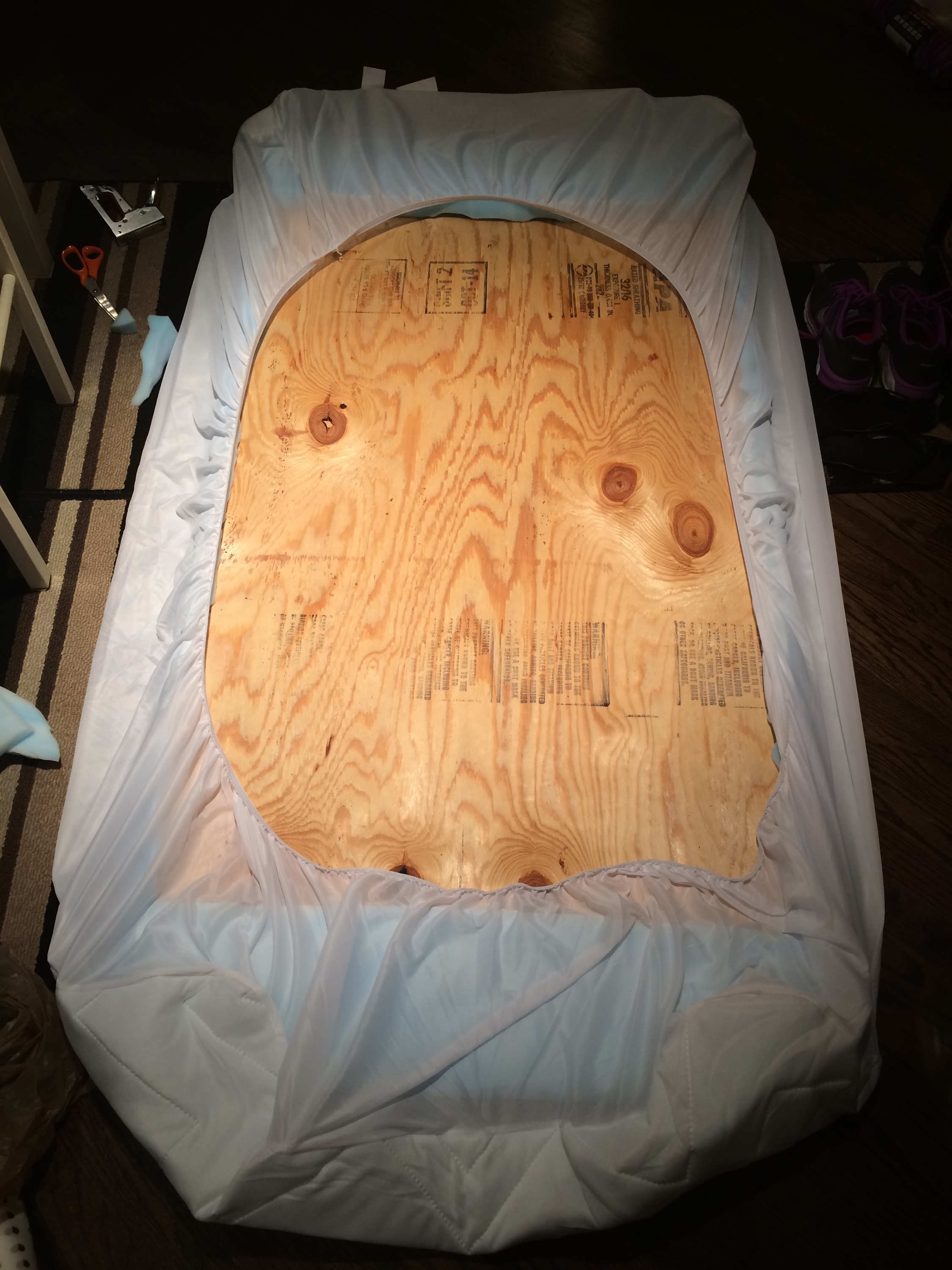 This is what it looks like from the 'front' – both the foam topper and batting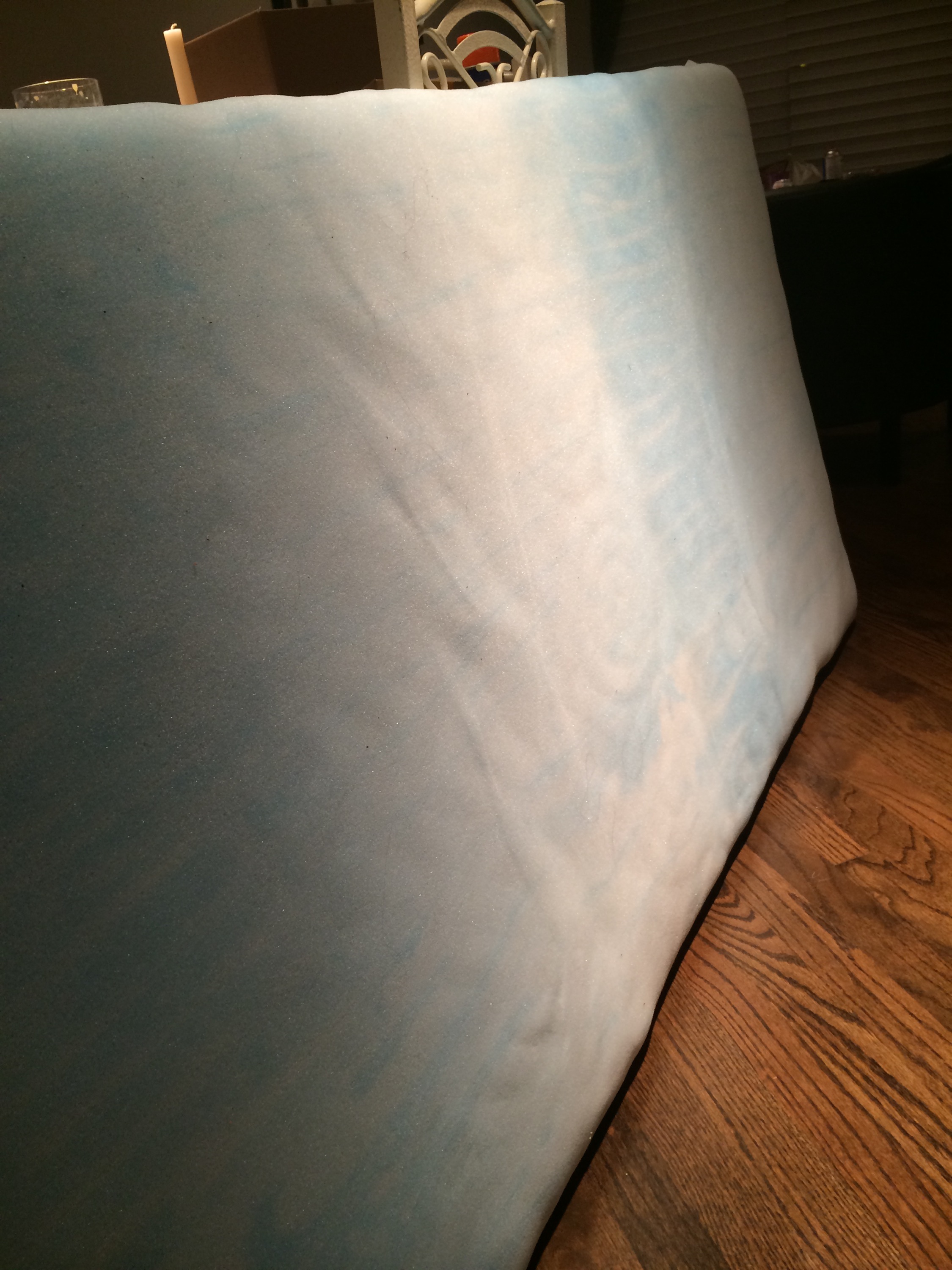 Step 6
Take the fabric, and be sure to pay attention to the print.  Mine happens to have lines that I was intent on making as straight and even as possible.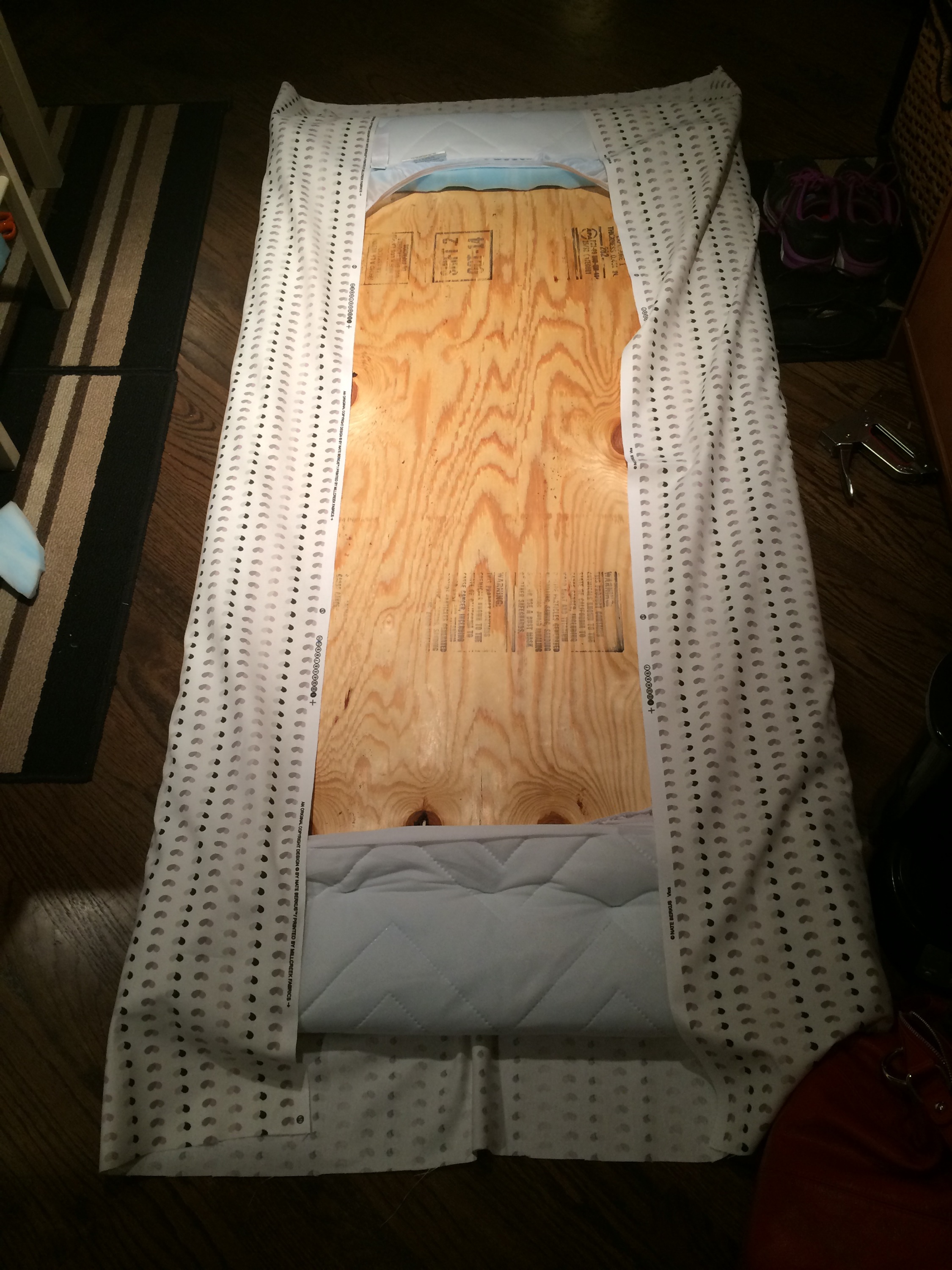 Step 7
Finish off stapling the fabric – making sure you have some nice looking corners.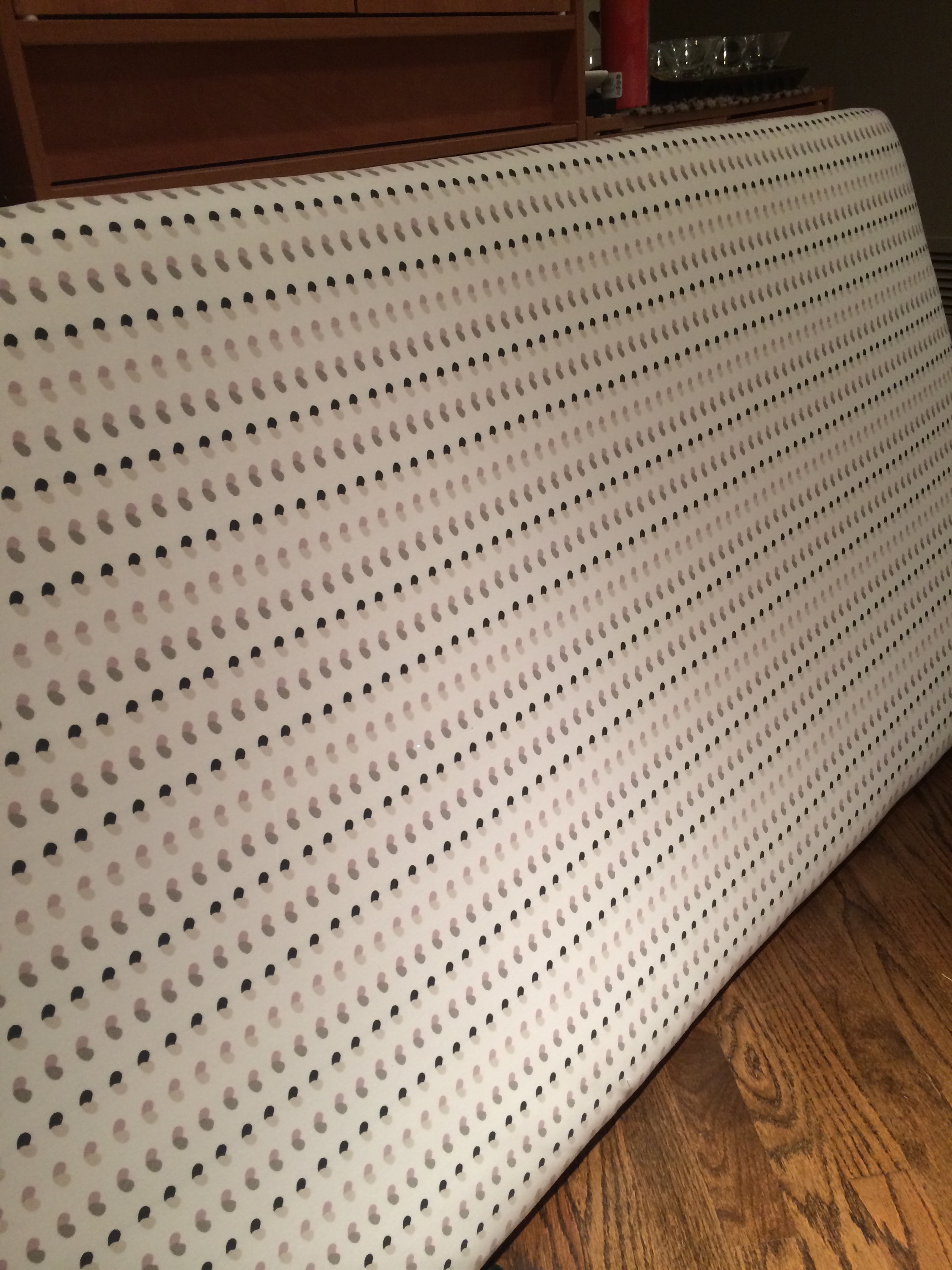 Step 8
This is where you have some options regarding how to 'attach' the headboard. Some tutorials get extravagant and use 2×4's, some make entire bed frames, some secure to the wall with hooks and wire. Me…I rested the headboard on the box spring and pushed the mattress to fit snuggly against it to hold it back.  For extra security I bought the velcro command hooks and placed on each corner and wall.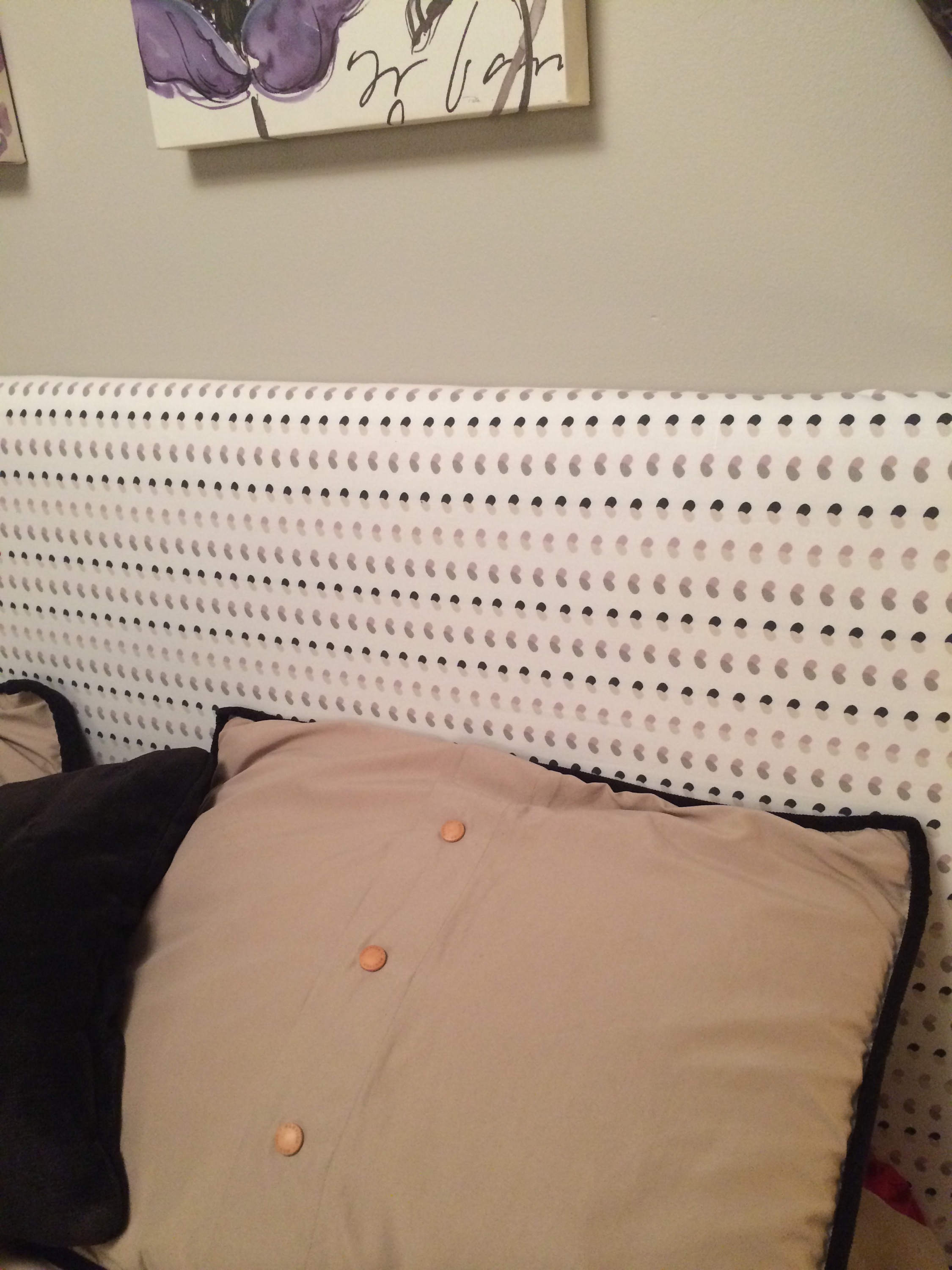 Step 9
Take a step back and admire your handy work!  For just over an hour of my time and about $50 (the fabric was $24, foam mattress topper $14, mattress pad $7, and plywood $6) I have a headboard that I'm proud to show off!
Have you ever done a DIY upholstered headboard? Tell us your hints and tips!