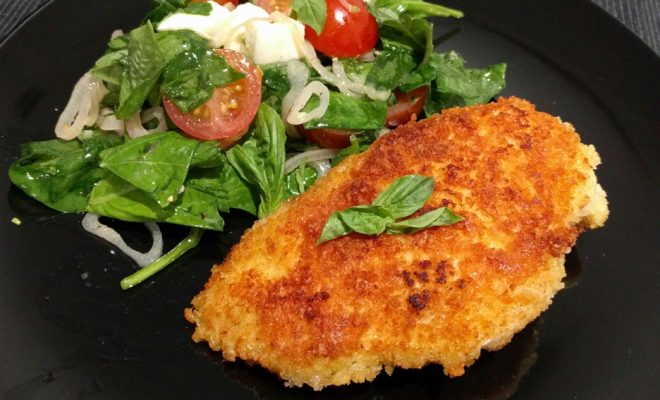 I Tried Cooking With Plated – Here's How It Went!
|
Have you ever stared blankly into your fridge, wondering "WTF am I going to eat? I have NO food!"?
I have, and even though I may have a fridge full of food I am not the best at planning my weekly meals. Like, at all. Planning and prepping has become a big thing lately, you hear (or read rather) about it everywhere. I cannot tell you how many emails I get a day with "Meal Prepping Tips" or "Meal Prepping 101", I'll read them eventually, but for now I just keep them in a folder….
That I will, in all honesty, never open again. Oops!
So rather than spend the time pre-planning my dinner I decided to look into a few subscription boxes. We're not newbies to the concept of having food delivered to our door, but as the years have passed I find myself staring blankly into the fridge more and more. Or worse yet, sitting on the couch with a bowl of cereal and a cold beverage. That needed to stop, and I needed to start taking better care of myself and feeding myself like a proper adult. (Adulting fail?)
Enter Plated.
Remember them? I had done a Plated review in the past, and I recall my time cooking with Plated as being pretty good, so when their team reached out and asked if I'd like to try Plated again for review purposes, I jumped at the chance to give it another go.
Plated Coupon Code: Get $30 Off!
Things have changed a bit since the last time I logged into my Plated account, like the fact that it's actually a subscription based program now. You used to be able to order by the plate but now you pay by the week. The good thing about that is that you can skip weeks if you want, that's especially nice for those weeks when you know you have a lot of extracurricular activities going on and maybe won't be home enough to cook the food that's delivered to your door.
Speaking of which, things must be going really well for the people at Plated because they've moved past simple ice packs and thinly insulated boxes. Your meals will come in a box, obvi, but it has a heavy insulation liner and enough ice packs to ice a husky. Okay, maybe not but they are pretty big and you can always keep them to reuse as needed. The best part about the packaging is that it's totally recyclable, and anything that you can't recycle you can just reuse around the house. I especially like that you can reuse the green bags for produce (they're made to absorb the gas that makes produce ripen faster). I cannot tell you how many times I've forgotten about a bag of parsley only to find it all goopy and brown when I DO remember it.
Start your meal planning
They have meals planned pretty far in advance so you can go into the Weekly Menus tab and pick out, however, many meals you want (for the purpose of this post I got two meals). You can plan a month's worth of food in just a few clicks. And given the fact that you have 7 different recipes to choose from you're bound to try something new! They also have a couple of "Chef's Table" recipes to choose from, with an additional fee (may vary depending on the meal). And of course, dessert! They didn't have this the last time I ordered from Plated. In fact, they rolled this baby out the week after my first post went live. This, of course, also comes at an additional cost, but it's comparable to what you would pay if you went out to eat.
I will admit that one of the things that I wasn't sure about was the price, that must have changed when they moved over to a subscription because it now comes out to $12 a plate (if you're doing 3 dinners, for two people). Which after some thought, I realized wasn't bad at all considering I would still be spending that much on lunch or dinner by eating out all of the time. Plus, the recipe selection is varied and not overly adventurous. Which, for me, is a good thing because I know what ingredients are being sent to me and I'm familiar with how to use them. I have yet to see something that I didn't recognize. Kudos for keeping it simple Plated!
AAANNND… The portion sizes are pretty decent, so while it says each meal feeds two people, if you're like me and trying to practice portion control then it comes out to double that. On that note, I should note that while the food is exceptionally good, it is pretty high in calories, which may deter some people. The average meal is 600-700 calories. There are different schools of thought on this but I think I will actually be using these for lunch, rather than dinner. I'm trying this new thing where I watch what I eat and a large 700 calorie meal in the evening sits really heavy with me… but that, maybe, is better left discussed at a later date.
Want that #foodporn?
Out of the two meals I received my favorite was the Caprese Chicken. I mean come on, who doesn't love a good Caprese salad, with that delicious mozzarella, basil, and tomatoes!? Please sir, may I have another?! Anyway, before I start drooling over cheese and veggies, I know you've been patiently waiting for the FOOD!!!
And finally…..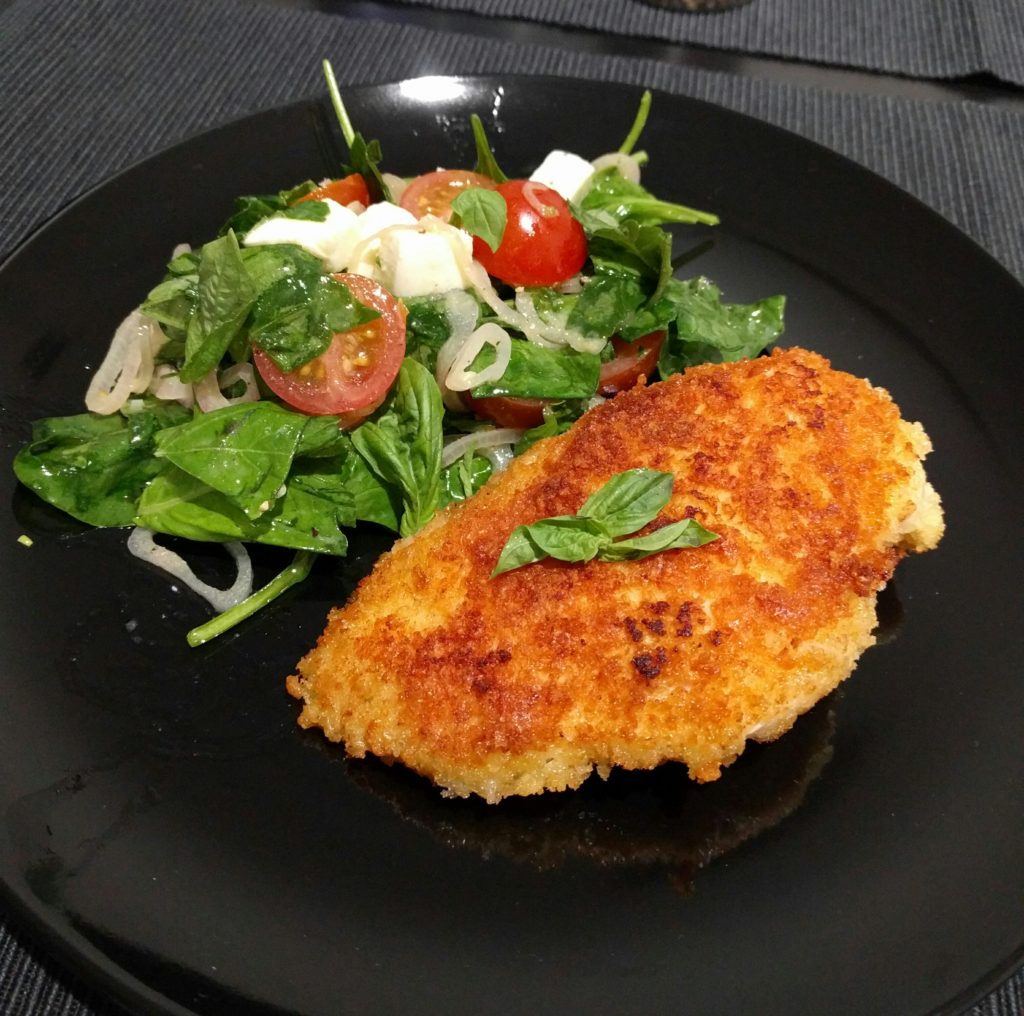 Isn't it lovely? The chicken is coated with a mixture of Panko bread crumbs and Pecorino cheese, which is what gives it that nice golden crust. And crust it had, there was a bit of a crunch when I cut into it. The warmed spinach and Caprese salad was tasty, although I would add less of the dressing than is recommended as it's very flavorful. Which is not a bad thing, but it can feel heavy if you're not into big flavors.
Breaking it down
Overall I was really pleased with what I received and will continue to see what Plated has to feed me. Or rather, how cooking with Plated will help broaden my taste pallet. As mentioned, spending approximately $12 a plate isn't that bad, considering the alternative. If you're constantly going out to eat you'd be spending that, if not more on your meal, plus drinks, plus tip – it all adds up. Especially if you live in a major city or in an overpriced and bland part of the country (like me). On the upside, maneuvering through the Plated website is really easy and the options are immense. You can generate recipes based on various food preferences and the meals are rather large, portion wise, so they can be cut in half.  The only downside that I really see with this subscription is that the meals are high in calories. Which isn't necessarily good for someone who's trying to cut back on their calorie intake, luckily I can cut these meals in half so that they're smaller portions and lower calorie meals.
Do I recommend you cooking with Plated? Fo'sho! Get to it, stop going out to eat so much and try something new by eating a meal (or two) at home. Or if you're just a fan of cooking, this is really good for you as well! You don't have to scoure through cookbook after cookbook looking for something to cook when it's delivered to your doorstep!
---
Full disclosure: This is a sponsored post that contains affiliate links. I received a complimentary Plated box for review purposes, however, all thoughts, opinions, and amateur food photographs are my own.