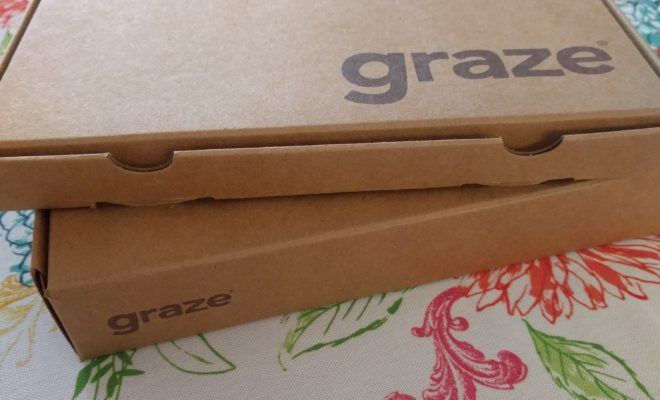 Is Graze Worth It? We Signed Up To Find Out!
|
I love snacks and I could snack all day if I could. But eating that much isn't good for you so I don't sit around snacking all day.
However, I needed a slightly better option than the chips and cookies that are stocked in the office kitchen so I decided to do a search online and after scouring through various snack boxes (and boy are there a lot), I found Graze. Or rather, Graze found me… in a side banner ad, while I was thinking about walking into said kitchen for said snacks. The internet is crazy like that as if the internet was reading my mind, so I thought "why not give it a try"! So is graze worth it?
Signing up was super easy, Graze wants to know what you like, so you just have to fill out a couple of screens before completing your order, four to be exact!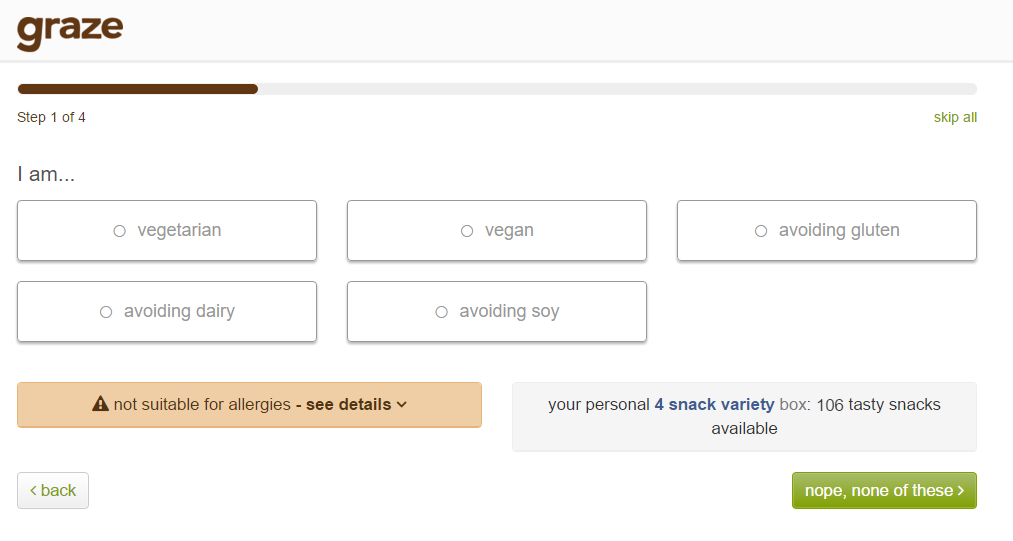 Starting out with whether or not you have any dietary restrictions, or you're just trying to eat healthier.  The great thing about this step is that even if you choose all you have options, there really is something for everyone, even the pickiest of eaters. The cool thing is that you can see how Graze Snack Box narrows down the search in the lower right-hand side of the screen.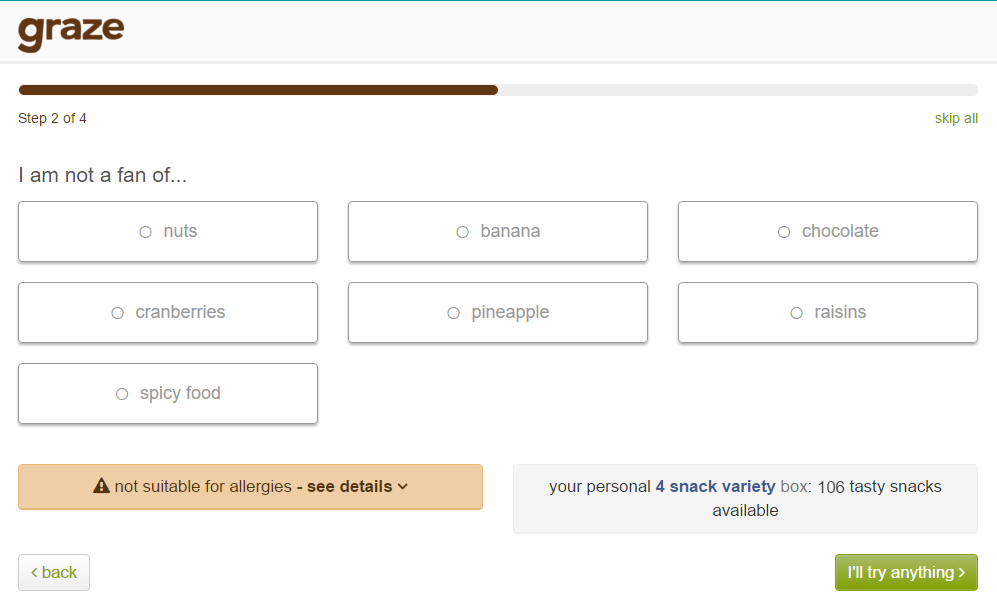 Narrow down your search even further by removing options that have foods you're not particularly a fan of, in this case, Graze Snack Box limit it down to these seven options.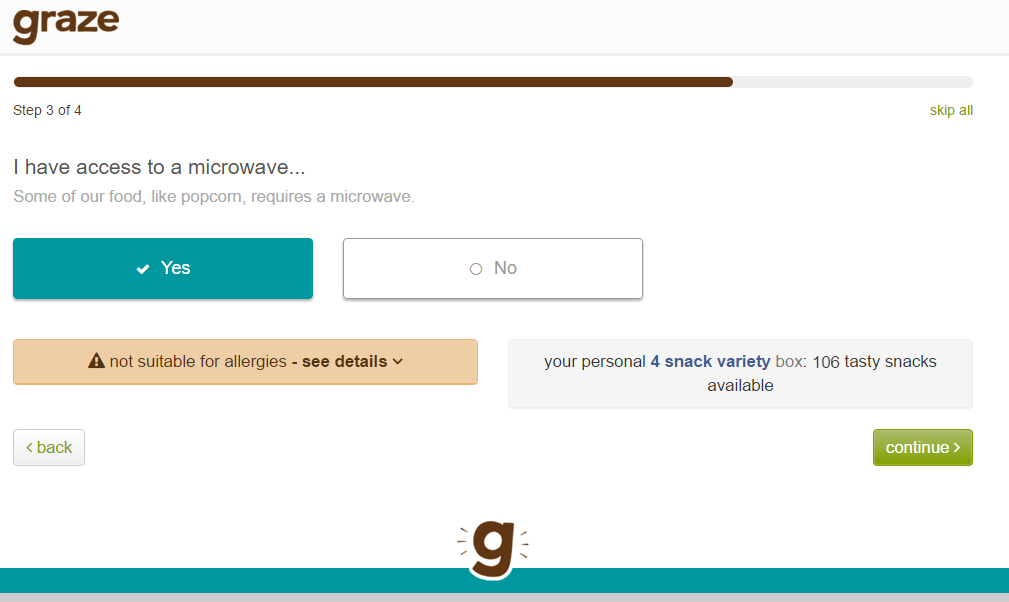 At the end you are met with this screen, I thought this was a bit odd considering the snacks I'd seen in ads were more of the dry nut/granola kind. But once I continued on I found out why they actually ask you this…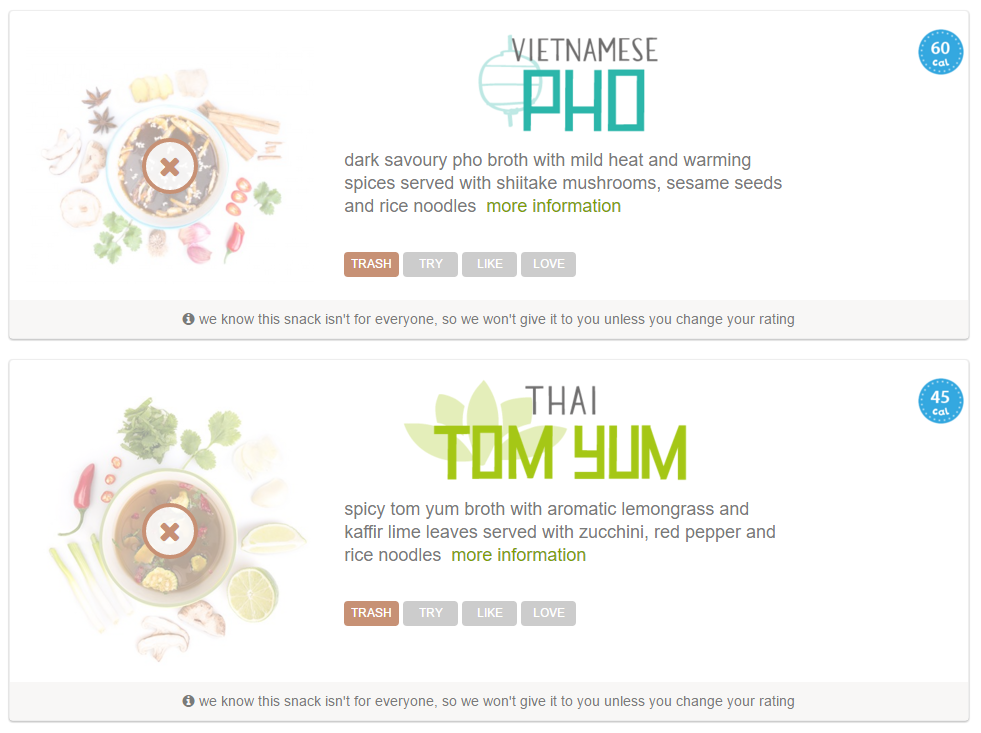 THEY. HAVE. BROTH BOWLS!!! I wouldn't have thought that this would be an option because you don't normally think of soup (or broth bowls) as a snack item. Unfortunately, I decided to focus on the snack portion of this awesome subscription box, but I will need to go back in and try to get my hands on some broth bowls.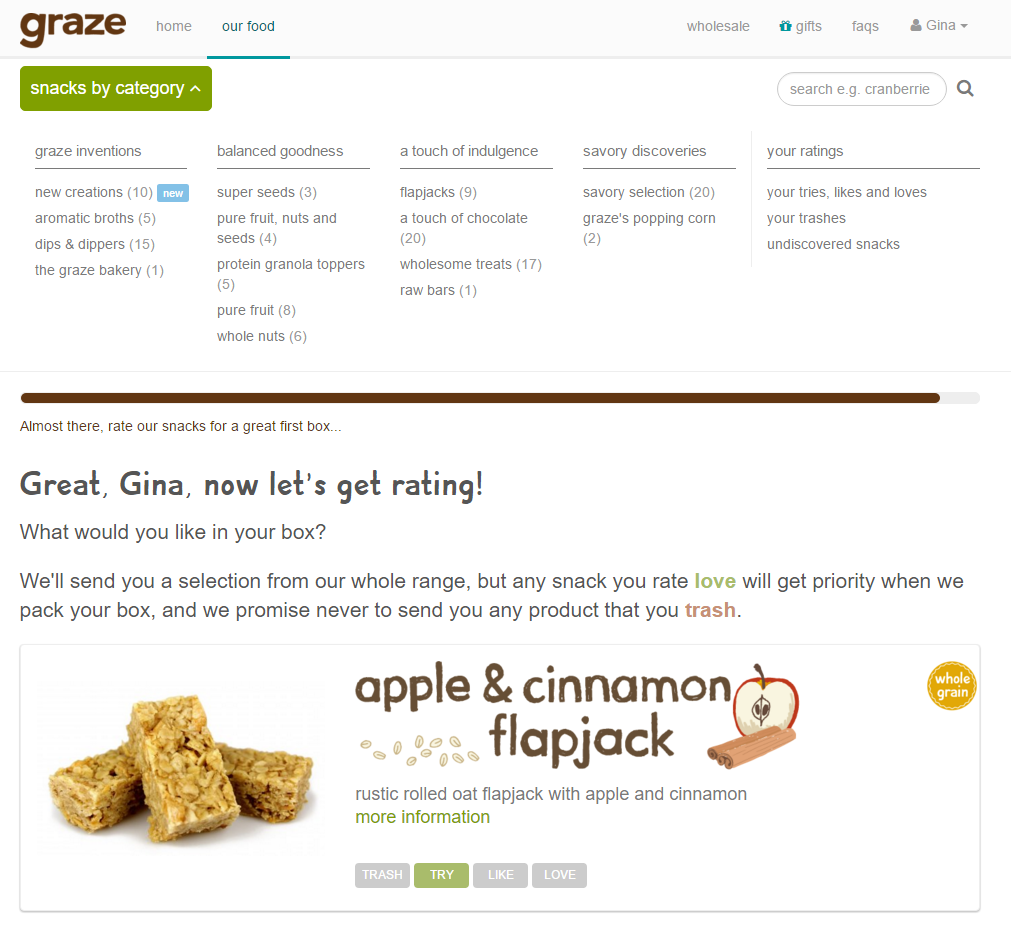 Once you've gotten yourself set up and settled into the Graze Snack box website you'll want to go through the list of available snacks, and there is definitely a large selection to choose from. After that, you just wait patiently for them to show up at your door.
I normally expect things like this to take a while to process but my first box came pretty quickly, really quickly in fact because it's a weekly subscription. You can skip weeks as you see fit, and each week comes out to $11.9, which isn't really bad at all considering you get 8 snacks in a regular box! And there are various boxes to choose from!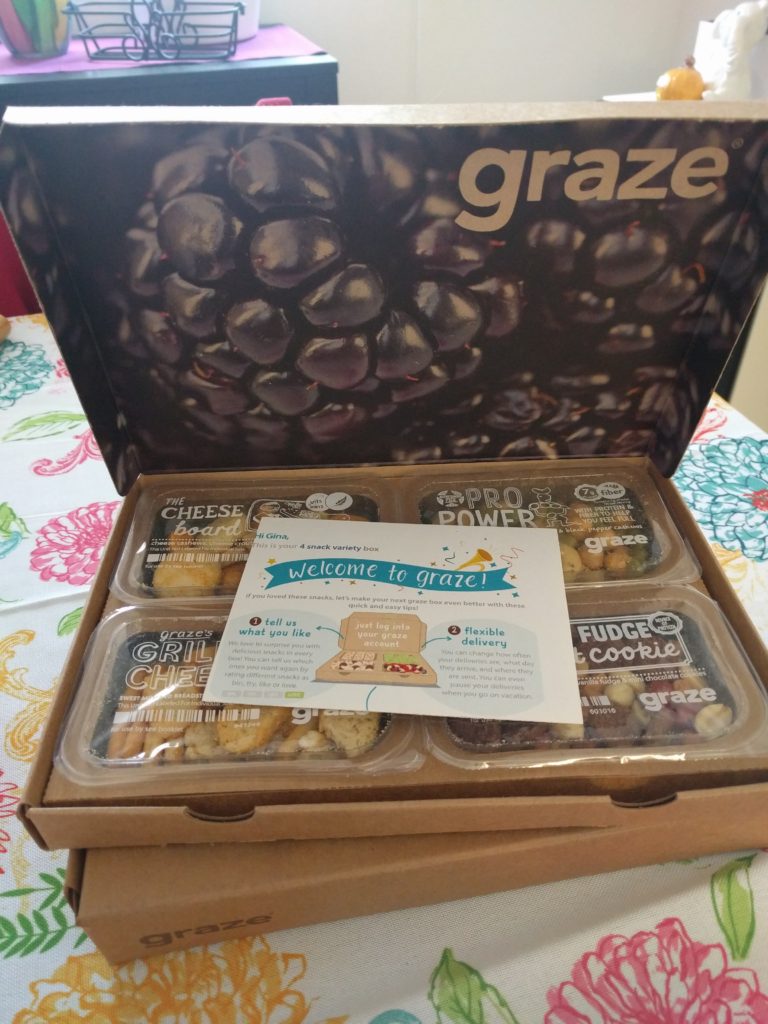 The Tasty Bits
My first box came with four different snacks, the packages appeared to be a bit on the small side, but once I started eating them they actually turned out to be perfect. Each package is labeled with bits of health information, but your Graze snack box will come with a postcard that lists all of the nutritional information for each snack that you receive, including an ingredients list, for each item in the snack pouch!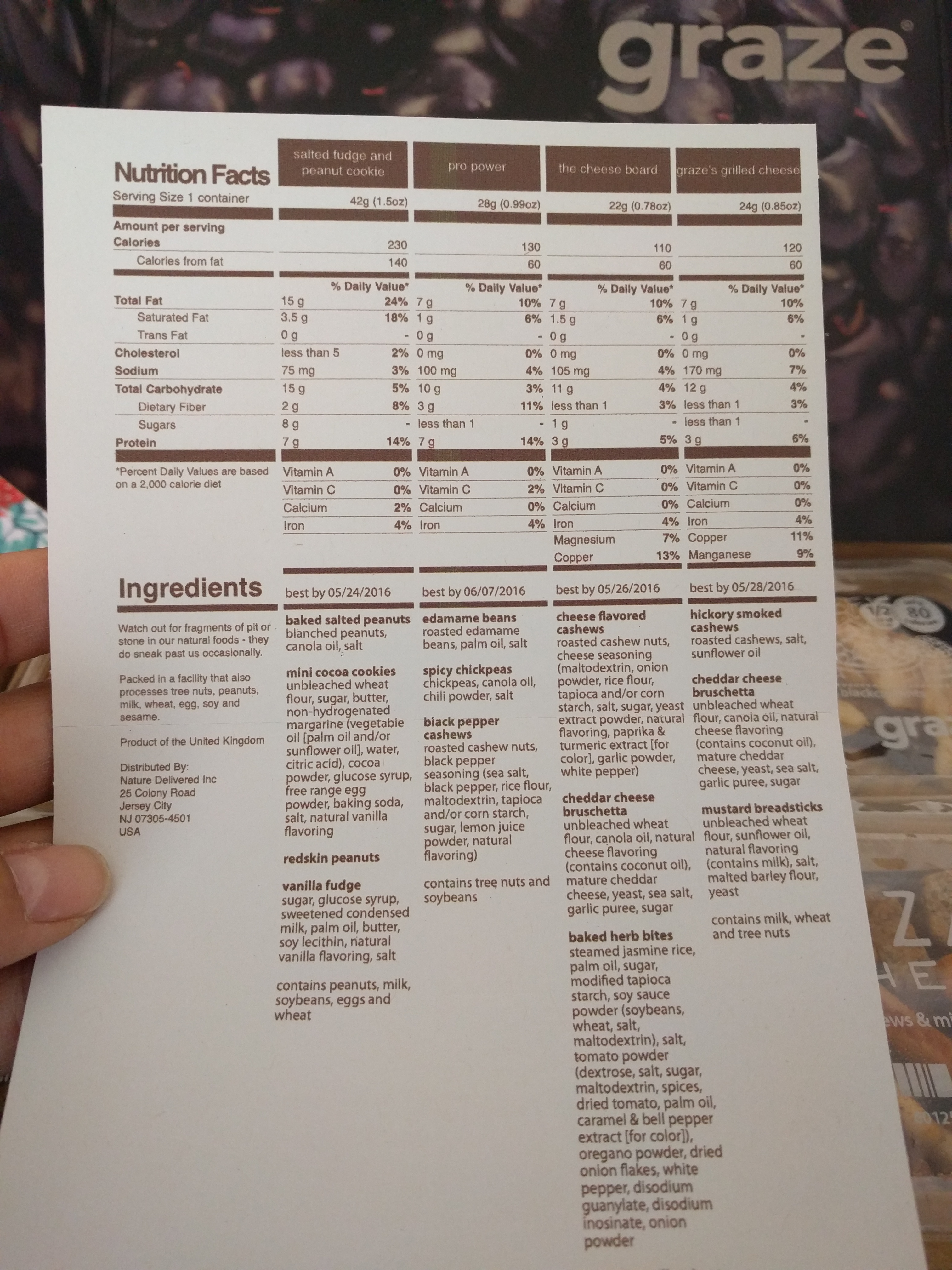 Grilled Cheese
Definitely cheesy, very flavorful. I should have read the label correctly because I was wondering why there was a hint of mustard. Although I'm not sure I have ever had mustard in a grilled cheese sandwich, but this snack pouch may have convinced me that I need to add it into my grilled cheese recipe. Just have to figure out how, and what to really pair it with.
Salted Fudge & Peanut cookie
Definitely something that you want to eat together, the combo is good but eating each piece individually was a bit on the bland side. The bits of salted fudge were my favorite, the cookies coming in second, I probably could have eaten a bag of those alone!
Pro Power
I thought hat this one was the most flavorful, the chickpeas were spiced just right! But my favorite part of this pouch was the Edamame, I. Love. Edamame! I love it so much that once my brother tricked me into eating dried seasoned peas because I thought they were edamame! (And now apparently, I like peas.)
The Cheese Board
Cheese can sometimes be iffy because you either love it or hate it. But this pouch had just the right amount of flavor, without being overpowering on that cheese taste. Unlike the others, there was mostly bready type things in this pouch, which normally isn't a bad thing but might be for anyone who's looking to go the low carb route. But other than that it was tasty!
After all is said and done is graze worth it? Overall I thought it was a good deal, and was pleasantly surprised when I received my second box, almost immediately after the first. I haven't made it to that box yet, but I am definitely looking forward to it, I mean really, who doesn't like a good snack?! So if you're looking to try out some new snacks then go here to get your first Graze Snack Box FREE!