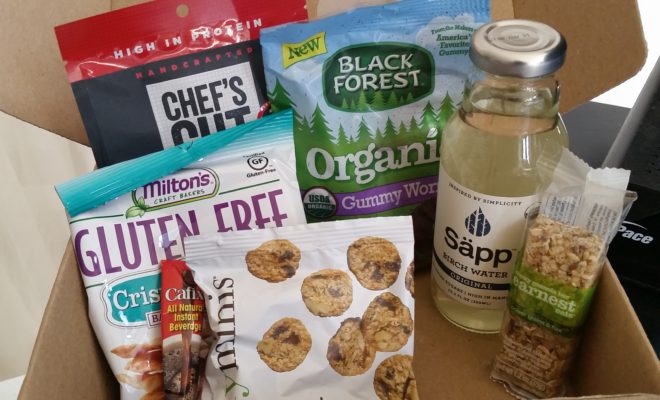 Is UrthBox Worth It? We Placed An Order To Find Out!
|
As you may have already noticed, we're slightly addicted to trying new subscription boxes here at Daily Urbanista. After all, there's nothing more exciting than coming home to a surprise package as opposed to the normal bills, junk mail and the occasional Bed Bath and Beyond coupon (seriously, I must've thrown out about 500 of those coupons in my lifetime).
Recently, I've been testing out some healthy food delivery services in an effort to eat better. Unfortunately, many of these services are either majorly lacking in the snack department, or only offer pricey snack options. Also, I try to avoid shopping for snacks at the grocery store, because that usually doesn't end well. With that in mind, I decided to give some of those newfangled snack subscription box services a try, starting with UrthBox.
What is UrthBox?
UrthBox is a monthly subscription box featuring snacks that are healthy, organic, non-GMO, and accommodate dietary preferences. Upon registering, you have the option to select your dietary preference: Diet, Gluten Free, Vegan, or Classic.
As someone who is gluten free every so often for health reasons (unfortunately, I find it too hard to stick with long-term), I LOVE the idea of being able to try new gluten free products. Anyone who's ever gone GF knows that gluten free snack products can be hit-or miss — sometimes they're great, sometimes they taste like cardboard. Given that they also tend to be much pricier than normal snacks, I tend to avoid blowing money on them. For this reason, I love the idea of being able to try a variety of new gluten free products without wasting tons of money. (+1 point for Urthbox!)
UrthBox Unboxing
I'll be honest: I requested my UrthBox without doing much research into what I could expect (sometimes it's best that way). Because this box was labeled as "Small", I was actually surprised when I received it, as it was bigger than I had anticipated. I stacked it up against a Birchbox for comparison.
The biggest question is: what comes inside UrthBox? Well, let's just start by saying I was pretty surprised when I opened the box (which, as a reminder, was "Small") and found 12 full size, single serving product samples.
Here's a list of everything that came inside my Urthbox:
Black Forest Organic Gummy Worms
Sapp Birch Water
Milton's Gluten Free Baked Crackers
Earnest Eats Granola Bar
GinnyMini's Coconut Oatmeal Cookies
Loacker Napolitaner
Arrow Bar
Simply Chopped Snack Bar
Big Slice Kettle Cooked Apples
Unique Splits Pretzels
Mrs. Thinsters Cookie Thins
Cafix Packet
Chef's Cut Beef Jerky
How much does UrthBox cost?
This particular subscription snack box is pretty versatile, offering a wide range of subscription options. The smallest box features 6+ snacks per month, while the largest features 25+ snacks. As mentioned, I tried the "Small" box, which costs $19.99 per month. As someone who lives alone and doesn't snack daily, I found this to be the perfect size.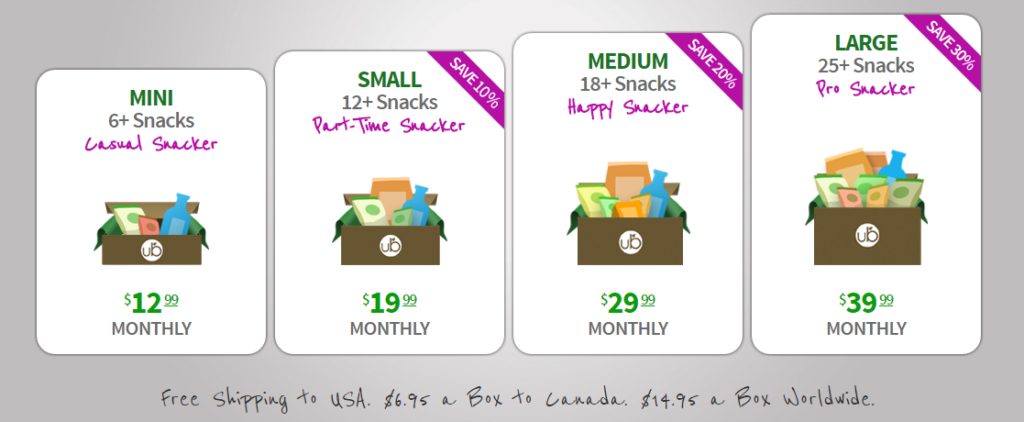 Is UrthBox worth it?
While most of the snacks I tried were great and the experience was fun, the question remains: is UrthBox worth it? Since this particular subscription box is a slightly bigger financial commitment than, say, a $10/month Birchbox, I decided to do a bit of math to figure it out.  The price per snack comes to roughly $1.60 – $2, depending on which subscription option you select. While it's roughly $1 more than you'd pay for a small bag of Cheetos or whatever, you're getting high-quality, healthy snacks that are typically more expensive than the norm.
Almost every sample I tried was a hit except one (Although I'm sure it was delicious, I could NOT get past the way that beef jerky looked) and I even found a few products I'll be buying again.
One thing I really liked about UrthBox was that it's a good way to reign in your snacking. I typically avoid purchasing snacks simply because having a bag of chips or a box of cookies hanging around is usually bad news for me. Let's be real: it's much, much harder to plow through 4 different bags of snacks than it is one single family-sized bag.
The only downside? Because of the price point, I'd imagine that UrthBox is best for singles or small households, as the 25 snack / $39 per month option probably wouldn't go too far in a large family. That being said, I could definitely see UrthBox being a fun monthly treat for a child with dietary restrictions.
All-in-all, after taking the time to do an honest UrthBox review, I have to say, I really liked it and would definitely recommend it anyone looking for a healthy subscription snack box.
Interested in trying this healthy subscription box for yourself? Click here for $10 off any UrthBox! (Discount will be applied at checkout!)
---
Disclosure: I received a complimentary UrthBox for review purposes, however, all thoughts, opinions and gross pictures of beef jerky are mine. 🙂