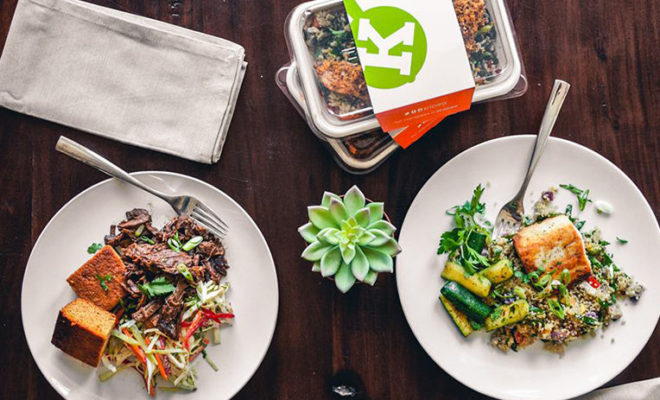 Kitchfix
Healthy Food Delivery In Chicago: Kitchfix Review
|
Recently, I had surgery. While the procedure itself went just fine, in the span of two weeks afterwards, I gained a whopping 18 lbs. You know… on top of the 30lbs I'd already gained over the last two years. While there were a variety of reasons for the post-surgery weight gain – namely medications and the fact that I had previously been on a liquid diet – it didn't change the fact that I felt pretty awful both physically and mentally.
Needless to say, it was time for a change. Unfortunately, changing your diet can be difficult if you can't cook and don't want to live on Lean Cuisine (gag). So, I decided to research healthy food delivery services in Chicago.
After doing a bit of research (and finding a $30 off coupon), I decided to give Chicago-based food delivery service Kitchfix a try. Not only is everything Paleo, but also low-sugar / sodium and nutrient-dense. Most importantly, every menu item is chef-created (founder Josh Katt is a personal chef).
I decided to review my experience for anyone who may be looking for either a healthy food delivery service in Chicago, or just an in-depth Kitchfix review. I'd originally intended to review all seven days, but this post was getting way too long, so I cut it down to three days.
(Keep reading for my verdict and a Kitchfix referral code!)
Day One
Starting thoughts: While I'm excited to try Kitchfix, I'm also worried that I'll starve / cheat / hate everything and let all of my food go to waste. Let's get started!
These were actually delicious, unlike many grain-free baked goods. They're super moist, and really just taste like a basic banana muffin. These are definitely smaller than a normal muffin, but they filled me up much more than, say, a muffin from Starbucks would.
Delicious! I normally find both shrimp and sausage to be hit-or-miss, but both were fantastic. I wasn't sure if the medium serving would be enough, but it was the perfect amount of food. I was full afterwards, but didn't crash or feel like I needed a nap after lunch. I promise this looked way more appetizing in person. Clearly, my food photography skills aren't the greatest.
This was great! I will say that I'm not a fan of cauliflower rice (yes, that's cauliflower, not actual rice!) but they managed to make it much more palatable. Only downside: between the cauliflower rice and the broccoli and carrots on the side, it felt less comforting than other dishes. I get why they did it, though — they definitely filled me up.
Day Two
Because I'm not having a chocolate croissant every morning, I'm not getting a nasty carb/sugar crash around noon! Yay!
The blueberry muffins were great! Between the two, I prefer the banana, as this one was a little too heavy on the almonds for me to eat in the AM.
This was fantastic! The falafel itself was great, and I really loved the quinoa salad, which I decided to eat cold.
Thai red curry is one of my favorite foods. While this wasn't as thick as normal red curry, I didn't even mind because the flavor made up for it. I'm definitely thinking of ordering more of this while it's still on the menu and keeping it in my freezer for when I'm craving Thai.
Get $30 off your first order of $35+ with this Kitchfix discount code!
Day Three
Update so far: Overall, I've been more even-keeled energy-wise over the last few days. For the last year or so, I've been having horrid mid-day slumps to the point where I feel absolutely non-functioning.
I thought I'd take this picture to give people a better idea of what size the muffins are. While they're smaller than the type of muffin you'd pick up at Starbucks, they really, truly fill you up! (Also pictured: Matzah the Cat trying to look nonchalant, while secretly plotting how to get her paws on my breakfast.)
This was so good! I loved the honey mustard sauce. It was the perfect amount of food for lunch. The sweet potatoes (which are doing a pretty good job of hiding in the picture) were really good as well.
Oh my. This was sooo good! The meat was basically like the best pot roast I've ever had. I wasn't expecting much from these cauliflower mashed fauxtatoes, but they were great – they tasted buttery and garlicky. The chimichurri sauce (not pictured) was really good too.
First and foremost, the food is really and truly fantastic. Everything you order is made fresh and arrives refrigerated, not frozen. Unlike typical diet meals, the food isn't overly-processed, frozen, high-sodium garbage. When I've eaten frozen diet meals in the past, there have been times when I've literally had to hold my breath while eating the meat.
While Kitchfix isn't a diet program, it can be used as such (they advise ordering the "Medium" size of every item if you're trying to lose weight). Unlike actual diet programs like Weight Watchers or Jenny Craig, this feels like a much more sane way of eating. I love that I don't have some "diet consultant" who's really a salesperson on a commission scolding me for not wanting to purchase $5 single-serve bags of processed cereal. There's no ridiculous monthly fee, and I don't have to talk to a stranger ad nauseam about my food choices, diet and lifestyle. Doing so actually makes me want to rebel.
The biggest bonus: I DON'T HAVE TO COOK! I hate to say it, but having to cook is just an extra hurdle for me when it comes to healthy eating and only makes it that much more difficult.
Food aside, Kitchfix itself has been awesome. I received both a handwritten note and a few sweet freebies on my first order, plus a follow-up text from Elena. Later in the week I had questions about how to get free shipping on my second order (which they offer!) and she answered incredibly fast. Dealing with a company that genuinely seems to care about their customers makes me feel just the slightest bit happier about eating healthier.
Any dislikes?
There really weren't any! I've been really happy so far. I've had one or two meals that I wasn't 100% crazy about over the last month, but that's bound to be expected. Also, I've noticed that while everything has a "Best By" date on them (which tends to be the 4th or 5th day after you've received it), most of the items star to taste not-so-fresh by that point. However, once I realized that I could order multiple times in one week and receive free shipping after my first order, I've been splitting my orders into 2-3 deliveries per week.
While the price may be prohibitive for many people – particularly couples or families – for me, it wasn't any different than what I was paying for takeout each week, and it's less than other diet food delivery programs. I have found that replacing a few meals per week with kids meals (around $6 each) helps keep the cost down. They're actually the perfect size for lunch, and lower in calories.
Update:
I've now been ordering from Kitchfix for four weeks and have lost a little over 10lbs. More importantly, my cravings for sugar and urge to order takeout are completely gone. I have not been tempted to "cheat" at all, which is proof that when it comes to dieting, eating nutritionally dense food is much more important than focusing solely on calories. Honestly? This is the easiest "diet" I've ever been on, and I really have no desire to give it up at any point in the near future.
Interested in trying Kitchfix? Click here to get $30 off your first order of $35 or more!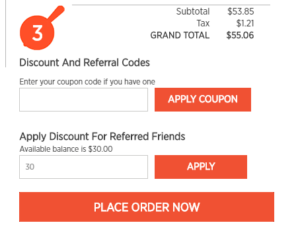 Note: $30 Kitchfix discount will be applied at checkout. Be sure to hit "Apply" before checking out! You can also view available discounts under My Kitchfix > Referrals.