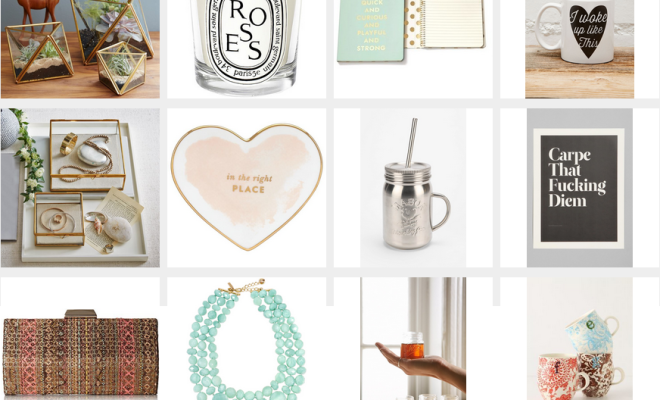 50 Fabulous Gifts Under $30
|
Let's face it – shopping for gifts as an adult isn't easy as it was when we were kids. Back then, your BFF would ask for a Totally Hair Barbie, you'd buy it for her, and everyone would be happy. The end.
These days, good gift ideas are hard to come by. You have to strike the perfect balance between affordable yet tasteful. Not an easy task. If you're struggling with finding an affordable gift, today's your lucky day! We've compiled a list of 50 fabulous gifts under $30. Each of these affordable gift ideas make perfect gifts for any occasion – a birthday gift for your best friend or girlfriend, a hostess gift, a gift for your coworker – whomever!
Looking to purchase a gift in store? Some great stores for gifts under $30 include Anthropologie, Urban Outfitters and H&M – and in case you hadn't noticed, most of these gifts are from those three stores. Places like T.J. Maxx, Marshall's and Nordstrom Rack are also great places to buy an affordable gift.
Also, don't forget to check out Birchbox! They have tons of amazing boxes that make great gifts! Another cool idea: consider signing your friend up for a three month Birchbox subscription at $10 per month (but don't forget to cancel after the three months is up!)
While it can be difficult at times to come up with a great, affordable gift idea, remember – nobody likes a terrible gift-giver (or worse – a blatant re-gifter!)
P.S. We know it's the thought that counts and all that jazz, but we have to ask – have you ever received a truly horrible gift? Share with us in the comments section!