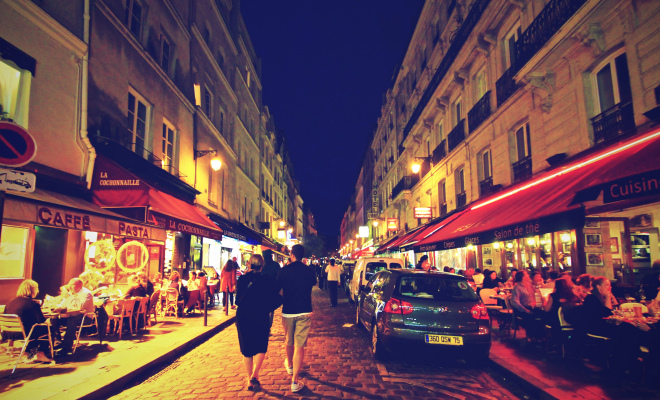 flickr/behindthesteeringwheel
8 Money-Saving Travel Hacks You Need To Know About
|
Last year, I was able to step foot in eight countries, and spent roughly 1/4 of the year traveling. I didn't plan these trips far in advance or save for lengthy periods of times. I didn't stay in hostels or "rough it", and the majority of the time I was traveling solo. And no, I don't have a big savings account. So how the heck did I do it?
Simple: There are plenty of money-saving travel hacks that frequent travelers utilize to spend less and travel more.
I've compiled eight of my favorite money-saving travel hacks. Using these simple tips, I managed to spent less on a trip to Europe than I have on past trips to Florida. Enjoy!
1. Utilize airline miles
Many people simply assume that airline miles will never amount to anything and let them go to waste. If you're one of those people, get ready to kick yourself! There's an entire community of frequent travelers who utilize airline miles to fund their travels to places the majority of people will never get the chance to visit.
Case in point: my former coworker Parag recently used his airline miles to travel business class on Emirates for free. Instead of being confined to a seat for the long flight, he had access to a shower, an in-flight lounge, gourmet meals, and a handful of other crazy in-flight amenities.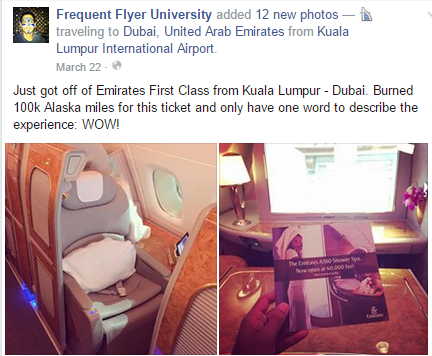 Of course, gaming airline miles does take a little bit of research and hard work – if it were easy, everyone would be doing it. If you're just getting started, there are plenty of online resources to help you out! Sites like Frequent Flier University, The Points Guy and Million Mile Secrets are great resources.
2. Travel for free with Airbnb
By now, you've certainly heard of Airbnb and are probably aware of the premise. However, are you aware that using Airbnb can potentially allow you to travel for next to nothing… or even profit while traveling?
Let's say I'm visiting Dubrovnik, Croatia for the entire month of June and want to rent this beautiful seaside apartment at $78/night. I can use my downtown Chicago apartment to cover the cost of my trip! Here's how…
My actual monthly rent breaks down to roughly $55 / night, but because of the proximity to tourist attractions, similar units are going anywhere from $200 – $350 per night on Airbnb. Let's err on the side of caution and say my apartment gets booked at $200 / night.
To completely cover lodging in Dubrovnik ($2340) I would need to rent out my apartment for 12 nights. However, to cover the Dubrovnik apartment and my normal monthly rent, I can rent my apartment for 21 days. Now, here's the kicker: if I were able to rent my Chicago apartment for the full 30 days, I'd actually profit by $2,010!
Of course, there are plenty of variables that come into play, and this travel hack works best for those who live alone in a high tourism area. Ultimately, you'd have to plug the numbers to see how it would work out for you and your exact situation. Also, if you rent, check to be absolutely sure that your lease doesn't prevent you from listing your unit on Airbnb! It goes without saying that breaking the rules in your lease can land you in hot water, so don't do it.
Even if you aren't able to pay for travel by renting out your unit on Airbnb, you can still save plenty of money by renting on Airbnb instead of staying in a hotel. As an added bonus, I've snagged an Airbnb coupon just for Daily Urbanista readers!
>>Click here for a $25 credit towards your first trip! << 
3. Know who to follow
There are some really great travel blogs and social media accounts that specialize in tracking down insanely low airfare deals. Airfarewatchdog, The Flight Deal, Fly.com, TravelZoo and FlyerTalk are some of the more popular sites. The best thing you can do is to follow sites like these on Facebook or Twitter – this way, you'll get notified of great deals without having a million daily newsletters cluttering your inbox. I'd also recommend searching #farealert and #mistakefare on Twitter – you'll find countless amazing travel deals.
4. Find the world's cheapest destination
Go bookmark Skyscanner right now, because it's about to become your new best friend. Unlike sites like Expedia, Skyscanner has incredibly flexible search options, which make it easier for you to find a bargain. For example, last October I booked round trip airfare from Chicago to Dublin for only $460 after taxes!
Here's how it works: Say you want to take a beach vacation sometime in January. You don't care where you go, as long as it's affordable. Using Skyscanner's search function, enter your destination as "Everywhere", select the month of January, and then click "Whole Month", as shown below.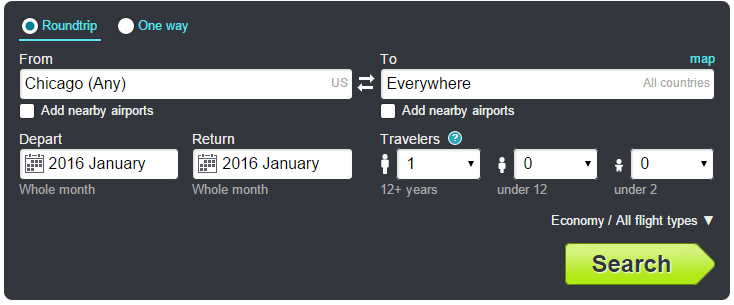 Click "Search", and you'll be presented with a list of options, sorted by price. The prices displayed on this screen reflect the cheapest destination/date combination.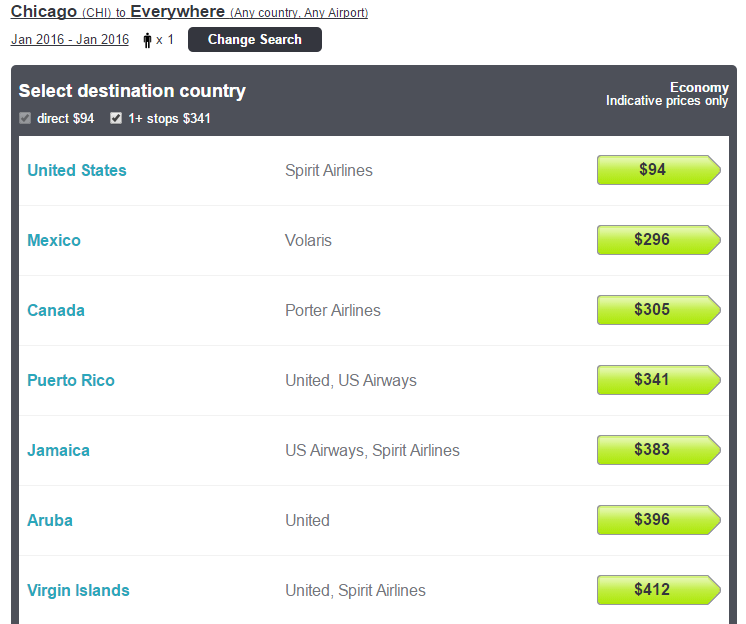 From here, you'll need to drill down further to see what cities are available (below). As you can see, this is a dead-simple way to find the cheapest travel destination that fits your criteria!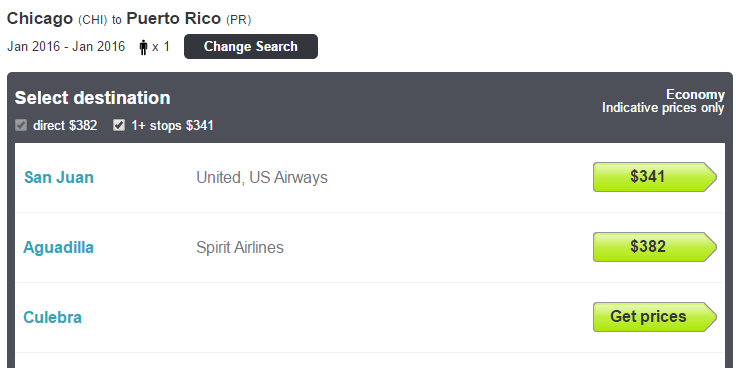 Now, what if you have a specific destination in mind, but you don't care when you go? Simple! You'll start your search off a bit differently by entering your destination, and selecting "Whole Year" as your date range.
And that, my friends, is the magic of Skyscanner.

5. Take advantage of discounts 
This seems like an obvious one, but so many people forget to do it! Anytime you see an option to enter a promo code during checkout, take that opportunity to do a quick Google search for one, particularly if you're signing up for a new site! Many times, you'll easily find things like $25 off coupon codes for Airbnb, $20 towards your first ride on Lyft, or discount codes and promotions for hotels and airlines on sites like RetailMeNot. It takes only a minute to search!

6. Earn money towards travel
Take advantage of those credit-earning referral links from travel sites you use to earn money towards your next trip! You don't have to spam the heck out of your friends to do so (I avoid using the "email your friend" referral tool), but don't hesitate to pass your promo code along to someone if it's relevant. Many times, they'll earn a discount for using your code, so it's a win/win. See also: #5.
7. Join the sharing economy
In addition to the sharing economy platforms we've already mentioned, there are many others that you should take advantage of while traveling. Both Shareable and Nomadic Matt have shared lists of platforms that help travelers find everything from showers and backyard camp sites to shared meals and wifi access.
8. Fly by the seat of your pants
Some people may disagree with this, but personally, I feel that going overboard with planning is one of the quickest ways to waste money when booking travel. I've found the best deals when I've decided to fly by the seat of my pants; on the flip side, the trips I've spent the most time planning are also the ones I've wasted the most money on. Most importantly, when you see an amazing travel deal, grab it immediately! Don't waste time deliberating, because chances are good that great deal will disappear pretty fast.
Have any money-saving travel hacks or tips to add to this list? Share them in the comments!