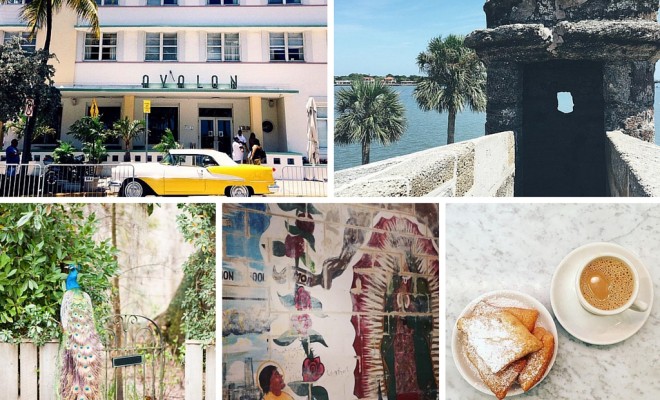 8 U.S. Cities To Visit – Winter Travel Ideas
|
Summer vacation season may be over, but that doesn't mean you can't squeeze in another vacation! Looking to get rid of a few "use 'em or lose 'em" vacation days to burn before the year ends and in need of a few winter travel ideas? Check out this list of eight of our favorite U.S. cities to visit in the winter.
---
1. Chicago
Why you should visit: Don't let the winter weather scare you! Chicago is consistently named one of the #1 cities for architecture, food, cultural activities and shopping in the US – not to mention it's an all-around beautiful city. Anthony Bourdain once said, "Chicago is one impressive fucking city. This is one of the truly most awesome cities in the world." and we tend to agree.
Check out: Chicago Travel Guide
2. Charleston
Why you should visit: Charleston, North Carolina is a unique Southern city that will make you feel as if you've stepped back in time, dahhhlin. Check out the beautiful French Quarter, marvel at the antebellum architecture, and enjoy the Southern hospitality.  
Check Out: 25 Reasons We Love Charleston
3. Seattle
Why you should visit: Seattle is perhaps one of the most laid-back cities in the US – which is surprising, given how much they love their coffee. Shouldn't they be a little more wired?? This is the perfect vacation spot for those who want the perks of visiting a major city while still being able to explore the great outdoors.
Check Out: What To Do in Seattle
4. San Francisco
Why you should visit: There's no arguing that San Francisco is a very Instagram-able city. From the Golden Gate Bridge to the Painted Ladies (aka "the Full House house") to Chinatown, it's a fun city to explore and the weather in the winter is mild.  
Check Out: San Francisco City Guide
5. New Orleans
Why you should visit: New Orleans, Louisiana is perhaps one of the most unique, fun and historical cities in America. Besides, who can resist visiting a place whose motto is "Laissez les bons temps rouler!" or "let the good times roll!" for you non-Francophones.  
Check Out: 10 Tips For Visiting New Orleans on a Budget
6. Miami Beach
Why you should visit: Miami Beach is the perfect place to party in the city where the heat is on, all night on the beach to the break of dawn. Did I really just quote a bad Will Smith song? Yes. Yes, I did. In addition to those two things (beaches and partying, that is – not Will Smith), Miami Beach is also a great place to visit for amazing street art, great Cuban food, cute Cuban men, and, according to Instagram, lots of butts.
Check Out: 5 Reasons to Visit Miami This Winter
7. St. Augustine
Why you should visit: Did you know that St. Augustine is the oldest continually occupied city in the United States? It was founded by everyone's favorite fountain of youth-obsessed explorer, Mr. Ponce de Leon. As a result, St. Augustine has a heavy Spanish influence, making you feel as if you're visiting a small town in Spain.
Check Out: 10 Places to See America's History in St. Augustine
8. Austin
Why you should visit: Who can resist visiting a city that prides itself on being weird? Visit for the music and art scene… and stay because you drank too much and ate too much BBQ.
Check Out: 3 Days in Austin
---
All of the cities listed are featured on TripAdvisor's latest Top 25 U.S. Destinations list. Be sure to check it out for even more winter travel ideas and suggestions for other great U.S. cities to visit!
We'd love to hear from you. What other U.S. cities do you think should be on this list?